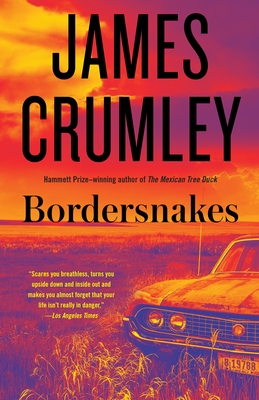 Bordersnakes (Milo Milodragovitch #3) (Paperback)
Vintage Crime/Black Lizard, 9781101971499, 320pp.
Publication Date: July 12, 2016
* Individual store prices may vary.
Description
C.W. Sughrue has been gut-shot and left to die and is, for the first time in his life, actually scared—which makes him angry. Milo Milodragovitch has been robbed of his three-million dollar inheritance by a pipsqueak banker and a butch lady poet; he's not scared at all, just pissed. In a spiffy suit and a red Cadillac, Milo trails his thieves to the Mexican border, where the community consists of "three kinds of drug smugglers, six different breeds of law dogs, and every kind of criminal ever dreamed up"—that is, bordersnakes. When Milo and Sughrue cross paths, they head off together on a dope-smoking, trash-talking, hard-drinking, blood-spattering roadtrip across the West.
About the Author
James Crumley was born in Three Rivers, Texas, and spent most of his childhood in South Texas. After serving three years in the U.S. Army and completing college degrees in history (BA, Texas College of Arts and Industries) and creative writing (MFA, University of Iowa), he joined the English faculty at the University of Montana at Missoula. He was also a visiting professor at a number of other institutions around the country, including the University of Texas at El Paso, Colorado State University, Reed College, and Carnegie-Mellon. His works include a novel of Vietnam, One to Count Cadence, and seven detective novels: The Wrong Case, The Last Good Kiss, Dancing Bear, The Mexican Tree Duck, Bordersnakes, The Final Country, and The Right Madness. He died in Missoula in 2008.
Praise For Bordersnakes (Milo Milodragovitch #3)…
"Scares you breathless, turns you upside down and inside out, and makes you almost forget at times that your life isn't really in danger." —Los Angeles Times

"Achingly good. . . . James Crumley is one of America's great undiscovered writers."—The A. V. Club

"Drawn with panache. . . . Like an overbudget western directed by an LSD-addled Raymond Chandler." —Publishers Weekly

"What Raymond Chandler did for the Los Angeles of the Thirties, James Crumley does for the roadside West of today." —Harper's

"Crumley can write scenes that are unique to him. He's is the rare writer who uses style, not tricks."—San Jose Mercury News

"If you like your detective fiction tough and tenacious you will love James Crumley. . . . No one does it better."—The Houston Chronicle

"Crumley is one of the finest additions to the private eye genre. . . . [He] brings to his books . . . a knowledge and understanding of the American psyche few writers in any genre have managed." —Buffalo News

"James Crumley is a first-rate American writer. . . . pyrotechnically entertaining, sexy, compassionate." —The Village Voice