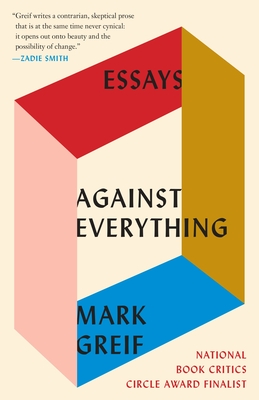 Against Everything (Paperback)
Essays
Vintage, 9781101971741, 320pp.
Publication Date: August 8, 2017
Other Editions of This Title:
Hardcover (9/6/2016)
* Individual store prices may vary.
Description
Finalist for the National Book Critics Circle Award

The essays in Against Everything are learned, original, highly entertaining, and, from start to finish, dead serious, reinventing and reinvigorating what intellectuals can be and say and do. Key topics are the tyranny of exercise, the folly of food snobbery, the sexualization of childhood (and everything else), the philosophical meaning of pop music, the rise and fall of the hipster, the uses of reality TV, the impact of protest movements, and the crisis of policing. Four of the selections address, directly and unironically, the meaning of life—how to find a philosophical stance to adopt toward one's self and the world. Mark Greif manages to revivify the thought and spirit of the greatest of American dissenters, Henry David Thoreau, for our time and historical situation.

NAMED ONE OF THE BEST BOOKS OF THE YEAR BY:
The Guardian • The Atlantic • New York Magazine • San Francisco Chronicle • Paris Review • National Post (Canada)
 
Longlisted for the 2017 PEN Diamonson-Spielvogel Award for the Art of the Essay
About the Author
Mark Greif is co-founder of the literary and intellectual journal n+1. He is also currently an associate professor at The New School in New York.
Praise For Against Everything: Essays…
NAMED ONE OF THE BEST BOOKS OF THE YEAR BY:
The Guardian • The Atlantic • New York Magazine •  San Francisco Chronicle • Paris Review • Nylon • Literary Hub • Frieze
 
National Book Critics' Circle Award Finalist

New York Times Book Review Editor's Choice
 
Longlisted for the 2017 PEN Diamonson-Spielvogel Award for the Art of the Essay

"Susan Sontag was against interpretation. Laura Kipnis was against love. Seven were against Thebes. Mark Greif is against everything...Against Everything is really a book on a single subject: contemporary life, more specifically, the kind of life that someone who would buy such a book, or read a column about such a book—in short, yourself—might right now be living. It's meant to be consumed from beginning to end. It makes you think...Greif's argument—and this is what separates him from the usual solver of the times—is that what's killing us is deeply embedded in our social and economic system. It's not the gym that's the problem. It's the way we live now, which is making the gym seem like a solution to something. Greif thinks that a whole lot will have to change before real choice is possible. Until then, it's not enough to be against the box-office and the real-estate section and the best-seller list. Until then, we have to be against . . . everything."
⎻⎻  Louis Menand, New Yorker

"Greif turns the quotidian world over like a miniature globe in his hand . . . . There is, in truth, nothing that Greif writes that doesn't have a kernel of interest at its core . . . intriguing . . . embodies a return to the pleasures of critical discourse at its most cerebral and personable. Greif brings to mind a host of critics from William Hazlitt to Lionel Trilling, but most of all he suggests it is possible to write about the culture with a reverence for language and a passion for what has come before. I would read anything he writes, anywhere."
⎻⎻ Daphne Merkin, The New York Times Book Review

"His prose is limpid and plainspoken…. [H]e helps defamiliarize our present moment and points us toward alternate ways of living.…  [Greif] wields the forgotten past like a scalpel, cutting away diseased growths to find still-living flesh. In his essays, he seems to ask: Can we find ways of recovering dissent by looking in the least likely places? Can we uncover a buried past of critical opposition?"
⎻⎻  Nicholas Dames, Nation
 
"Greif aligns himself with one of the more neglected traditions of the essay: the highbrow polemic, a vanishing art in an era in which the personal often eclipses the philosophical…. But there's an untrammeled optimism in being against everything—which, for Greif, entails being for something better than what already exists…. It's a mark of the thrilling force of Greif's reasoning, and of his writing's palpable sincerity, that I, for one, felt justly implicated, absorbed from the start."
⎻⎻  Nora Caplan-Bricker, Slate
 
"It is difficult to do justice to the subtlety and wit of Greif's arguments, which in synopsis tend to sound bombastic…. [H]is method … draws the reader, through observation and analogy, from the particular to the general…. The reader is asked to join the dialogue…. The essay – like the debating hall, the forum, or indeed the literary magazine – is a space in which we take sides to practice democracy."
⎻⎻  Ben Eastham, Times Literary Supplement
 
"The essays of Brooklyn literary magazine n+1 co-founder Mark Greif have been questioning our conventional wisdom for years. . . . Collected in Against Everything, they provide a refreshing approach to intellectual dissent, if not its validation for our day and age."
⎻⎻ Best Books of the Year, National Post (Canada)
 
"Mark Greif's essay on the Kafkaesque nature of the modern gym, 'Against Exercise,' is already a classic; and his new book, Against Everything, tells us it's not just the gym, it's also our music, our culture, our political life – everything about us."
⎻⎻  Aravind Adiga, Guardian (UK) Best Books of the Year

"Mark Greif's Against Everything—as its title suggests—matches brilliant critique with improbable optimism. His essays risk embarrassment to analyse the irritations of urban life—hipsters, foodies, gym-goers—so that we might see these characters in ourselves, and treat them with, if not more kindness, more interest."
⎻⎻ Kate Womersley, The Spectator (UK) Best Books of the Year

"Isn't it elitist to talk about punk as if it were a text? To juxtapose Rousseau with a dating show? To say an intense workout is reminiscent of Kafka? … Against Everything, a new essay collection by Mark Greif … approaches populist topics like exercise, food, and pop culture from a decidedly not-populist perspective in order to deconstruct them, see how they work, and understand what they really mean to us. While the collection's title is delightfully antagonistic…the contents are not necessarily so. Greif's point is not to tell you how to live, but to encourage you to really think about how you're living."
⎻⎻  Lauren Oyler, VICE

"Against everything, if it was corrupt, dubious, enervating, untrue to us, false to happiness," writes n+1 co-founder Mark Greif...Greif isn't a doomsayer, but a smart man, soused in decency and fellow feeling. He would like to know the meaning of life...Civil disobedience is a lived way to counter plutocracy. Consider Occupy Wall Street, an action in which Greif participated. "Fight the Power." That's to live."
⎻⎻  Peter Lewis, San Francisco Chronicle

"Dark, wonderful essays on contemporary derangement . . . academically current but free of jargon; discontented but free of resignation; gladiatorial but free of truculence; sincere but free of gentility. . . . [T]o a reader of my generation, [they] have taken on the finish of classics." 
⎻⎻  Gideon Lewis-Kraus, Bookforum

"These smart and bracingly negative essays will break you out of your Facebook-induced stupor."
⎻⎻ Esquire

"Greif's essays … ask 'What is this phenomenon really about?,' 'What does it mean?,' 'What does it say about us?' … Greif doesn't lack for nerve and, whatever the object of discussion, his procedure is to 'look steadily at it, and think.' … I was impressed above all by the resourcefulness of his prose, the concentrated intelligence of the exercise.… Although he can make us feel the strength and rigidity of the iron cage of capitalist rationalism in a manner reminiscent of the European masters of sociological pessimism, he also treasures the capacity of the self-reliant individual to re-create himself." 
⎻⎻  Stefan Collini, London Review of Books

"Greif, as we come to know him in these essays, is a deeply hopeful thinker, full of visions of a better, even perfect, world. His disciplined, thoughtful critiques of all manner of cultural phenomena—from YouTube videos to the mania for exercise—rest on an intuition that the world we have been given is not good enough...To argue this point with Against Everything is not to dismiss Greif's achievement, but the reverse. An intellectual's job is to provoke thought and argument, and this Greif does as well as anyone writing today." 
⎻⎻ Adam Kirsch, Tablet

"This wonderful collection of essays about contemporary American life is not only thought-provoking but also a pedigree version of that rarest beast, 'the public understanding of the humanities.'… Underneath a fox-like curiosity in the seeming ephemera of popular culture is a hedgehog concern with how we experience all these and what that experience means. … [T]his is how academics and intellectuals ought to write for the (mythical) general reader."
⎻⎻  Robert Eaglestone, Times Higher Education Supplement

"[M]aybe you've missed cofounder Mark Greif's years of essayistic genius for [n+1]. This book is a one stop shop to fix that. In thoughtful, deeply informed, nuanced works of criticism, Greif makes the case "Against Exercise," questions "What Was the Hipster?" and delves into "Octomom and the Market in Babies." . . . [F]ans of in-depth cultural criticism will have the perfect companion in this compendium."
⎻⎻  Claire Fallon, Huffington Post
 
"[A] prodigy in that class of gifted and talented writers responsible for bringing us n+1, the magazine that effectively remade the intellectual scene in New York City[,]… Greif showed everyone how it could and should be done…. Against Everything, a collection that features many of Greif's best essays, offers a good occasion to consider what it was that made his early work so singularly powerful." 
⎻⎻ Timothy Aubry, Los Angeles Review of Books

"These essays carve out a space of silence . . . a void levered open for new knowledge to rush in and fill. . . .  Against Everything is the work of a gadfly essayist, not a windbag: in it, Greif is nasty and fun and also takes us to new and spacious places."
⎻⎻ Josephine Livingstone, The Awl
 
"Greif has outdone himself (and this is saying something, because his work has consistently blown us away) with this collection of critical essays . . . Everything is brilliantly disseminated, clearly argued, and will leave you wanting to host (or at least attend) dinner parties where you can show off your newfound knowledge."
⎻⎻   Kristin Iversen, Nylon
 
"The best essays … read as if the Roland Barthes of Mythologies, or the LA-exiled Theodor Adorno of Minima Moralia, were deposited amid post-millennial American culture. . . . The argumentative spine of Against Everything is a series of more or less explicit reflections on the category of experience, and whether it is ethical to want to opt out of experience, given the debased forms of it given us today."
⎻⎻   Brian Dillon, 4Columns
 
"The best claim to be his generation's finest essayist comes in the concluding essay on Thoreau, the Occupy movement and his own generation. Taken as a whole the book is a powerful injunction to look, listen and reflect, our surest means of defiance against the encroaching dimness."
⎻⎻  Richard Godwin, Evening Standard (UK)
 
"Greif is a critic of the modern American condition...a dazzling intellectual, and like all the best philosophers, he thinks we all can and should live our lives like philosophers. To read Against Everything is a good start on that path."
⎻⎻ Christian Lorentzen, NY1

"Mark Greif writes a contrarian, skeptical prose that is at the same time never cynical: it opens out on to beauty and the possibility of change."
⎻⎻Zadie Smith
 
"The ideas and images I discover in Mark Greif's essays stay with me for years, and become part of the way I experience and understand the world. I couldn't be happier that this book is being published so I can read them all over again."
⎻⎻Sheila Heti
 
"Mark Greif's essays can cut, they can connect, and they can soar. Greif inhabits the center of all his subjects, from Nietzsche to Nas, but there is no display or cynicism here, only a powerful mind thinking hard about our culture and our politics. 'The instant for philosophy is always now,' he writes, because it can take forever. Now is Mark Greif's time."
⎻⎻Sean Wilentz
 
"Mark Greif is one of the most consistently interesting American writers of the last decade, and this book proves it. I read him for the pleasure of never knowing where his brain's going next. Here's the first sentence of his essay on cops: 'A surprise of being around police is how much they touch you.' That's the kind of weird and accurate observation I want from an essayist. Get down with a writer who's dogged in his attempt to understand us better, and wise in knowing it's hopeless."
—John Jeremiah Sullivan
 
"Anyone who hasn't discovered Mark Greif's unforgettable essays yet in the pages of n+1—the country's most powerful literary mag, which he cofounded—will thank me for demanding you rush out to buy his grasp-you-by-the-throat collection Against Everything. Like James Wood or Susan Sontag, George  Orwell or Randall Jarrell, Greif defines our age yet writes with such wit and grace, he'll last forever. A must-read collection by one of our preeminent thinkers."
—Mary Karr
 
"I love Mark Greif. No living essayist effects the destruction of everything other people hold dear with a lighter or more elegant touch. An unmitigated delight."
—Elif Batuman

"Mark Greif's book proposes the impossible thing, a phenomenology of the present─at a moment in which the present is slipping by so fast that anything we dare call that is already signed, sealed and delivered to the past. Hip hop, food shows, current events like war and the police, hipsters, exercises, the youth culture─ this list omits the deliberate and attractive heterogeneity of Greif's notes on the everyday, his attempt to capture its random contents before they are incorporated into some official academic field or trivialized into familiar themes and slogans by an omnivorous public sphere. It isn't a novel, it isn't a journal either (which you could 'dip into'), it's probably not a blog, it is deliberately unfinished (in the sense of 'to be continued', but maybe by all or each of us); but it is certainly wonderful reading which cuts into the present before the latter disappears."
—Fredric Jameson
 
"Mark Greif makes a case for so much: for curiosity and precision, for second glances, for reconsidering, for paying attention to the world and not being satisfied by what it's become, or ever been. I found the crackle of rigor in these essays, but also so much tenderness and awe."
—Leslie Jamison
 
"Mark Greif is the best essayist of my generation. No one is more modern or more classical – or more stylish. This has its alarming effects. When you read Against Everything, you will vow to change your life."
⎻⎻Adam Thirlwell