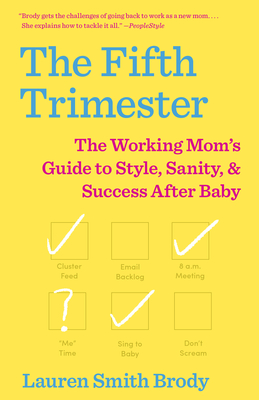 The Fifth Trimester
The Working Mom's Guide to Style, Sanity, and Success After Baby
Paperback

* Individual store prices may vary.
Other Editions of This Title:
Digital Audiobook (4/3/2017)
Hardcover (4/4/2017)
Description
Packed with honest, funny, and comforting advice—"a book you MUST read if you are returning to work after the birth of a child…. I loved it and you will too." —New York Times bestselling author Lois P. Frankel, Ph.D.

The first three trimesters (and the fourth—those blurry newborn days) are for the baby, but the Fifth Trimester is when the working mom is born. A funny, tells-it-like-it-is guide for new mothers coping with the demands of returning to the real world after giving birth, The Fifth Trimester contains advice from 800 moms, including:

•The boss-approved way to ask for flextime (and more money!)
•How to know if it's more than "just the baby blues"
•How to pump breastmilk on an airplane (or, if you must, in a bathroom)
•What military science knows about working through sleep deprivation
•Your new sixty-second get-out-of-the-house beauty routine
•How to turn your commute into a mini–therapy session
•Your daycare tour or nanny interview, totally decoded
Praise For The Fifth Trimester: The Working Mom's Guide to Style, Sanity, and Success After Baby…
"Brody gets the challenges of going back to work as a new mom. . . .  She explains how to tackle it all." —PeopleStyle

"A book you MUST read if you are returning to work after the birth of a child. . . . I loved it and you will too." —Lois P. Frankel, Ph.D., author of the New York Times bestselling Nice Girls Don't Get the Corner Office  

"[This] practical and entertaining read covers everything." —The Seattle Times
 
"[Brody] is a passionate advocate. . . . She provides tangible tips and helpful advice from women who have been there and who more than survived, they thrived." —CNN.com
 
"[A] no-BS guide to help moms, particularly new moms, cope with all the demands of the real world . . . like how the hell do you return to work, take care of another life, and somehow carve out time in the day for, you know, yourself?" —Shape.com

"An invaluable guide. . . . Brody's book shows that the absolute lack of public policy to support working families makes an already tough situation worse. And while we need to work to change that, in the meantime, she makes clear: you're not alone, you're not crazy, and she's got your back." —Brigid Schulte, author of the New York Times bestselling Overwhelmed: How to Work, Love, and Play When No One Has the Time
 
"The women featured in Brody's book offer advice for coping emotionally that runs the gamut from learning how to not blame yourself for mistakes to not make any major career decisions in your first few months back to work." —The Atlanta Journal-Constitution

"Fantastic." —Good Morning America
 
"Returning to work can be challenging, but Brody is a friendly and reassuring guide with a simple message: You can do this. It will get better. Packed with helpful tips and inspiring stories, The Fifth Trimester is the manual new moms need for succeeding on the job and in life." —Laura Vanderkam, author of I Know How She Does It

"[Brody] cover[s] the frustrating realities of working-mom life in a chipper, big-sisterly voice." —The Cut
 
"Brody writes nimbly and wisely about a subject she is well versed in: the conflicts, struggles, and triumphs of returning to work after having a baby. . . . Working moms will find a wealth of ideas to help navigate the challenging transition period in this friendly and practical guide." —Publishers Weekly
 
"Like having a well-trusted friend impart bits of wisdom before a meltdown occurs." —Kirkus Reviews
 
"The working mom bible. The perfect gift and sanity-saver." —GoodHousekeeping.com
 
"Told with insight and witty turn of phrase, this account also draws on [Brody's] personal experience of momming in the magazine world." —The Times of Israel
 
"Brody takes on the role of a wise mentor who's just a bit more chic than most of us but who takes us under her wing nonetheless." —Booklist (starred review)
Anchor, 9781101971888, 416pp.
Publication Date: March 6, 2018
About the Author
LAUREN SMITH BRODY is the founder of The Fifth Trimester movement, which helps businesses and new parents work together to create a more family-friendly workplace culture. A longtime leader in the women's magazine industry, Lauren was most recently the executive editor of Glamour magazine. Raised in Ohio, Texas, and Georgia, she now lives in New York City with her husband and two young sons.