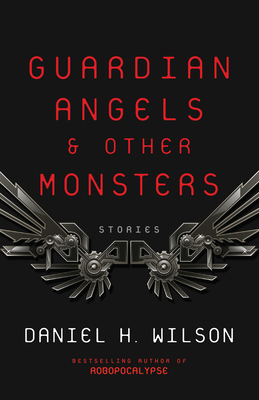 Guardian Angels and Other Monsters
Paperback

* Individual store prices may vary.
Description
From the New York Times bestselling author of Robopocalypse comes a fascinating and fantastic collection that explores complex emotional and intellectual landscapes at the intersection of artificial intelligence and human life. A VINTAGE BOOKS ORIGINAL.

In "All Kinds of Proof," a down-and-out drunk makes the unlikeliest of friends when he is hired to train a mail-carrying robot; in "Blood Memory," a mother confronts the dangerous reality that her daughter will never assimilate in this world after she was the first child born through a teleportation device; in "The Blue Afternoon That Lasted Forever," a physicist rushes home to be with his daughter after he hears reports of an atmospheric anomaly which he knows to be a sign of the end of the earth; in "Miss Gloria," a robot comes back to life in many different forms in a quest to save a young girl. Guardian Angels and Other Monsters displays the depth and breadth of Daniel H. Wilson's vision and examines how artificial intelligence both saves and destroys humanity.
Praise For Guardian Angels and Other Monsters…
Praise for Daniel H. Wilson's Guardian Angels & Other Monsters

"Daniel H. Wilson's first short story collection delivers on all counts. . . . Wilson's work is masterfully rendered, and his fans will find Robopocalypse and The Clockwork Dynasty tie-in entries. For newcomers, there are plenty of other sometimes dark, always engaging worlds to love."
—Shelf Awareness

"Spectacular. . . . Wilson displays an aching humanity and literary sensibility that will satisfy his fans and win him plenty of new ones. This thoughtful, affecting collection will linger in the thoughts of readers long after the last page is turned."
—Publishers Weekly (starred review)

"By page 9, I was grinning like a kid on his first carnival ride. I love everything out of Daniel Wilson's mind—it's fun and it's fast—and the short story format takes it into overdrive. Thrilling, touching, funny, heartbreaking and scary as hell, there's nowhere this rollercoaster won't take you. Grab on to those pages and hold tight. You're in for one hell of a ride."
—Sylvain Neuvel, author of Sleeping Giants

"Smart writing and intriguing characters lend themselves to these well-crafted tales about future technology. . . . This is a boon to both Wilson's fans and sf readers seeking high-quality short fiction."
—Library Journal

"Wilson's abundant talents are on display—the detail that hooks you, the efficient worldbuilding, the ideas and concepts deftly embedded throughout that light up the imagination, yet never slow down these propulsive narratives. Dark, chilling, even moving at times and consistently entertaining. This is brainy action, hard sci-fi with heart."
—Charles Yu, author of How to Live Safely in a Science Fictional Universe
Vintage, 9781101972014, 304pp.
Publication Date: March 6, 2018
About the Author
DANIEL H. WILSON is the bestselling author of Robopocalypse, Robogenesis, Amped, How to Survive a Robot Uprising, Where's My Jetpack?, How to Build a Robot Army, The Mad Scientist Hall of Fame, and Bro-Jitsu: The Martial Art of Sibling Smackdown. He was born in Tulsa, Oklahoma, and earned a B.S. in computer science from the University of Tulsa and a Ph.D. in robotics from Carnegie Mellon University in Pittsburgh. He lives in Portland, Oregon.
or
Not Currently Available for Direct Purchase