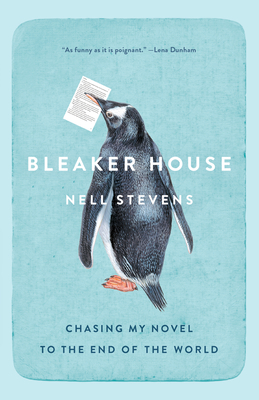 Bleaker House (Paperback)
Chasing My Novel to the End of the World
Anchor, 9781101972861, 256pp.
Publication Date: February 6, 2018
Other Editions of This Title:
Digital Audiobook (3/13/2017)
Hardcover (3/14/2017)
* Individual store prices may vary.
Description
When she was twenty-seven, Nell Stevens—a lifelong aspiring novelist—won an all-expenses-paid fellowship to go anywhere in the world to write. Would she choose a glittering metropolis, a romantic village, an exotic paradise? Not exactly. Nell picked Bleaker Island, a snowy, windswept pile of rock in the Falklands. Other than sheep, penguins, paranoia, and the weather, there aren't many distractions, but as Nell soon discovers, total isolation and 1,085 calories a day are far from ideal conditions for literary production. With deft humor, this memoir traces her island days and slowly reveals the life and people she has left behind in pursuit of her writing. It seems that there is nowhere she can run—an island or the pages of her notebook—to escape the big questions of love, art, and, ambition.
About the Author
Nell Stevens has a degree in English and creative writing from the University of Warwick, an MFA in fiction from Boston University and a PhD in Victorian literature from King's College London.
Praise For Bleaker House: Chasing My Novel to the End of the World…
"As funny as it is poignant." —Lena Dunham

"A mesmerizing literary levitation act. . . . [Bleaker House] swirls text, subtext, and context into a single narrative." —Vogue
 
"A literary feast. . . . an inventive memoir about a young writer's struggle to find her literary footing." —NPR

"[A] meditative, engagingly comic reflection. . . . [Stevens] discovers not just the pains and pleasures of the artistic process, but the power of leaving one's life behind for the sake of self-discovery. —Harper's Bazaar

"A book that's simultaneously smart, lively and even, at points, unhinged. . . . Stevens charts a path of personal and professional exploration tinged with both sadness and humor." —Jezebel
 
"An honest portrait of writerly neurosis." —San Francisco Chronicle
 
"One of the most original, entertaining, and thought-provoking books I have ever read about the difficulty of writing a book." —Rebecca Mead, NewYorker.com
 
"Bleaker House is so riveting and so much fun to read, I would have loved it even if it hadn't also been innovative and brilliant. Nell Stevens is an excellent writer, as well as great company, and I can't wait to read every book she writes." —Kate Christensen, author of The Great Man, winner of the PEN/Faulkner Award, and Blue Plate Special
 
"Fresh and spirited. . . . [A] delightful literary debut." —Kirkus Reviews
 
"An entertaining, perverse and singular book." —The Observer
 
"[Stevens] encounters not only an eccentric cast of outsiders but also the furious demands of her own creative self, in this true-life chronicle of loneliness and renewal." —Oprah.com
 
"Quirky and engaging. . . . A captivating portrait of the creative life." —BookPage
 
"A romp of a book, a genre-defying feat of the imagination, and a pure pleasure to read." —Alison Pick, author of Far to Go and Between Gods
 
"A picaresque, recognisably human tale of a young woman's failure to follow through on the glaringly unrealistic goals she set herself." —Evening Standard
 
"Stevens writes with considerable charm and winning honesty." —The Guardian
 
"The perfect read for anyone who has ever considered themselves 'a writer.'" —The Sunday Times Style Magazine (London)
 
"Hilarious and original, charming and engaging. I loved it." —Rebecca Wait, author of The Followers and The View on the Way Down
 
"An enthralling reflection on writing. . . . [A] confiding, edgy and ever-so-slightly horrifying book which I enjoyed so much I wolfed it in one sitting." —Caroline Sanderson, Daily Express
 
"It's comforting to know that even without any of the distractions of normal life, even at the ends of the Earth, you can still end up whistling in the wind." —Daily Mail
 
"[A] whimsical, good-humored, yearning-filled, thought-provoking read." —Bustle.com