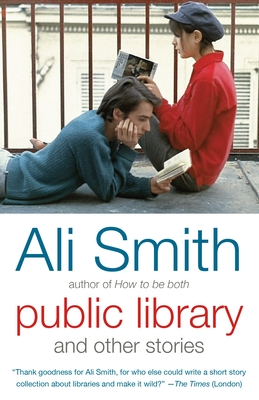 Public Library and Other Stories (Paperback)
Anchor, 9781101973042, 240pp.
Publication Date: October 4, 2016
Other Editions of This Title:
Digital Audiobook (10/3/2016)
* Individual store prices may vary.
Description
Why are books so very powerful? What do the books we've read over our lives—our own personal libraries—make of us? What does the unraveling of our tradition of public libraries, so hard-won but now in jeopardy, say about us?

The stories in Ali Smith's new collection are about what we do with books and what they do with us: how they travel with us; how they shock us, change us, challenge us, banish time while making us older, wiser and ageless all at once; how they remind us to pay attention to the world we make.

Woven between the stories are conversations with writers and readers reflecting on the essential role that libraries have played in their lives. At a time when public libraries around the world face threats of cuts and closures, this collection stands as a work of literary activism—and as a wonderful read from one of our finest authors.
About the Author
Ali Smith is the author of many works of fiction, including the novel Hotel World, which was short-listed for both the Orange Prize and the Booker Prize and won the Encore Award and the Scottish Arts Council Book of the Year Award, and The Accidental, which won the Whitbread Award and was short-listed for the Man Booker Prize and the Orange Prize. Her most recent novel, How to be both, was a Man Booker Prize finalist and winner of the Bailey Women's Prize, the Goldsmith Prize, the Costa Novel Award, and the Saltire Literary Book of the Year Award. Born in Inverness, Scotland, Smith lives in Cambridge, England.
Praise For Public Library and Other Stories…
"Smith's (How to Be Both) collection celebrates the communal impact of books through a breezy series of slice-of-life tales that highlight the casual inroads of life and literature, pairing ordinary readers with the writing that has shaped them. . . . Each of these is followed by a recollection by one of Smith's peers about their memories of public libraries, significant because this book appeared in the U.K. amid a tense battle over massive cuts to library funding. . . . Affecting. . . . This is a valiant project that depicts the everyday joy of books and makes a passionate plea for their preservation."
—Publishers Weekly
 
"While Man Booker Prize finalist Smith (How to Be Both, 2014) was working on this collection of thoughtful, sensitive, imaginative, and acidly funny short stories about characters besotted by language and books, public libraries throughout the UK were being shut down. In protest, Smith asked other writers to share their thoughts about why public libraries are essential to a life fully lived, to community and democracy, and she sets clarion testimony in support of public libraries from Kate Atkinson, Helen Oyeyemi, Miriam Toews, and others, in-between her exceptionally nimble, disarming, and affecting tales. Smith's smart, discouraged loners are beset by difficult memories and grief, and driven to quiet acts of rebellion. In one wily and crackling tale, Smith juxtaposes her narrator's fascination with D. H. Lawrence against her dismay over finding fraudulent charges on her credit card. Other arresting, emotionally incisive stories portray on-the-edge characters enthralled by Katherine Mansfield and Olive Fraser, a Scottish poet published only after her death. Smith has forged a uniquely artistic and piquant paean to the liberating and sustaining power of literature and libraries."
—Booklist

"Thank goodness for Ali Smith, for who else could write a short story collection about libraries and make it wild." —The Times (London)

"A series of wonderful stories on the power of books." —Mary Beard, The Guardian (Best Books of the Year)

"Extraordinarily artful. . . . A triumph." —The Times Literary Supplement (London)

"Smith's own stories leap across space and time, delighting in unexpected connections. . . . Each of Smith's stories is a gem." —Financial Times

"A work of endless interventions. . . . Smith's great talent is her ability to produce on the page the effect of a human voice." —Ian Samson, The Guardian (London)

"An important book." —The Independent (Books of the Year)

"Superb. . . . [A] wonderful collection. . . . It has been Smith's unlikely triumph throughout her increasingly acclaimed career to combine a playful and experimental approach with material that is both moving and funny—and she has done it again." —Daily Mail

"There are sentences that sing, or make you smile, and the conceit behind each of the stories is distinctively offbeat." —The Herald (Glasgow)

"Spritely, poignant. . . . Magical. . . . Alive to the ability words have to garland a life and make the ordinary bloom into something fresh and funny." —Mail on Sunday (London)

 "Reading this collection is like spending an afternoon in a well-stocked library in the company of an erudite and playful companion." —The Daily Telegraph (London)

"Smith's stories are so good as to be priceless." —Sunday Express (London)

"Beautiful. . . . Wonderful. Her prose dances. Her imagination lights up life and experience. This is a book to read slowly, to savour its vitality and variety, one to return to and find new pleasures with each reading." —The Scotsman

"Endearing and affecting. The extraordinary is always rooted in the corporeal . . . and this lends Smith's voice much of its considerable charm. . . . The narration is often arch, winking at you from the pages, rightfully proud of its own showmanship and subtlety, and is fundamentally human." —The London Magazine

"A brilliant, comprehensive, unpredictable defence of public libraries. You can travel anywhere on Ali Smith's library ticket." —Kate Kellaway, The Guardian (London)

"Powerful. . . . Beautifully written. . . . A gentle, comforting, and thought-provoking read. . . . It is a blessing to have authors such as Ali Smith." —Stylist

"Smith's world is incredibly generous—it's a place where all sorts of stories and human connections are possible." —Metro

"A series of spirited short stories, in an ingenious blend of fact and fiction. . . . The result is a love-song to literature that all readers will delight in dipping in and out of." —Lucy Brooks, Culture Whisper

"A moving, surprising, beautiful collection. . . . So clever and so joyful." —Open Democracy