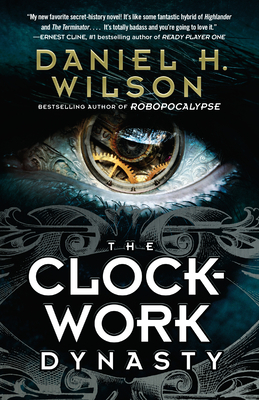 The Clockwork Dynasty (Paperback)
Vintage, 9781101974087, 320pp.
Publication Date: June 26, 2018
Other Editions of This Title:
Digital Audiobook (7/31/2017)
Hardcover (8/1/2017)
Paperback, Large Print (8/1/2017)
* Individual store prices may vary.
Description
A Kirkus Best Science Fiction and Fantasy Book of 2017
A Popsugar Best Book of the Year

From the New York Times bestselling author of Robopocalypse comes an epic new thriller about a race of ageless automatons who have been hiding among us for untold centuries.

In the depths of the Kremlin in 1725, the tsar's loyal mechanician brings to life two astonishingly humanlike mechanical beings. Peter and Elena are a brother and sister possessed with uncanny power and destined to fight an ancient war.
 
When June Stefanov, a young anthropologist specializing in ancient technology, uncovers a terrible secret concealed in the workings of a three-hundred-year-old mechanical doll, she finds herself in the middle of the hidden war that has raged for centuries. As June plunges deeper into their world, her choices will ultimately determine their fate.
 
The Clockwork Dynasty interweaves past and present, exploring a race of beings designed to live by ironclad principles, yet constantly searching for meaning. Richly-imagined and heart-pounding, Daniel H. Wilson's novel combines exquisitely drawn characters with visionary technology—and riveting action.
About the Author
DANIEL H. WILSON is the bestselling author of Robopocalypse, Robogenesis, and Amped, among others. He was born in Tulsa, Oklahoma, and earned a B.S. in computer science from the University of Tulsa and a Ph.D. in robotics from Carnegie Mellon University in Pittsburgh. He lives in Portland, Oregon with his wife and two children.
Praise For The Clockwork Dynasty…
"The Clockwork Dynasty is my new favorite secret history novel! It's like some fantastic hybrid of Highlander and The Terminator--or maybe a cross between I, Robot and The Difference Engine, with a dash of Blade Runner for good measure. It reads like classic steampunk on steroids. In other words, it's totally bad ass and you're going to love it."
 --Ernest Cline, The New York Times bestselling author of Ready Player One

"Daniel H. Wilson is one of the foremost prophets of the near future. . . In The Clockwork Dynasty, the irrepressibly readable Wilson has retreated to pseudo-vampiric sentient robots. I say retreated because he's dealing with the past and present, rather than the future — though his rewriting of the past is no less radical than his speculative work. . .The plot is driven by a human protagonist, June Stefanov. She represents human history and continues Wilson's excellent run of female lead characters — a distinction not to be sniffed at in male-written robot sci-fi."
--The Los Angeles Review of Books

"This bold adventure is a stew of cult-classic concepts—the avtomat reflect the Immortals in the Highlander franchise, while the ancient and deadly Elena is reminiscent of child vampire Claudia in Interview with the Vampire. It may wear its influences on its sleeve but it's also a welcome treat for steampunk and fantasy fans. A thrilling mix of influences, much like Sylvain Neuvel's Sleeping Giants and HBO's Westworld, that creates a captivating scenario begging for many sequels."
--Kirkus (starred review)

"Brilliantly conceived and executed . . . this is science fiction at its best—thoughtful, challenging, beautifully written and astonishing."
--Booklist (starred review)

"The Clockwork Dynasty is a hybrid: engrossing historical fiction starring ancient androids and mile-a-minute present-day action thriller . . . June's mad dash to flee a secret society bent on taking her knowledge and her life evokes the best moments of Dan Brown."
--Shelf Awareness

"New York Times bestselling author Daniel H. Wilson delivers a fascinating new thriller that takes us on a journey to the past discovering human-like machines that have lived among us for centuries."
--Library Journal

"Wilson has a great knack for pace and engaging action; it's a book that is very difficult to put down. It's an exceptional piece of speculative fiction, set in a world that I would very much like to visit again. Steampunk and other genre fiction fans should give it a whirl."
--The Maine Edge

"What Wilson does as well as any writer alive is create self-contained and fully realized worlds—the cinematic stuff of dreams and stardust, mixed with the dirt of actual living. He does so with sensitivity, intelligence and a gift for near-baroque detail."
--Willamette Weekly

"With hints of Highlander, a touch of The Terminator, shards of Edward Scissorhands, and a dusting of Doctor Zhivago, Wilson's latest introduces an autonomous race of ancient androids not so different from ourselves. It's a thoroughly engaging read that traps you in its grinding narrative cogs and lingers long after the final page has turned."
--SyFy Wire

"In The Clockwork Dynasty, Daniel Wilson, the king of the robothriller, mixes robots, history and non-stop action to create a thoroughly original plot. Think The Terminator meets Indiana Jones with a crash course in history thrown in. A thoroughly enjoyable read."
--Phillip Margolin, New York Times bestselling author of Violent Crimes

"With The Clockwork Dynasty, Daniel H. Wilson has created a ripping, pulsing whirlwind of a world: a sweeping tale of forgotten secrets and wars, of empires and those who topple them, of identities given and taken away, of robots who seem to know better than we just what it means to be human. This is Wilson's most adventurous, romantic, utterly thrilling work, and it's not to be missed."
--Jason Gurley, author of Eleanor

"The Clockwork Dynasty is bravely imagined and satisfyingly executed. Wilson has woven a brilliant fictional world into history, making this book a great read for lovers of historical fiction as well as fantasy and sci-fi."
--Bookpage

"In the spirit of some of my personal favorites (He, She, and It and The Golem and the Jinni), The Clockwork Dynasty imagines a world where 'artificial intelligence' is something altogether different, and where the meaning of 'human' has become more than flesh and bone."
--Veronica Belmont, host of The Sword and Laser

"Action-packed and uniquely imagined with robots--and history!--like you've never seen before, The Clockwork Dynasty is a thrilling ride from start to finish." 
 --John Joseph Adams, series editor of Best American Science Fiction and Fantasy