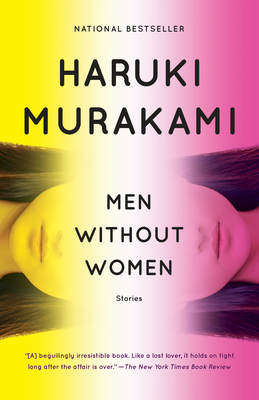 Men Without Women (Paperback)
Stories (Vintage International)
Vintage, 9781101974520, 240pp.
Publication Date: May 1, 2018
* Individual store prices may vary.
Description
Across seven tales, Haruki Murakami brings his powers of observation to bear on the lives of men who, in their own ways, find themselves alone. Here are lovesick doctors, students, ex-boyfriends, actors, bartenders, and even Kafka's Gregor Samsa, brought together to tell stories that speak to us all. In Men Without Women Murakami has crafted another contemporary classic, marked by the same wry humor and pathos that have defined his entire body of work.
About the Author
Haruki Murakami was born in Kyoto in 1949 and now lives near Tokyo. His work has been translated into more than fifty languages, and the most recent of his many international honors is the Hans Christian Andersen Literature Award, whose previous recipients include J. K. Rowling, Isabel Allende, and Salman Rushdie.
www.harukimurakami.com
Praise For Men Without Women: Stories (Vintage International)…
NATIONAL BESTSELLER
One of the Best Books of the Year: The Washington Post, NPR, and Esquire

"[A] beguilingly irresistible book. Like a lost lover, it holds on tight long after the affair is over." —The New York Times Book Review

"Classic Murakami. . . . [His] voice—cool, poised, witty, characterized by a peculiar blend of whimsy and poignancy, wit and profundity—hasn't lost its power to unsettle even as it amuses." —The Boston Globe
 
"Time and again in these seven stories, Murakami displays his singular genius." —Los Angeles Times
 
"Intimate, captivating and poignant. . . . A short story is brief enough to be perfectible—and Men Without Women showcases that." —The Kansas City Star

"Beautifully rendered." —Financial Times

"Affecting. . . . Murakami is a master of the open-ended mystery. . . . His meandering, mesmerizing tales of profound alienation are driven by puzzling circumstances that neither his characters nor readers can crack—recalling existentialist Gabriel Marcel's assertion that 'Life is not a problem to be solved but a mystery to be experienced.'" —The Washington Post
 
"[Murakami] remains in top form." —San Francisco Chronicle
 
"Each of the seven stories here [is] a gem in and of its own right, but strung together they're a sparkling strand of precious stones, the light refracted from each equally brilliant but the tones varying subtly. . . . I have something of a love/hate relationship with short stories. Too many mediocre offerings leave me despairing of the genre, but then a collection like Men Without Women comes along and all is forgiven, my faith restored in the recognition of how utterly perfect the medium can be—in the right hands." —Lucy Scholes, The Independent
 
"Charming and funny." —Vulture
 
"The best of these stories hold the excitement of a quest: These odd episodes of awakening desire show men startled into an awareness of how they have shorted themselves on life." —Minneapolis Star Tribune
 
"Murakami's greatest strength is his creation of environments just eccentric enough to wrong-foot you—not exactly magical realism, but perhaps enigmatic realism. . . . When his writing is at its best, his characters act as a fisheye lens through which to scrutinize a slightly off-kilter world that surrounds them." —The New Republic
 
"Masterful. . . . The mundane gives way suddenly, like an ice floe cracking under our feet, only to reconstitute itself a moment later and swallow up that brief glimpse of what lies below." —Vice
 
"A whimsical delight. . . . Sanity might be overrated, but Murakami is surely not." —The Christian Science Monitor