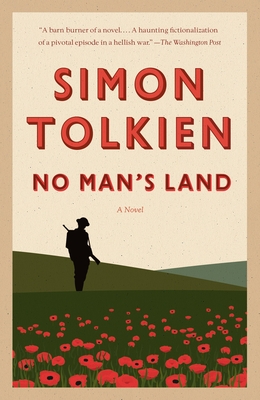 No Man's Land (Paperback)
Anchor, 9781101974575, 592pp.
Publication Date: October 17, 2017
Other Editions of This Title:
Digital Audiobook (1/23/2017)
Hardcover (1/24/2017)
* Individual store prices may vary.
Description
London, 1910: young Adam Raine's impoverished childhood becomes even darker when his mother is killed in a workers' protest march. His grieving father, Daniel, seeks a second chance for them in a coal mining town, where he begins working for the miners' union. But tensions escalate between the miners and their employer, Sir John Scarsdale, and finally explode with tragic consequences.
 
In the aftermath, Adam is brought into the opulent Scarsdale family home where Sir John's son subjects Adam to a succession of petty cruelties for daring to step above his station. When, despite everything, Adam finds love with the beautiful parson's daughter and wins a scholarship to Oxford, he starts to feel that his life is finally coming together—until the outbreak of war threatens to tear everything apart. Inspired by the real-life war experiences of the author's grandfather J.R.R. Tolkien, No Man's Land delivers a Dickensian, page-turning novel of Edwardian England and World War I.
About the Author
Simon Tolkien studied modern history at Trinity College, Oxford, and went on to become a London barrister specializing in criminal defense. He is the author of Final Witness and The Inheritance, court­room dramas drawing on his firsthand knowledge of the British criminal justice system, and The King of Diamonds and Orders from Berlin, set during World War II. Simon is the grandson of J. R. R. Tolkien and is a director of the Tolkien Estate. He lives with his wife and two children in Southern California.

www.simontolkien.com
Praise For No Man's Land…
"A barnburner of a novel. . . . A haunting fictionalization of a pivotal episode in a hellish war." —The Washington Post

"A page-turner, an opera, a costume drama to binge watch. Simon Tolkien knows how to keep a story moving, and he does it well." —NPR

"Rends the heart and sears the soul. . . . A splendid novel that exemplifies historical fiction at its descriptive, disturbing, addictive and engaging best." —Richmond Times-Dispatch
 
"Visceral. . . . An unforgettable paean and a gripping war story." —Booklist (starred review)

"An epic coming-of-age story. . . . Thoroughly enjoyable." —Shelf Awareness

"Vivid set pieces, notably a wonderful section down a mine, while Adam is an intriguing central character: clever, sincere and, amid the turbulence of early twentieth-century England, a determined survivor." —Daily Mail

"[Tolkien's] most ambitious work yet. . . . Adam makes an attractive hero and his story has more than enough colour and energy to keep us reading." —Sunday Times (London)

"In this emotionally charged novel, Tolkien brings to the fore the social injustice, poverty and attrition of war in early twentieth-century England. The scenes underground in the mines of Scarsdale are every bit as shocking as the harrowing descriptions of trench warfare when Adam and his comrades are repeatedly sent over the top." —Sunday Express

"[A] bittersweet coming-of-age tale . . . Peopled with a rich cast of sympathetic characters." —The Straits Times

"Entertaining. . . . A satisfying bildungsroman." —Publishers Weekly

"Tolkien draws from the World War I-era experiences of his famous grandfather J.R.R. Tolkien to spin a saga worthy of Masterpiece Theater." —Kirkus Reviews