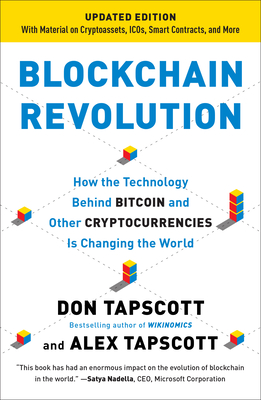 Blockchain Revolution
How the Technology Behind Bitcoin and Other Cryptocurrencies Is Changing the World
Paperback

* Individual store prices may vary.
Other Editions of This Title:
MP3 CD (5/2/2017)
Compact Disc (5/2/2017)
Compact Disc (5/10/2016)
MP3 CD (5/10/2016)
Compact Disc (5/10/2016)
Paperback, Vietnamese (4/1/2018)
Hardcover (5/10/2016)
Description
The first, foundational book on blockchain technology, from the bestselling author of Wikinomics Don Tapscott and blockchain expert Alex Tapscott, now in paperback with a new preface and chapter explaining recent developments in the world of blockchain, including cryptoassets, ICOs, smart contracts, and more.
 
"This book has had an enormous impact on the evolution of blockchain in the world."
—Satya Nadella, CEO, Microsoft Corporation

In this revelatory book, Don and Alex Tapscott bring us a brilliantly researched, highly readable, and essential book about the technology driving the future of the economy. 
 
Blockchain is the ingeniously simple, revolution­ary protocol that allows transactions to be simultaneously anonymous and secure by maintaining a tamperproof public ledger of value. Though it's best known as the technology that drives bitcoin and other digital cur­rencies, it also has the potential to go far beyond currency, to record virtually everything of value to humankind, from birth and death certifi­cates to insurance claims, land titles, and even votes. 
 
As with major paradigm shifts that preceded it, blockchain technology will create winners and losers. This book shines a light on where it can lead us in the next decade and beyond.



Praise For Blockchain Revolution: How the Technology Behind Bitcoin and Other Cryptocurrencies Is Changing the World…
 "The blockchain is one of the most fundamental inventions in the history of computer science. Read Blockchain Revolution to understand its profound implications."
—Marc Andreessen, cofounder, Netscape and Andreessen Horowitz
 
"The Tapscotts have written the book, literally, on how to survive and thrive in this next wave of technology-driven disruption. Likely to become one of the iconic books of our time."
—Clay Christensen, author of The Innovator's Dilemma
 
"Everywhere thoughtful people are trying to understand this revolutionary technology and how it might change the world. Team Tapscott has stepped up and written the book we've been waiting for."
—Dan Schulman, CEO, Paypal
 
"Occasionally a book comes along that changes the global discourse. This is likely to be one of those books. Blockchains are at the heart of the fourth industrial revolution and the Tapscotts lucidly explain why and how to capture the opportunity and avoid the dangers."
—Klaus Schwab, founder and executive chairman, World Economic Forum
 
"A carefully researched and beautifully written book. Blockchain Revolution argues that the 'Internet of value' will transform our lives. A must-read book for our disruptive times."
—Dominic Barton, global managing director, McKinsey & Company
 
"Don and Alex brilliantly illuminate the technology that could profoundly impact the way we manage issues of trust, security, and privacy for years to come."
—Indra Nooyi, chairman and CEO, PepsiCo
 
"The great missing element in the Internet has been a 'trust protocol," a way of knowing that a transaction is verified and authentic. Blockchain technology could provide a foun­dation for that. It's a revolutionary idea, and this lucid book explains why."
—Walter Isaacson, author of Steve Jobs
 
"What a spectacular book. Mind-blowing in its expansiveness and profundity. It makes me think we're at one of those times in technological, economic, and social history where the sky is the limit."
—Steve Wozniak, cofounder, Apple Computer and chief scientist, Prime Data

"The Tapscotts provide a thorough, balanced and enlightening guide to the next big thing."
—Financial Times

"Father and son duo, Don and Alex Tapscott, have impeccable timing."
– Forbes Magazine
 
"The Tapscotts' make the bulls' case in clear and compelling terms." 
– Fortune Magazine
 
"Blockchain Revolution is a highly readable introduction to a bamboozling but increasingly important field."
– The Guardian
 
"This is all very new and still unfolding but I recommend that you read Blockchain Revolution…it really is time to get with the global revolution."
– The Huffington Post
 
"The Tapscotts have done a masterful job explaining why this is, truly, another revolution."
– The National Post
 
"The Tapscotts present a mind-expanding perspective – and their enthusiasm makes you a believer in the revolution." 
– Thomson Reuters
 
Editor's Choice:  "The definitive, must-read book on a new revolution."
– 800-CEO-READ
 
"This 368-page page-turner offers the first comprehensive look at the future of this emerging digital ecosystem."
– Comstock's Magazine
 
"Bitcoin is just the beginning. Imagine a personal-identity service that gives us control over selling our personal data."
— The Wall Street Journal, Bookshelf
 
"In clear, engaging prose, they make blockchain intelligible to the rest of us…this richly sourced book overflows with entertaining examples of how blockchain could enhance our lives."
– Oxford Economics
Portfolio, 9781101980149, 432pp.
Publication Date: June 12, 2018
About the Author
DON TAPSCOTT is the CEO of the Tapscott Group and one of the most influential living theorists about business and society. In November 2013, Thinkers50 named Don as the 4th most important business thinker in the world. A June 2013 Forbes.com analysis of social media identified Don as the most influential management thinker in the world. He is the author or co-author of 15 widely read books about new technologies and new media in business and society, including Wikinomics and The Digital Economy.

 
ALEX TAPSCOTT is the CEO and founder of Northwest Passage Ventures, an advisory firm building blockchain companies. In 2014 he wrote the seminal report on governing digital curren­cies for the Global Solutions Network program at the Joseph L. Rotman School of Management at the University of Toronto. Prior to founding Northwest Passage Ventures, he worked for seven years in investment banking in New York and Toronto.