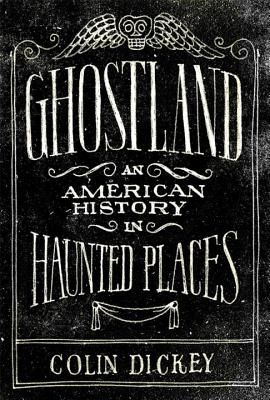 Ghostland
An American History in Haunted Places
Hardcover

* Individual store prices may vary.
Other Editions of This Title:
Digital Audiobook (10/3/2016)
Paperback (10/3/2017)
Description
One of NPR's Great Reads of 2016

"A lively assemblage and smart analysis of dozens of haunting stories… absorbing…[and] intellectually intriguing."—The New York Times Book Review

An intellectual feast for fans of offbeat history, Ghostland takes readers on a road trip through some of the country's most infamously haunted places—and deep into the dark side of our history.

Colin Dickey is on the trail of America's ghosts. Crammed into old houses and hotels, abandoned prisons and empty hospitals, the spirits that linger continue to capture our collective imagination, but why? His own fascination piqued by a house hunt in Los Angeles that revealed derelict foreclosures and "zombie homes," Dickey embarks on a journey across the continental United States to decode and unpack the American history repressed in our most famous haunted places. Some have established reputations as "the most haunted mansion in America," or "the most haunted prison"; others, like the haunted Indian burial grounds in West Virginia, evoke memories from the past our collective nation tries to forget.     
       With boundless curiosity, Dickey conjures the dead by focusing on questions of the living—how do we, the living, deal with stories about ghosts, and how do we inhabit and move through spaces that have been deemed, for whatever reason, haunted? Paying attention not only to the true facts behind a ghost story, but also to the ways in which changes to those facts are made—and why those changes are made—Dickey paints a version of American history left out of the textbooks, one of things left undone, crimes left unsolved.
       Spellbinding, scary, and wickedly insightful, Ghostland discovers the past we're most afraid to speak of aloud in the bright light of day is the same past that tends to linger in the ghost stories we whisper in the dark.
Praise For Ghostland: An American History in Haunted Places…
A Shelf Awareness Best Book of the Year

"The spectral map Dickey creates is as broad and packed as his book's title implies . . . Ghostland amounts to a lively assemblage and smart analysis of dozens of haunting stories, some better known than others. In each chapter, Dickey spins riveting tales and then carefully unwinds these narratives, exposing the materials and motivations of their construction . . . The most fascinating moments in Ghostland are Dickey's etymological musings and his many turns down unusual paths of American history . . . All of these are absorbing . . . With Ghostland, Dickey achieves a capacious geographical synthesis that is both intellectually intriguing and politically instructive."—The New York Times Book Review

"For a relatively young nation, America is overrun with spirits. Mr. Dickey visits with Salem's witches, spectral lights at a Nevada brothel and the eccentric widow who designed the sprawling, never-finished Winchester Mystery House…[to] suggest that by analyzing them we can learn a great deal about ourselves."—The Wall Street Journal

"The good news: Nothing's really haunted except by the spirits we imagine for ourselves. The bad news: We'll make anything haunted. The great news: There's Ghostland. Colin Dickey gets to the heart of the matter over and over, skirting any tourist-trap sensationalism in favor of historical context that touches on the longing and tragedy underneath ghost stories. It's a tour of America's haunted places that takes an insightful look at how ghost stories are made, how ghosts and historical visibility are so tightly intertwined, and why we keep looking for the dead."—NPR, a best book of the year pick

"Dickey neatly dissects not just the historical, but the visual and atmospheric elements that evoke a haunting . . . As he wends his way through the landmarks and their histories, Dickey thoroughly and convincingly explores the many underpinnings of ghost stories and hauntings ― as manifestations of our collective guilt, anxieties, obsessions and historical losses; and as practical schemes for money-making, land acquisition, or controlling groups of people."—Huffington Post
 
"Engrossing . . . Dickey's book is not so much about spooks and goblins, but about tales of them that we tell, and why. Its purpose isn't to scare, but to intrigue — and on that level, it may well keep you up late." —Seattle Times

"Capacious . . .  Dickey's omnivorous curiosity lands on everything from the fraught legacy of slavery to the role of Spiritualism in women's suffrage to 19th-century innovations in efficient horse stable design to the origins of the Ku Klux Klan to critiques of ruin porn in modern-day Detroit . . .  Dickey is always good company, an ideal companion to take along on a ghost tour: skeptical but prone to goosebumps, with an affinity for odd, morbid historical details."
—The Los Angeles Review of Books
 
"A stunning work of architectural theory and a spell-binding collection of true-crime tales and historical drama."—The Atlantic's CityLab

"Dickey is one of the sharpest and most erudite writers around, and his new book makes for a perfect Halloween read."—Men's Journal

"Colin Dickey's essays explore facets of the world that we might overlook, take readers to uncharted spaces, and delve into bizarre corners of history."—Vol 1. Brooklyn

"Dickey takes an erudite tour of haunted America and tells us repeatedly that the meaning of ghost stories lies not in what they claim about the occult but in what they inadvertently say about the anxieties and prejudices of the teller and the larger society . . . His analytical and reportorial talents are evident . . . Part of the special delight of GHOSTLAND is its many informed asides, revealing Dickey's long hours of spading up obscure facts and quotes . . . a bravura performance of storytelling, in an elegant prose style throughout that does not sacrifice intelligence for readability."—Los Angeles Times
 
"Colin Dickey is a mad genius, and reading one of his books is as close to a look at his brilliant brain as we will get without use of a bone saw."—BookRiot

"You wouldn't expect to read about brothels, human psychology, Victorian architecture, even a suburban Toys R' Us, and come out the other side with an entirely different understanding and appreciation for ghosts. But Colin Dickey's writing is just that good. Ghostland is strange and un-settling in the best possible way."—Caitlin Doughty, New York Times bestselling author of Smoke Gets in Your Eyes
 
"Always fascinating, sometimes horrifying. GHOSTLAND is a remarkable portrait of the ways that the walking dead—or our beliefs in them—wander through, 
and shape, American history."—Deborah Blum, author of The Poisoner's Handbook 

"Spine-tingling... A truly creepy travelogue that's a must-have for Halloweeen."—BookPage
 
"Come for the ghosts, stay for the history."—Booklist 

"Dickey pops sensationalist bubbles by observing the underlying racism, sexism, and classism associated with many hauntings' long-told tales. By exposing historical inaccuracies and sociological calumny, the work treats readers to a better understanding of the socioeconomic and political milieu in which these myths gained acceptance, ultimately providing a richer, more nuanced narrative. Sophisticated readers with gothic sensibilities who enjoy literary histories, social commentary, and authoritative travelogs will find this a worthy title."—Library Journal
Viking, 9781101980194, 336pp.
Publication Date: October 4, 2016
About the Author
Colin Dickey grew up in San Jose, California, a few miles from the Winchester Mystery House, the most haunted house in America. As a writer, speaker, and academic, he has made a career out of collecting unusual objects and hidden histories all over the country. He's a regular contributor to the LA Review of Books and Lapham's Quarterly, and is the co-editor (with Joanna Ebenstein) of The Morbid Anatomy Anthology. He is also a member of the Order of the Good Death, a collective of artists, writers, and death industry professionals interested in improving the Western world's relationship with mortality. With a PhD in comparative literature from the University of Southern California, he is an associate professor of creative writing at National University.
Coverage from NPR
or
Not Currently Available for Direct Purchase