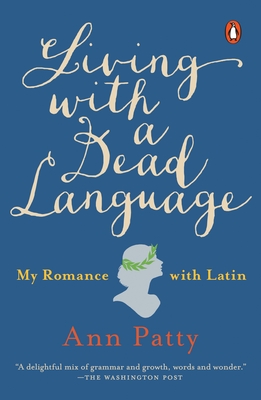 Living with a Dead Language
My Romance with Latin
Paperback

* Individual store prices may vary.
Other Editions of This Title:
Hardcover (6/14/2016)
Description
"A delightful mix of grammar and growth, words and wonder." – The Washington Post

An entertaining exploration of the richness and relevance of the Latin language and literature, and an inspiring account of finding renewed purpose through learning something new and challenging

After thirty-five years as a book editor in New York City, Ann Patty stopped working and moved to the country. Bored, aimless, and lost in the woods, she hoped to challenge her restless, word-loving brain by beginning a serious study of Latin at local colleges. 
 
As she begins to make sense of Latin grammar and syntax, her studies open unexpected windows into her own life. The louche poetry of Catullus calls up her early days in 1970s New York, Lucretius elucidates her intractable drivenness and her attraction to Buddhism, while Ovid's verse conjures a delightful dimension to the flora and fauna that surround her. Women in Roman history, and an ancient tomb inscription give her new understanding and empathy for her tragic, long deceased mother.  Finally, Virgil reconciles her to her new life—no longer an urban exile, but a rustic scholar, writer and teacher.  Along the way, she meets an impassioned cast of characters: professors, students and classicists outside of academia who keep Latin very much alive.
 
Written with humor, heart, and an infectious enthusiasm for words, Patty's book is an object lesson in how learning and literature can transform the past and lead to an unexpected future.
Praise For Living with a Dead Language: My Romance with Latin…
 "A delightful mix of grammar and growth, words and wonder. Patty and her book are both full of life, epitomizing the Latin phrase ad astra per aspera — to the stars through difficulties. Those readers who never encountered Latin may overlook this book, but to use the Roman poet Horace's phrase, consider letting carpe diem be your catchphrase, or even carpe noctem: seize the day or seize the night and read this book."
–The Washington Post

"A kind of Eat, Pray, Love for the Caecilius in horto est set.  Studying Latin for fun in later life is a niche fantasy, but the  impulse to do something substantial is a more widely shared experience.  So is the desire to repair some deficit of one's youth . . . Patty's book is an effort on the part of the author to decipher her own life by deciphering two-thousand-year old texts.  Most vital are the moments in which Patty lets her word-nerd flag fly."
– Rebecca Mead, The New Yorker
 
"[A] moving, unusual memoir…A highly personal book about one woman's journey to a deeper understanding of her world and her history…[Living with a Dead Language] makes a compelling case for the value of taking on challenges in later years."
–The Wall Street Journal
 
"Patty's passion for the poetry of Catullus, Propertius, Lucretius, Ovid and Virgil is infectious… She offers a sensitive model for how to read poetry in any language."
–The San Francisco Chronicle


"If you like words, if you have a penchant, even a rusty penchant, for classical culture, allow me to recommend Living with a Dead Language. . . [Patty] comes, as the poet Horace advised, to delight as well as instruct us on her course of total immersion into lingua Latina. . .There is as much about Ms. Patty's autobiography as about the Ablative Absolute in this book – but that just adds a dollop of human warmth to the narrative."
–The New Criterion

"Patty's goal is not merely to understand Latin, but to inhabit it . . . She isn't the first retiree to find anxiety in a country retreat, turning to the Latin masters as sources of insight and instruction.  Michel de Montaigne did much the same thing . . . like Montaigne, Patty often writes about one subject as a way of writing about many others."
– The Christian Science Monitor

"The rich seam of literature dedicated to midlife transition and reinvention now has another entrant in Patty's lovely account."
– Ladies' Home Journal

"I never expected to finish a book on language with a lump in my throat and tears in my eyes. But Latin is no ordinary language, and Ann Patty is no ordinary writer. As she wrestles with the mysteries of Ovid and Virgil, the millennia fall away and the ancients come brilliantly to life. But in the end, what is illuminated is a more recent history—the dark corners of her own past. I don't know the Latin for 'Wow!' So I'll steal a word from this captivating book: Splendidissimus!"
 —Patricia T. O'Conner, author of Woe is I:  The Grammarphobe's Guide to Better English in Plain English
 
"From amo, amas in Poughkeepsie to latter-day Latinists on the Palatine Hill, Ann Patty's late-life affair with Latin has everything: grammar, gossip, lovely gray hair, lust, and mother woes. A book after my own heart."  
—Mary Norris, author of Between You & Me: Confessions of a Comma Queen

"Patty brings humor and clarity to her storytelling. . .Anyone who loves words and language will recognize him or herself in these pages." 
—BookPage
 
"[A] captivating and charming memoir. . .Patty vivaciously recounts her embrace of Latin and the manifold ways it changed her life."
–Publishers Weekly

"It's not just the fascination of getting a crash course in Latin that fuels this unique, interesting memoir; it's the spirit, mind, and wit of a woman of a certain age who refuses to sit back; get soft, boring, and stupid; and otherwise give up on life. Ann Patty's entry into the world of a language and its colorful history is a wonderful incentive to all of us to get off the couch, stay out of the refrigerator, and find a passion that will light up our days. I loved this book and the smart, enormously likable woman who has breathed so much life into its pages."
—George Hodgman, author of Bettyville  
 
"A  marvelous, moving  account of a brilliant, vulnerable woman who  has to reinvent herself, and who does so by studying the language that has most influenced our own.  Ann Patty's  struggles and triumphs with Latin's complex laws and mysteries enrich the reader  even as they lead her to a  new and deeper understanding of the complexities of her own life, past and present, and of her place in the world."
–Abigail Thomas, author of A Three Dog Life

"A lovely elegy to a dead language and a dead mother, reclaiming both from the past and firmly placing them in the luminous present. This is a lively, passionate, learned and affecting book about language and love, loss and redemption."
—Yann Martel, author of Life of Pi

"What an enchanting tribute not simply to Latin, but to the power words possess to transform a life.  Language is the heroine of this passionate, engaging book. Ann Patty has written her way fearlessly—and even comically—past loss and disappointment into a radiant new way of life and love."
–Patricia Hampl
                                                   
"This lively, refreshingly candid and high-spirited book courses with an infectious love of language, and is buoyed by the author's engaging personality, which shines through on every page."
 —Phillip Lopate
Penguin Books, 9781101980231, 256pp.
Publication Date: June 6, 2017
About the Author
Ann Patty worked in New York trade publishing for more than thirty years. She was the founder and publisher of The Poseidon Press and an executive editor at Crown Publishers and Harcourt. She lives in Rhinebeck, New York.
or
Not Currently Available for Direct Purchase