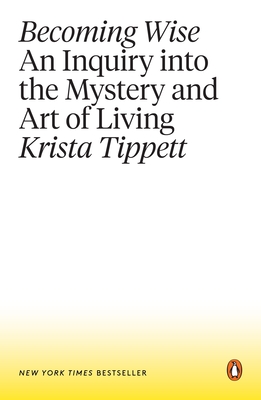 Becoming Wise
An Inquiry into the Mystery and Art of Living
Paperback

* Individual store prices may vary.
Other Editions of This Title:
Digital Audiobook (4/4/2016)
Hardcover (4/5/2016)
Hardcover, Large Print (10/5/2016)
CD-Audio (4/5/2016)
Description
A New York Times bestseller!

"I'm not sure there's such a thing as the cultural 'center,' nor that it's very interesting if it exists. But left of center and right of center, in the expansive middle and heart of our life together, most of us have some questions left alongside our answers, some curiosity alongside our convictions. This book is for people who want to take up the great questions of our time with imagination and courage, to nurture new realities in the spaces we inhabit, and to do so expectantly and with joy."

In Becoming Wise, Krista Tippett has created a master class in living for a fractured world. Fracture, she says, is not the whole story of our time. The enduring question of what it means to be human has become inextricable from the challenge of who we are to one another. She insists on the possibility of personal depth and common life for this century, nurtured by science and "spiritual technologies," with civility and love as muscular public practice. And, accompanied by a cross-disciplinary dream team of a teaching faculty, she shows us how.
 
"Krista Tippett [is] a modern-day Simone Weil. . . . Becoming Wise is a tremendously vitalizing read in its totality—a wellspring of nuance and dimension amid our Flatland of artificial polarities, touching on every significant aspect of human life with great gentleness and a firm grasp of human goodness." —Maria Popova, Brain Pickings
Praise For Becoming Wise: An Inquiry into the Mystery and Art of Living…
"If you measure the worth of a book by the volume of scribbles you pen in the margins, the stars emphatically drawn, and the sentences underlined, Krista Tippett's Becoming Wise: An Inquiry into the Mystery and Art of Living— a compendium of wisdom, at once intimate and expansive—stands a serious shot of emerging both splattered and cherished. Tippett, the Peabody Award-winning radio host and National Humanities Medalist, is a master of what she terms 'generous listening,' an act 'powered by curiosity,' and a 'willingness to be surprised, to let go of assumptions and take in ambiguity.'"  —Chicago Tribune

"Most of us can only dream of the dinner parties Krista Tippett could put together. We're lucky, then, that her new book is the next best thing to an invitation to sit down, make ourselves at home and prepare for a mind-expanding exploration of what it means to be human... Not light reading, but inspiring reading, for those willing to pull up a chair."—Minneapolis Star Tribune 

" 'Becoming Wise' challenges all forms of dogma, in science, politics and philosophy as well as religion, and it affirms the holiness of the body and the glory of the inquiring mind. While our dominant media suggest that humans are incorrigibly selfish and greedy and cruel, Tippett and her conversation partners demonstrate that the longing to lead a good life, a moral life, remains powerful and pervasive in our day…."—Washington Post

"This is not just a selection of greatest hits. Instead, rooted in Tippett's own keen insight, she provides an interlocking frame based on five themes: words, the body, love, faith, and hope. With dips into Tippett's childhood and early career, readers are embraced by her own struggle, vulnerability, and thirst for meaning. As researcher and TED-talk phenom Brené Brown told Tippett, 'Hope is a function of struggle.' Tippett's striving here is the grist for creative genius." —Publishers Weekly (starred review) 

"A thoughtful examination of what it means to be fully human and aware, open eyed in the face of "the darkness that is woven ineluctably into the light of life." — Shepherd Express 

"We need Krista Tippett's voice and wisdom now more than ever. She has elevated the art of listening and the practice of being present in a way that is both accessible and soulful. Becoming Wise is what I've been waiting for from Krista - the opportunity to learn from her and her experiences. This is brilliant thinking, beautiful storytelling, and practical insight. You won't forget what you read here."  -Brené Brown, Ph.D., New York Times bestselling author of Rising Strong
  
"Krista Tippett's ecumenical generosity speaks both to high moral standards and to diverse ways of conceptualizing and achieving them. Her trade has been listening, and from that listening has emerged a deep understanding of the mind and the heart and the curious bridges between them.  This is a book about kindness and forgiveness and the insight that is contingent on abandoning monolithic paradigms. Becoming Wise is an ambitious title, but in culling the wisdom of others, Tippett achieves a distinct and lovely wisdom of her own."- Andrew Solomon

"A thoughtful chronicle of spiritual discovery. A hopeful consideration of the human potential for enlightenment."—Kirkus Reviews 

"I am a great admirer of Krista Tippett, who has spent years using her mind as a gentle but probing research tool into the beautiful, perilous, mysterious realm of the human soul. With this book, she has gathered all her years of learning and listening to create a masterpiece of philosophical and spiritual reflection. About halfway through the book, I stopped flagging pages and highlighting passages when I realized I was highlighting nearly every word. This entire book is filled with things I never want to forget. The only remedy will be to keep it near me, always."—Elizabeth Gilbert

"After over a decade doing in-depth interviews and accumulating spiritual knowledge on her popular podcast On Being, Tippett pulls from that well of conversations to reconstruct her trail of investigation into the nature of wisdom. She tells her own life journey—her Oklahoma upbringing, her wide-eyed years in divided Cold War Germany, her decision to attend Yale divinity school—alongside the spiritual evolution that came while hosting the podcast. Pulling together and going beyond the accumulated knowledge of her interviews, Tippett's book is an incantatory trip into the paradoxical and profound."—Publishers Weekly (staff pick) 


"Krista Tippett has tirelessly reminded us of the perennial challenge, depth and complexity of the spiritual quest. At this pivotal moment in history, when on all sides religion is being so flagrantly abused, this marvellous book will inspire, excite and reinvigorate the reader."—Karen Armstrong

"Krista Tippett is one of America's ablest listeners, and in this book she assembles many of the people she has listened to and uses their example, and her own, to show us how many surprising and idiosyncratic paths still remain towards what even the most secular among us can agree should still be called enlightenment."—Adam Gopnik

"When President Obama gave Krista Tippett the coveted National Humanities Medal, he praised her for 'thoughtfully delving into the mysteries of human existence.' This book is yet another piece of evidence of the truth behind those words. Grounded in Tippett's 'life of conversation,' the book offers more, much more than a chronicle of her award-winning public radio program, On Being. In Becoming Wise, Tippett not only gives us the voices of the remarkable people with whom she's conversed on-air. She speaks her own voice as well, a voice informed by her lifelong search for truth and meaning. Wisdom is a communal creation. Tippett is rare in her ability to host a far-flung community of luminaries, listeners and readers, who together uncover the wisdom that lies within and between us."—Parker J. Palmer, author of Healing the Heart of Democracy, The Courage to Teach, A Hidden Wholeness, and Let Your Life Speak
Penguin Books, 9781101980316, 304pp.
Publication Date: February 28, 2017
About the Author
Krista Tippett is a Peabody Award-winning broadcaster and New York Times bestselling author. In 2014, she received the National Humanities Medal at the White House for "thoughtfully delving into the mysteries of human existence." She is the host of the public radio program and podcast On Being and Curator of the Civil Conversations Project (civilconversationsproject.org).