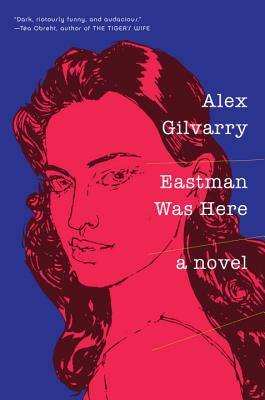 Eastman Was Here
Hardcover

* Individual store prices may vary.
Other Editions of This Title:
Digital Audiobook (8/21/2017)
Paperback (11/6/2018)
Description
"Absorbing...Eastman is a riveting...presence who demands to be loved and remembered." —The Boston Globe

An ambitious new novel set in the literary world of 1970s New York, following a washed-up writer in an errant quest to pick up the pieces of his life. 

One of Esquire's Best books of 2017 (So Far), The Millions' Most Anticipated Books of the Second Half of 2017, and BuzzFeed's Exciting New Books You Need To Read This Summer

The year is 1973, and Alan Eastman, a public intellectual, accidental cultural critic, washed-up war journalist, husband, and philanderer; finds himself alone on the floor of his study in an existential crisis. His wife has taken their kids and left him to live with her mother in New Jersey, and his best work feels as though it is years behind him. In the depths of despair, he receives an unexpected and unwelcome phone call from his old rival dating back to his days on the Harvard literary journal, offering him the chance to go to Vietnam to write the definitive account of the end of America's longest war. Seeing his opportunity to regain his wife's love and admiration while reclaiming his former literary glory, he sets out for Vietnam. But instead of the return to form as a pioneering war correspondent that he had hoped for, he finds himself in Saigon, grappling with the same problems he thought he'd left back in New York.

Following his widely acclaimed debut, From the Memoirs of a Non-Enemy Combatant, Alex Gilvarry employs the same thoughtful, yet dark sense of humor in Eastman Was Here to capture one irredeemable man's search for meaning in the face of advancing age, fading love, and a rapidly-changing world.

"With his second book, Gilvarry establishes himself as a writer who defies expectation, convention and categorization. Eastman Was Here is a dark, riotously funny and audacious exploration of the sacred and the profane—and pretty much everything in between." —Téa Obreht, New York Times bestselling author of The Tiger's Wife
Praise For Eastman Was Here…
"Absorbing...Gilvarry has given us a portrait of toxic masculinity—one that feels as if it both belongs to a certain time and is still familiar. His Eastman is a riveting, loathsome presence who demands to be loved and remembered." –
The Boston Globe
"A lampoonish send-up of the fragile male ego…. This may be one of the sadder books you read this summer, but it may also be the funniest."
–The Paris Review
"Inappropriate, egotistical, (very funny)…[A] satirical novel about the type of macho public intellectual, journalist, and cultural critic that one hopes is a relic of the past." –
Esquire
,
The Best Books of 2017
"With his second book, Gilvarry establishes himself as a writer who defies expectation, convention and categorization. 
Eastman Was Here 
is a dark, riotously funny and audacious exploration of the sacred and the profane—and pretty much everything in between." —Téa Obreht,
New York Times
bestselling author of
The Tiger's Wife"Eastman Was Here
has it both ways, beautifully, both a hilarious send-up of certain Gen Greatest literary icons and their self-aggrandizing, self-crippling conceptions of manhood, as well as a moving tale of existential crisis. Gilvarry's comedy is sharp, but just as impressive is the way he gives his characters a captivating richness and an ability to surprise. There is so much artistic and intellectual delight in this book, all of it suffused with real feeling." –Sam Lipsyte, author of
The Ask
"A clever send-up of Philip Roth, Norman Mailer, Richard Ford." –
GQ
"Eastman is a selfish, narcissistic, womanizing blowhard—Mailer minus the charm and the literary genius.  Gilvarry's success at creating such a delightfully disagreeable anti-hero is an entertaining rebuttal to the notion that the protagonist of a novel ought to be likable." —
The Millions

"A perfect send-up of repugnant men and the unicorns they love." –
Nylon Magazine
"[A] delicious, biting, xenomorph-blood-acidic satire"
–Paste


"
Eastman Was Here
 crackles with vibrant period detail, and raises powerful yet humorous questions about the role of the author in the larger worlds of culture and entertainment." —
Brooklyn Rail
"Engrossing...Gilvarry punchy prose, fashioned after the writer's own trademarks, that give the book a certain liveliness atypically found in contemporary literature.
..Eastman Was Here
crackles throughout with acuity and wit." –
The Culture Trip


"Rendered in a…direct prose style reminiscent of Paula Fox, Saul Bellow, or John Cheever...In focusing on the interior life of a man in crisis, Gilvarry is able to speak to not just the plight of white intellectualism in the 60s, but to the beauty that can be found at the end of an existential crisis, at the end of middle age. His protagonist shines."
–Ploughshares"
Alex Gilvarry has not so much reimagined Norman Mailer as he has channeled him. Eastman Was Here is a wildly entertaining book, intoxicatingly written and deceptively profound in its insights into the nature of celebrity, country, marriage, war and the pitfalls of being a writer. If Mailer had lived to read this novel, he'd have been jealous.
" 
—Said Sayrafiezadeh, author of
When Skateboards Will Be Free
"What if a down-but-not-dead literary lion went to war?
Eastman Was Here
seeks out that question and so much more. Part tribute and part throwback, it howls with dark comic energy and brings real vibrancy to two staples of the American imagination, 1970s New York and the Vietnam War. In Alex Gilvarry's masterful hands, the character of Eastman will both delight and horrify readers, something his real-life inspirations would no doubt appreciate. This is a wild joyride of a book and one of 2017's best novels." —Matt Gallagher, author of
Youngblood

"Eastman Was Here 
is a wry throwback of a novel that, though it's set in the past, feels relevant and new. In the tradition of satirists like John Kennedy O'Toole and Kurt Vonnegut, Alex Gilvarry sends up the "bad old days" of '70s-era hypermasculinity and misogyny, paints a vivid picture of Saigon during the War, and introduces us to an unforgettable anti-hero: the enraging, absurd, hilarious Eastman. Despite its satirical tone, there is real heart in this book, and I found myself incredibly moved by its final act." —Liz Moore, author of
Heft
 and
The Unseen World

"I can't imagine anything smarter or more exuberant than this novel. You want to smack Eastman on the head every couple of pages, but you never want to part with him!" —Lara Vapnyar, author of
Still Here
and
There are Jews in My House
"Brilliant…Being privy to the thought-cocktail of paranoia, regret, depression, and lust that powers Eastman's doomed quest is an absolute delight …That we feel for this bloated, womanizing dinosaur—despite all he has done to merit his comeuppance—is a testament to Gilvarry's skill as a novelist." —
LitHub
"Excellent…Gilvarry is skilled at highlighting the humor of hypocrisy, jealousy, exaggeration, and foolishness through scenes that crackle with amusing dialogue." –
Publishers Weekly

"
With an unforgettable protagonist, this fascinating, often-hilarious novel vividly evokes a tumultuous period in American history
." –Booklist 


Praise for
From the Memoirs of a Non-Enemy Combatant
"The deepest intelligence is poetic, incisive, and inordinately funny. Heads up, folks. Alex Gilvarry just walked through the door." —Colum McCann
"It's rare for a novel to tread so fearlessly into the political and yet to emerge so deeply funny and humane." —Gary Shteyngart
"Lively...hilarious...Gilvarry's whirligig of a book...draws some striking parallels between the way we mythologize stars and the way we look at terrorists." —John Freeman,
The Boston Globe
"Delicious . . . A left-handed love letter to America." —Daniel Asa Rose, The New York Times Book Review

"Original, smart, and incisive . . . Part manifesto, part immigrant love story, part satire, part tragedy . . . [and] eminently readable." —Roxane Gay, The Rumpus
Viking, 9781101981504, 368pp.
Publication Date: August 22, 2017
About the Author
Alex Gilvarry is the author of From the Memoirs of a Non-Enemy Combatant, winner of the Hornblower Award for a First Book and Best New Voice 2012 by Bookspan, and selected by the New York Times as an Editor's Choice. He is a National Book Foundation 5 Under 35 honoree and has received fellowships from the Harry Ransom Center and the Norman Mailer Center. His essays and criticism have appeared in The Nation and The Boston Globe and on NPR's All Things Considered, and in many other publications. He now lives in Staten Island, New York and is a professor at Monmouth University where he teaches fiction.
or
Not Currently Available for Direct Purchase