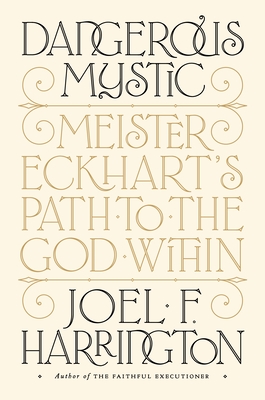 Dangerous Mystic
Meister Eckhart's Path to the God Within
Hardcover

* Individual store prices may vary.
Description
Life and times of the 14th century German spiritual leader Meister Eckhart, whose theory of a personal path to the divine inspired thinkers from Jean Paul Sartre to Thomas Merton, and most recently, Eckhart Tolle

Meister Eckhart was a medieval Christian mystic whose wisdom powerfully appeals to seekers seven centuries after his death. In the modern era, Eckhart's writings have struck a chord with thinkers as diverse as Heidegger, Merton, Sartre, John Paul II, and the current Dalai Lama. He is the inspiration for the bestselling New Age author Eckhart Tolle's pen name, and his fourteenth-century quotes have become an online sensation. Today a variety of Christians, as well as many Zen Buddhists, Sufi Muslims, Jewish Cabbalists, and various spiritual seekers, all claim Eckhart as their own. Meister Eckhart preached a personal, internal path to God at a time when the Church could not have been more hierarchical and ritualistic. Then and now, Eckhart's revolutionary method of direct access to ultimate reality offers a profoundly subjective approach that is at once intuitive and pragmatic, philosophical yet non-rational, and, above all, universally accessible. This "dangerous mystic's" teachings challenge the very nature of religion, yet the man himself never directly challenged the Church.
 
Eckhart was one of the most learned theologians of his day, but he was also a man of the world who had worked as an administrator for his religious order and taught for years at the University of Paris. His personal path from conventional friar to professor to lay preacher culminated in a spiritual philosophy that combined the teachings of an array of pagan and Christian writers, as well as Muslim and Jewish philosophers.  His revolutionary decision to take his approach to the common people garnered him many enthusiastic followers as well as powerful enemies.  After Eckhart's death and papal censure, many religious women and clerical supporters, known as the Friends of God, kept his legacy alive through the centuries, albeit underground until the master's dramatic rediscovery by modern Protestants and Catholics.
 
Dangerous Mystic grounds Meister Eckhart in a world that is simultaneously familiar and alien. In the midst of this medieval society, a few decades before the Black Death, Eckhart boldly preached to captivated crowds a timeless method, a "wayless way," of directly experiencing the divine.
Praise For Dangerous Mystic: Meister Eckhart's Path to the God Within…
"Masterfully executed... rich... Harrington... takes on the so-called 'mystic's mystic' with a historian's capacity to immerse the reader in the 14th century and in Eckhart's spiritual framework. He does so with a writerly elegance and elucidation that situates the medieval thinker squarely in this modern-day moment."—Chicago Tribune

"[A] wonderfully smart, readable biography of a 14th-century Dominican priest and mystic named Meister Eckhart. . . . [Harrington] is a scholar/storyteller who can tell a true tale that feels like a novel, without cheap tricks. . . . At times, Dangerous Mystic has a Name of the Rose excitement to it, a man against the grain during a time of ferment, a mind that sought to rise above it. Dangerous Mystic is likely to make Eckhart even more of a hero to more people. Good."—Philadelphia Inquirer

"Impressive. . . . This illuminating book successfully explains Meister Eckhart's philosophy and large influence on Western Christian mysticism."—Publishers Weekly

"An excellent biographical work . . . [Harrington] does an admirable job of presenting Eckhart dispassionately, as a historical figure, a theological innovator, and an impetus for modern thinkers. Extremely well-researched and fluidly written, [DANGEROUS MYSTIC] will serve as a meaningful resource for students of mysticism and of late Medieval Christianity."—Kirkus, starred review 

"Calmly dazzling… a serene, intelligent, appropriately ambitious yet accessible work on one of history's most mysterious theologian mystics."—Joy Williams, Book Post

"Joel Harrington here offers a characteristically subtle and elegant evocation of mediaeval spirituality at its most powerful.  Meister Eckhart's noble quest for enlightenment resonates through the centuries, and here we see what made the man whose preaching sent such shock waves through the mediaeval church." ― Andrew Pettegree, author of BRAND LUTHER  

"A rare combination of sweeping historical narrative, penetrating biography, and profound spiritual elucidation. Joel F. Harrington elegantly shows why Meister Eckhart is reclaimed as a touchstone of humane holiness in every era - especially ours. This is a book to read, to save, and to give."
― James Carroll, author of THE CLOISTER 

"In this engrossing and compelling book, Joel Harrington offers a profound, moving, and accessible portrayal of one of the greatest yet most enigmatic figures of medieval Christianity. Meister Eckhart gave expression to humanity's yearning for union with God, and for a pure and selfless knowledge of the divine. With a masterful touch, Harrington places the Dominican mystic in the changing, febrile world of the thirteenth and fourteenth centuries and guides the reader through the development and expanse of Eckhart's sublime thought and interior spirituality. We encounter the men and women to whom Eckhart preached, his teachers, his friends and enemies, and popes and inquisitors, all of whom are cast in bold profile in the author's stylish and vivid prose. Eckhart's life was filled with visions, charity, politics, and controversy, and ended with papal censure. His legacy continues to be debated. This life of one of Western Christianity's great mystics is an astonishing achievement." —Bruce Gordon, author of CALVIN, Titus Street Professor of Ecclesiastical History at Yale Divinity School

"Joel F. Harrington's Dangerous Mystic: Meister Eckhart's Path to the God Within is a bold new reading of the life and thought of the great fourteenth-century German mystic who has remained both influential and controversial since his death. Harrington situates Eckhart in his historical and intellectual context in a way accessible to the general reader, as well as thought-provoking for Eckhart scholars. This is a book that will open up the great Dominican teacher and mystical preacher to a new generation. It deserves to be widely read."
― Bernard McGinn, Naomi Shenstone Donnelly Professor (Emeritus) of historical theology and history of Christianity at the University of Chicago and author of THE PRESENCE OF GOD


Praise for THE FAITHFUL EXECUTIONER by Joel F. Harrington:
 
"Fascinating . . . Engrossing . . . Harrington brings out the sheer strangeness of the past . . . In The Faithful Executioner, Mr. Harrington has not only rescued the life of an individual from disgust and condescension but also, by focusing on a career in killing, brought a whole world back to life." ―The Wall Street Journal

"Remarkable . . . [A] fascinating exploration . . . this is a surprisingly modern, even topical story that poses difficult questions about capital punishment and what Harrington calls 'the human drive toward retribution.'" ―The Washington Post

"Fascinating . . . One of the pleasures of reading history is to be transported somewhere, even if we aren't sure we want to go." ―The Chronicle of Higher Education

 "[A] vividly drawn portrait . . . Harrington succeeds in deftly taking us beyond Schmidt's biography to address broader questions. Finely researched and crafted." ―History Today

 "Surprisingly poignant . . . A whole teeming world of Reformation Germany comes alive." ―Kirkus Reviews

 "Who can imagine how an executioner feels about his trade? Joel F. Harrington has written a considered and fascinating book that helps us hear the voice of one such man, a professional torturer (and healer) who, astonishingly, kept a diary. Exploring both sixteenth-century Nuremberg and the world about the city, he re-creates the social context for the flamboyant displays of cruelty that later centuries find so hard to comprehend. Both the executioner and his victims are rescued from our condescension and restored to their own moral universe―which is not as far from ours as we like to suppose." ―Hilary Mantel, Man Booker Prize–winning author Wolf Hall and Bring Up the Bodies

"A book as entertaining and revealing as it is improbable and outrageous. Joel F. Harrington has told a marvelous yarn, giving us not just the compelling biography of Meister Frantz but his world." ―Rick Atkinson, Pulitzer Prize–winning author of The Day of Battle: The War in Sicily and Italy, 1943–1944

 "The Faithful Executioner is much more than a description of the many imaginative and horrifying means of torturing and putting prisoners to death. It is a rare and utterly fascinating examination of the society that demands it." ―New York Journal of Books
Penguin Press, 9781101981566, 384pp.
Publication Date: March 20, 2018
About the Author
Joel F. Harrington is Centennial Professor of History at Vanderbilt University.  He is the author or editor of six books on the social and religious history of pre-modern Germany, including The Faithful Executioner, which has been translated into twelve languages.  He lives with his family in Nashville.