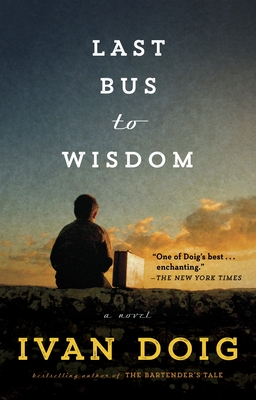 Last Bus to Wisdom
A Novel (Two Medicine Country)
Paperback

* Individual store prices may vary.
Other Editions of This Title:
Digital Audiobook (8/17/2015)
Paperback, Large Print (9/28/2016)
Hardcover (8/18/2015)
Description
Named a Best Book of the Year by the Seattle Times and Kirkus Review

The final novel from a great American storyteller.
Donal Cameron is being raised by his grandmother, the cook at the legendary Double W ranch in Ivan Doig's beloved Two Medicine Country of the Montana Rockies, a landscape that gives full rein to an eleven-year-old's imagination. But when Gram has to have surgery for "female trouble" in the summer of 1951, all she can think to do is to ship Donal off to her sister in faraway Manitowoc, Wisconsin. There Donal is in for a rude surprise: Aunt Kate–bossy, opinionated, argumentative, and tyrannical—is nothing like her sister. She henpecks her good-natured husband, Herman the German, and Donal can't seem to get on her good side either. After one contretemps too many, Kate  packs him back to the authorities in Montana on the next Greyhound. But as it turns out, Donal isn't traveling solo: Herman the German has decided to fly the coop with him. In the immortal American tradition, the pair light out for the territory together, meeting a classic Doigian ensemble of characters and having rollicking misadventures along the way.

Charming, wise, and slyly funny, Last Bus to Wisdom is a last sweet gift from a writer whose books have bestowed untold pleasure on countless readers. 
Praise For Last Bus to Wisdom: A Novel (Two Medicine Country)…
Praise for Last Bus to Wisdom:

Named a Best Book of the Year by Kirkus Reviews

Named a Best Book of the Summer by the Chicago Tribune, the Miami Herald, and Paste Magazine

"One of Doig's best novels…enchanting … It's warming to think that in his final months [he] shared the writing hours with one of his greatest characters: a version of his younger self wound up and set spinning on the long zigzag adventure called life in the American West." -The New York Times Book Review

"With his final novel Doig aptly crowns a luminous literary legacy…'Last Bus to Wisdom' is a deeply humane coming-of-age tale set in the early 1950s…Forever the master of colorful characters and landscapes reflecting the vastness and vulnerability of the human heart, Doig has left us with a rollicking road trip filled with both." -Seattle Times

"[T]he true successor to the dean of Western writers, Wallace Stegner…Last Bus to Wisdom is a rambunctious adventure packed with color, vitality and characters worth rooting for… a masterful fusion of picaresque exploits and ripping yarns." -The San Francisco Chronicle

"The chimerical tale is moving, vivid and funny… Doig's adolescent narrator recalls his literary cousins, Scout Finch, Augie March, Huck Finn, Claudia MacTeer, as his open-hearted curiosity provides readers a sense of unmediated engagement with an expanding world…Last Bus to Wisdom takes us back 65 years to an era when the West was a little more rugged and the ethos of wide, open spaces allowed for mythical endings." -Chicago Tribune

"[D]elightful…Last Bus to Wisdom is a sweet novel, a fitting and fine last work from a writer we'll miss for his endearing stories, his engaging characters and his enduring humanity." -Minneapolis Star Tribune

"[A] fun summer read, and a way to pay tribute to Doig's wonderful combination of memory and imagination that gives us one more vision of the unique history of the American West." -Christian Science Monitor

"Over the course of a 36-year literary career, Doig…painted as detailed and complete a picture of the American West as any writer of the last century....[and] remained, at heart, an old-fashioned storyteller...Last Bus to Wisdom is an unpredictable and boisterous road novel…[that] offers a fresh take on several familiar Doig themes: nontraditional families, deep connection to the land, the West as a hardscrabble world of work and the profoundly (and often humorously) interwoven nature of everyday individual lives and political and social history." –Paste 

"Last Bus to Wisdom is a treasure; one suspects that the beloved Ivan Doig--a red-haired boy who lived with his grandmother and grew up to tell stories--chuckled as he plotted to leave his readers a part of himself." -Shelf Awareness (starred)

"A delightful sprawl of a novel… big-hearted, joyfully meandering work by a master." –Bookpage

"Chockfull of rollicking humor, blissfully good storytelling and characters so alive on the page they live on in the reader's mind, Doig's last book is a paean to this country as it existed half a century ago… [Last Bus is] so purely involving and so much fun to read, it's easy to label as an American classic, as is Ivan Doig the most engaging storytelling the West has ever known." -KUER-FM "Books & Beats" 

"[Last Bus] is a book worthy of its author's enduring legacy in Montana and the rest of the English-reading world." -Bozeman Daily Chronicle

"Last Bus to Wisdom...does what all [Doig's] best books have done: given us indelible characters of the American west -- timeless, beautifully flawed, interesting people who never give up trying to find happiness in life." -Omnivoracious.com

"A fitting finale…Last Bus is rich in details about Montana as it was in the early 1950s, seen through a boy's eyes on a grand adventure." –Great Falls Tribune

"[Last Bus] contains…[Doig's] trademark wonderful writing about the Western landscape, and plenty of gentle humor…Doig will be missed by his many faithful readers, and for them, this last offering will be welcome and bittersweet." -Portland Oregonian

"Last Bus to Wisdom is the last story from one of the great storytellers of our time. The world moves on, as it invariably does. But it moves on without Ivan Doig and, in his absence, is much less full than it was in his novels." -Fredericksburg Freelance Star

"A big-hearted, joyfully meandering work by a master." -Book Page

"Doig has thoroughly engaged readers' sympathies for his high-spirited yet vulnerable protagonist…Enjoyable coincidences abound, and a leisurely storyline with plenty of twists gives the author ample room to display his knack for vivid thumbnail sketches and bravura descriptions… A marvelous picaresque showing off the late Doig's ready empathy for all kinds of people and his perennial gift for spinning a great yarn. He will be missed." –Kirkus Reviews (starred)

"An utterly charming, goodhearted romp...this posthumous publication will be greeted enthusiastically as a fitting tribute to a memorable body of work." -Booklist (starred)

"The pleasures of reading Doig's final novel are bittersweet. His familiar themes are here: love for his native Montana, and his astute observation of and admiration for the tough homesteaders and ranchers who eke out a hardscrabble living… Funny, suspenseful, and nostalgic, [Last Bus to Wisdom] is a rollicking tale set during the summer of 1951…heartwarming [and] memorable." –Publisher's Weekly

"Doig's superb storytelling does not disappoint. The dialog is snappy, funny, and true to the charming characters. With the author's passing in April, this is the last journey into familiar Doig territory we've come to admire." –Library Journal
Riverhead Books, 9781101982563, 480pp.
Publication Date: August 16, 2016
About the Author
Ivan Doig was a third-generation Montanan and the author of fifteen previous books, including the bestselling The Bartender's Tale and The Whistling Season and the classic memoir This House of Sky. He was a National Book Award finalist and received the Wallace Stegner Award, among many other honors. Doig lived in Seattle with his wife, Carol, for many years until his death.