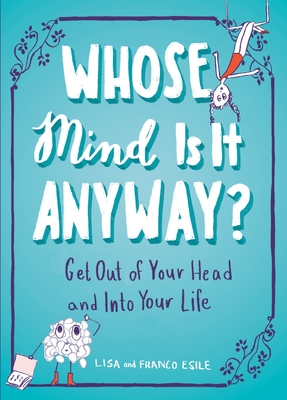 Whose Mind Is It Anyway?
Get Out of Your Head and Into Your Life
Paperback

* Individual store prices may vary.
Description
A sympathetic illustrated guide to learning to live with your mind--even when it tries to trick you.

Most of us spend our lives trailing after our minds, allowing our brains to take us in directions that are safe and secure, controlled and conformed. Your mind doesn't want you to take that new job, sign up for that pottery class, or ask someone out. It wants you to stay unemployed, unfulfilled, and single because it enjoys routine and is resistant to change, no matter how positive the change may be. But more often than not, that's not what you want.  

Whose Mind Is It Anyway? will help you learn how to separate what you want from what your brain wants and how to do less when your mind is trying to trick you into doing more. In a colorful, funny, and nonthreatening way, it answers the difficult question of how we can take control of our self-defeating behaviors. Filled with charming illustrations, this book will be the friendly voice in your head to counter your negative thoughts, and it will teach you how to finally be at peace with all that you are.
Praise For Whose Mind Is It Anyway?: Get Out of Your Head and Into Your Life…
"It's difficult for me to put into words how much I love Whose Mind Is It Anyway? Lisa and Franco manage to share age-old truths about human life in an unbelievably creative, hilarious, and smart way. The truths they write about are deep and profound, and yet this book is fun, light, and entertaining. I couldn't more highly recommend it!"
--Dr. Amy Johnson, author of Being Human and The Little Book of Big Change.
 
"Whose Mind Is It Anyway? is a fun, charming, and delightful book that conveys a deep healing message with ease for anyone searching for keys to life and inner happiness. It is easy to read and will warm you heart. I will be recommending it to youngsters and adults alike. Enjoy."
--Dr. Ken Manning, licensed psychologist and president of Insight Principles, Inc.

"Whose Mind Is It Anyway? is deceptively sweet, in that its charming drawings and simple language provide a powerful punch; the Esiles have created a unique, creative, and effective handbook that both illustrates fundamental insights into human nature and sets a straight course for self-enlightenment and fulfillment. The questions raised by Lisa and Franco, and the solutions offered, will resonate with readers and linger far beyond the initial reading, providing lasting impact on how we think about our motivations, our desires, and our definition of a life well-lived. Whose Mind Is It Anyway? is a great present not only for recent graduates but for anyone questioning their next step; the issues raised by the Esilies last for a lifetime, and the positive vibe they promote are needed at all stages and ages of life."
--Nina Sankovitch, author of Tolstoy and the Purple Chair: My Year of Magical Reading

"I absolutely love Whose Mind Is It Anyway? It's the perfect personal-growth book for those of us who are done with personal-growth books. So simple and whimsical and wise. It has charmed and delighted me into reimagining my approach to life. And it makes me smile every time I open it up." 
--Susan Isaacs, comedienne, speaker, and author of Angry Conversations With God
TarcherPerigee, 9781101982631, 176pp.
Publication Date: June 7, 2016
About the Author
LISA ESILE was born in Wellington, New Zealand, but spent most of her adult life living on the remote southern island. Lisa has a master's degree in science. Her blog has over 8,000 subscribers, and she regularly guest blogs on Tiny Buddha.

FRANCO ESILE spent his early years as a touring musician around the US and the Caribbean. He briefly attended the Berklee School of Music and studied privately under Charlie Benacos. He's written music for poetical theater, including Life After Motown--produced by Nobel Poet Laureate Derek Walcott. Franco works in film and TV production and collaborates with Lisa on her blog.
or
Not Currently Available for Direct Purchase