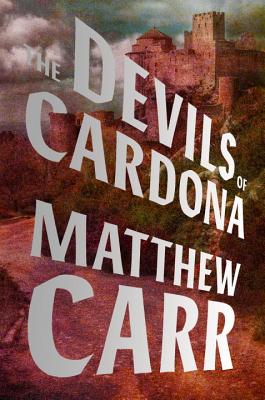 The Devils of Cardona
Hardcover

* Individual store prices may vary.
Other Editions of This Title:
Digital Audiobook (6/13/2016)
Paperback (6/13/2017)
Hardcover, Large Print (3/15/2017)
Description
"A thrilling quest for justice... [A] novel that is as exciting as it is enlightening from its first pages to its satisfying end." —The New York Times Book Review
 
"A page-turner in the proper sense… Mr. Carr has written a gripping and enjoyable novel." —The Wall Street Journal

The gripping story of the dangerous high-stakes worlds of politics and religion in sixteenth-century Spain as a mysterious Muslim killer retaliates against the Catholic Church.

In March 1584, the priest of Belamar de la Sierra, a small town in Aragon near the French border, is murdered in his own church. Most of the town's inhabitants are Moriscos, former Muslims who converted to Catholicism. Anxious to avert a violent backlash on the eve of a royal visit, an adviser to King Philip II appoints local magistrate Bernardo de Mendoza to investigate. A soldier and humanist, Mendoza doesn't always live up to the moral standards expected of court officials, but he has a reputation for incorruptibility.

From the beginning, Mendoza finds almost universal hatred for the priest. And it isn't long before he's drawn into a complex and dangerous world in which greed, fanaticism, and state policy overlap. And as the killings continue, Mendoza's investigation is overshadowed by the real prospect of an ethnic and religious civil war.

By turns an involving historical thriller and a novel with parallels to our own time, The Devils of Cardona is an unexpected and compelling read.
Praise For The Devils of Cardona…
"What begins as a mystery becomes an adventure, a thrilling quest for justice on more levels than Mendoza (or the reader) expects…in well-structured chapters and harrowing scenes, Carr allows glimpses into the behavior and actions of other characters, ratcheting the tension as crimes are solved and the criminals get their comeuppance…[A] novel that is as exciting as it is enlightening from its first pages to its satisfying end."—The New York Times Book Review

"Matthew Carr's The Devils of Cardona is a page-turner in the proper sense... a violent action-packed novel, with some surprising twists... Mr. Carr has written a gripping and enjoyable novel, and there is surely scope for his judge Mendoza to deal with other crimes and puzzles. But, inevitably, this book has a wider application and interest, given the state of the world today and the tensions between the Muslim and Christian, or Western, worlds."—Wall Street Journal

"[An] engrossing historical thriller…a gripping tale."—Seattle Times

"Fans of rich historical intrigue like Hilary Mantel's Wolf Hall or the engrossing 16th-century pageantry of Álvaro Enrigue's Sudden Death should consider Matthew Carr's historical fiction debut…fans of the genre will find much to enjoy."—BookPage

"Carr certainly delivers a powerful punch in his debut. The Devils of Cardona is also the perfect set-up for a sequel, for Mendoza and his men have plenty of life left in them still."—The New York Journal of Books

"The Devils of Cardona is one of those rare historical mysteries that is as thrilling as it is thoughtful. Aside from violence and philosophy, it encompasses political machinations and sexual intrigue and seems ripe for translation to the screen. In this day and age, its message of religious and social tolerance would be well served by being further disseminated, even as it is already beautifully delivered in this intelligent, entertaining book."—Criminal Element

"In this new novel, The Devils of Cardona, the author uses his knowledge of this history to weave a meticulously detailed story of intrigue, danger, sex and suspense in sixteenth-century Spain. This religiously charged dramatic time and place filled with complex characters parallel our own time as Christianity and Islam are ideologically at war again." —Monsters & Critics

"While there's a mystery at the heart of The Devils of Cardona, the novel's strength lies in the historical details, as well as the lessons delivered about religious, racial and sexual intolerance. The author examines a time and place torn by these conflicts that divided a town and its people. There's definitely a message for our own times in this book, but it is delivered with a light touch and strong, engaging characters."—Reviewing the Evidence

"A spine-tingling thriller... a masterly recreation of a fascinating era."—Publishers Weekly

"A religious, political, sexual jigsaw... an entertaining historical mystery."—Kirkus Reviews

"The Devils of Cardona is a remarkably well-written and entertaining novel. Matthew Carr fills his work with compelling characters and handles his material—more than a little relevant for our times—with dazzling grace."—David Liss, author of The Day of Atonement

"History and atmosphere, sex and superior storytelling, The Devils of Cardona has it all. A page-turning thriller, full of engaging male and female characters, with a great sense of time and place. A treat."—Kate Mosse, New York Times-bestselling author of Labyrinth

"The Devils of Cardona delivers a gritty, meticulously detailed story of suspense in sixteenth-century Spain. Matthew Carr recreates for us a dramatic time and place filled with complex characters and issues that resonate powerfully with our own time."—Matthew Pearl, author of The Dante Club and The Last Bookaneer

"In Spain in the 1500s, the church could prove a murderous playground. In Matthew Carr's new novel, The Devils of Cardona, we're swept along on an investigation into the murder of a priest in a small Spanish town populated by mostly former Muslims. Magistrate Bernardo de Mendoza sets out to get to the bottom of the murder, ultimately falling into a complicated world of greed and faith."—Everyday eBook

Riverhead Books, 9781101982730, 416pp.
Publication Date: June 14, 2016
About the Author
Matthew Carr is a writer, a journalist, a blogger, and the author of several books of nonfiction, including Blood and Faith: The Purging of Muslim Spain. He has written for a variety of publications, including The New York Times, The Observer, The Guardian, and others. He lives in the United Kingdom with his family. The Devils of Cardona is Carr's first novel.
or
Not Currently Available for Direct Purchase