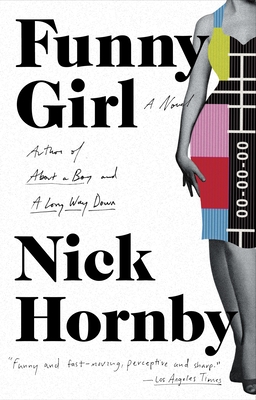 Funny Girl (Paperback)
A Novel
Riverhead Books, 9781101983355, 480pp.
Publication Date: February 2, 2016
Other Editions of This Title:
Digital Audiobook (2/2/2015)
Compact Disc (2/3/2015)
Hardcover (2/3/2015)
Hardcover, Large Print (4/1/2015)
* Individual store prices may vary.
Description
A brilliant novel from the bestselling author of High Fidelity, About a Boy, and A Long Way Down.

Set in 1960's London, Funny Girl is a lively account of the adventures of the intrepid young Sophie Straw as she navigates her transformation from provincial ingénue to television starlet amid a constellation of delightful characters. Insightful and humorous, Nick Hornby's latest does what he does best: endears us to a cast of characters who are funny if flawed, and forces us to examine ourselves in the process.
About the Author
Nick Hornby is the author of seven internationally bestselling novels (Funny Girl, High Fidelity, About a Boy, How to be Good, A Long Way Down, Slam and Juliet, Naked) and several works of  non-fiction including Fever Pitch, Songbook and Ten Years In The Tub. He has written screenplay adaptions of Lynn Barber's An Education, nominated for an Academy Award, Cheryl Strayed's Wild and Colm Tóibín's Brooklyn. He lives in London.
Praise For Funny Girl: A Novel…
Praise for Funny Girl

"As befits a novel about a popular sitcom, this novel packs in lots of laughs, but it's also got more heft than Mr. Hornby's readers may expect." —The New York Times 

 "A smart comic novel that... induces binge-reading that's the literary equivalent of polishing off an entire television series in one weekend." —NPR

"Engaging...Hornby's fictionalized evocation of the era is spot-on." —Entertainment Weekly

"Funny and fast moving, perceptive and sharp." —Los Angeles Times

"At its best moments, Hornby's novel shows precisely the same quality [as the best television comedy]."  – The Boston Globe
 
"Hornby's fluency in script-like breeziness and crisp banter makes Funny Girl a pleasurable read. So does page after page of perfectly timed and delivered humor, the subtle and understated kind, that starts with the first line." – USA Today

"[Hornby's] most ambitious novel to date... he makes the reader care for his characters as much as he does."—Starred Kirkus Review

"[A] light, fond, funny tale by the author of About a Boy…[a] fizzy delight about the likable oddballs who populate showbiz." —People

"Theera and the theme (surfing the crest of a revolution, then getting dumped in its wake) are pure Mad Men, but the pulpy warmth and sprightly dialogue are classic Hornby." —Vulture 

"Beautifully captures the thrill of youthful success and of discovering your own talent." —Daily Telegraph
"Funny Girl may be read as Hornby's latest defence of popular entertainment against high-culture elitism. Funny Girl makes his case for him eloquently and entertainingly ... both hugely enjoyable and deceptively artful." —Spectator
"I loved this hymn to the 1960s, their infinite creative possibilities." —Scotsman
"Endearing, humorous and touching. Hugely enjoyable." —Sunday Mirror

"…As with any Hornby book, you'll close [Funny Girl] thinking it's his best." —Metro 

"Hornby has transplanted us into an era where funny was also controversial. He allows us to see beyond the actors, but to the creation as a whole—the lives on screen as well as those off." —Books & Whatnot

"A sweet sojourn to 1960s London... [Hornby] has a knack for crackling dialogue and well-defined characters." —The Associated Press

"[Funny Girl] fits squarely in Hornby's tradition of offering quality entertainment that respects readers' intelligence without making novels feel like homework. Consider it comfort food, prepared by a master." —Christian Science Monitor

"Fast, funny, and real." –Lev Grossman for TIME
 
"[FUNNY GIRL] skips effortlessly like a stone skimmed across the water… it's hard to put down." –Newsweek