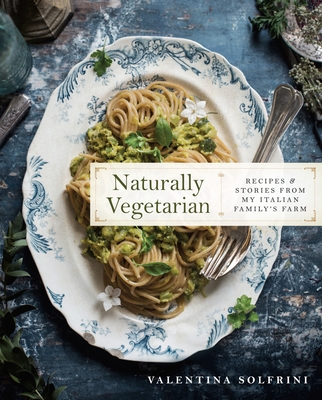 Naturally Vegetarian (Hardcover)
Recipes and Stories from My Italian Family Farm
Avery, 9781101983591, 256pp.
Publication Date: November 7, 2017
* Individual store prices may vary.
Description
A stunning seasonal Italian cookbook from the creator of the award-winning blog Hortus Cuisine, featuring 125 delicious all-vegetarian recipes from the author's family farm in northeastern Italy.
 
As the daughter of an Italian farming family, Solfrini grew up eating fresh, local, seasonal foods, but when she moved to New York City to study design, she quickly felt the damaging effects that came with eating a new diet filled with processed foods, too much meat, and too few vegetables. When she returned to Italy, she embraced the seasonal, vegetable-friendly foods of her youth once more, and after eliminating meat from her diet, felt better than ever. Surrounded by the countryside and living on her family's farm, the inspiration to live naturally and healthfully was everywhere and she started her blog to show the world just how fresh, beautiful, and healthful vegetarian Italian cooking could be.
 
Naturally Vegetarian is an extension of Hortus Cusine, and will be filled with more of Solfrini's arrestingly beautiful photography of rural Italian scenery, authentic tales of Italian farm life and customs through the ages, and more of the delicious vegetarian recipes her fans have come to know and love. Naturally Vegetarian will offer readers a glimpse of a year on an Italian farm and the recipes that come with the changing of the seasons. She also shares how to stock a whole foods Italian pantry, introducing them to new ingredients like chestnut flour, farro, and tomato passata, and the fundamental recipes and techniques for preparing and cooking fresh pasta. Filled with exquisite recipes like Creamy Sunchoke Soup with Golden Onions, Chickpea Crespelle with Spring Vegetable Ragu, Piadina Romagnola with Grilled Vegetables and Tomato Pesto, Pistachio and White Chocolate Tiramisu, and so many more, Naturally Vegetarian is a celebration of Italy's colors, smells, and flavors and will show readers a new side to the traditional Italian kitchen.
About the Author
Valentina Solfrini, graphic designer turned blogger, is the author of the award-winning blog Hortus Cuisine, which focuses on seasonal Italian cooking and lifestyle. Coming from a family of cooks, her goal is to capture the essence of the delicious, Italian vegetarian food she learned to prepare from the women of her family through photography and stories. Her work has been featured in Saveur Magazine, Food52, Delicious Magazine, Where Women Cook Magazine, Chickpea Magazine, Verily Magazine, and many other publications, and she writes a weekly column on vegetarian Italian food in both English and Italian for the leading Italian newspaper Corriere della Sera. Solfrini won the 2016 Saveur Editor's Choice award for Best Food Blog Photography and the 2014 Saveur Editor's Choice award for Best New Blog. A native Italian, Valentina lives on the family farm in Gradara, Italy with her mother, grandmother, brother, assorted relatives and too many cats.
Praise For Naturally Vegetarian: Recipes and Stories from My Italian Family Farm…
"Stunning full-page photos transport the reader to the Italian countryside, while recipes up the ante on vegetarian and plant-based cooking."
—Publishers Weekly

"Valentina's charming stories and breathtaking images will make you want to hop on a plane to cook alongside her in her Italian countryside kitchen. She somehow combines the incredible ingredients of rural Italy and generations of cooking tradition with modern healthy vegetarian sensibilities in a way that is completely natural, organic, and stunningly beautiful."
—Jeanine Donofrio, author of The Love and Lemons Cookbook

"This book is pure poetry. Valentina is an artist armed with a wealth of knowledge of Italian cuisine and a passionate approach to food and photography that is truly contagious. Naturally Vegetarian opens up a whole world of Italian recipes that are wholesome, inspiring, healthy, and beautiful. This book is a stunning addition to any kitchen."
—Molly Yeh, author of Molly on the Range

"Naturally Vegetarian is far more than a sumptuous collection of vibrant recipes and stunning photographs that conjure the spirit of northeastern Italy: It's a transportive, storytelling work of art that showcases Valentina's passion for food, beauty, and the nourishing connection between humans and the natural world."
—Lily Diamond, creator and author of Kale & Caramel

"Valentina Solfrini's recipes flawlessly capture the rhythms of nature that guide Italy's home cooking and each dish thoughtfully captures the bold flavor and color contrasts that Italian cooks achieve with even the simplest ingredients. "
—Katie Parla, author of Tasting Rome