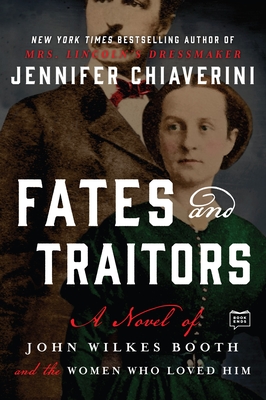 Fates and Traitors
A Novel of John Wilkes Booth and the Women Who Loved Him
Paperback

* Individual store prices may vary.
Other Editions of This Title:
Digital Audiobook (9/12/2016)
Paperback, Large Print (9/19/2017)
Hardcover, Large Print (10/5/2016)
Hardcover (9/13/2016)
Description
The New York Times bestselling author of Mrs. Lincoln's Dressmaker returns with a riveting work of historical fiction following the notorious John Wilkes Booth and the four women who kept his perilous confidence.
 
John Wilkes Booth, the mercurial son of an acclaimed British stage actor and a Covent Garden flower girl, committed one of the most notorious acts in American history—the assassination of President Abraham Lincoln.
 
The subject of more than a century of scholarship, speculation, and even obsession, Booth is often portrayed as a shadowy figure, a violent loner whose single murderous act made him the most hated man in America. Lost to history until now is the story of the four women whom he loved and who loved him in return: Mary Ann, the steadfast matriarch of the Booth family; Asia, his loyal sister and confidante; Lucy Lambert Hale, the senator's daughter who adored Booth yet tragically misunderstood the intensity of his wrath; and Mary Surratt, the Confederate widow entrusted with the secrets of his vengeful plot. 
 
Fates and Traitors brings to life pivotal actors—some willing, others unwitting—who made an indelible mark on the history of our nation. Chiaverini portrays not just a soul in turmoil but a country at the precipice of immense change.
Praise For Fates and Traitors: A Novel of John Wilkes Booth and the Women Who Loved Him…
"Chiaverini's accomplishment is her remarkable ability to build dramatic tension . . . A completely compelling novel."—Booklist (starred review)

"Chiaverini expands the dimensions of Booth's tragedy to classic proportions. . . . Engaging, sweeping historical fiction that complicates politics by teasing out the domestic and romantic repercussions of treason."—Kirkus Reviews

"Wonderfully evoking the times and places that Booth knew, Chiaverini's work makes for enthralling reading. . . . Readers who enjoy historical fiction, especially dealing with the Civil War, as well as fans of the author, will find this winning novel difficult to put down."—Library Journal (starred review)

"Like the gifted historical novelist that she is, [Chiaverini] presents the facts, illustrates the horror of the event through the eyes of four women who were dominant figures in Booth's life. Tragedy becomes personal. . . . Fates and Traitors is a magnificent novel that presents an accurate portrayal of the individuals involved in Lincoln's assassination."—NY Journal of Books

"Well-told and engrossing."—Washington Times

"Fascinating."—USA Today

"Jennifer Chiaverini takes you back to the last days of the Civil War, when tensions ran high and one man made a decision that would change US history forever."—Bustle

"Unforgettably poignant."—Fort Worth Star-Telegram

"Fates and Traitors is a diamond of a novel."—RT Book Reviews

"[Chiaverini] expertly weaves well-researched facts with narrative. . . . [She] imagines the fate of the traitor's loved ones and thus pulls the American people into a history they didn't know they missed."—Bookreporter

"Fates and Traitors is well researched. . . . The plot is highly suspenseful even when one already knows the outcome."—Shelf Awareness

"This is a fascinating look at an infamous figure. It is really rich in detail. Chiaverini is able to build dramatic tension as you follow the story, even though you know how it is going to end."—The Daily American

"Fates and Traitors is a novel about mothers and sons, brothers and sisters, the line between patriot and traitor, and the lengths we go to for love. A fascinating look at a slice of our country's history, an incisive portrait of obsession, and overall impossible to put down." --Sara Gruen, New York Times bestselling author of At the Water's Edge and Water for Elephants

"Fates and Traitors is a fascinating, thrilling look into the women who loved one of history's greatest villains. Meticulously researched and beautifully told, Jennifer Chiaverini delves deep into the complicated, nuanced world of John Wilkes Booth."—Anton DiSclafani, author of The After Party and The Yonahlossee Riding Camp for Girls

"In her latest novel, Fates and Traitors, Jennifer Chiaverini once again demonstrates her masterful ability to bring history to life. Thoroughly researched, expertly crafted, this book takes readers from the glittering state rooms of the Lincoln White House to the packed houses of John Wilkes Booth's Washington theater scene to the seedy boarding rooms of the conspiring murderers. With her varied and well-drawn ensemble of female narrators, Chiaverini spins a rich and suspenseful tale, shedding new light on America's most notorious assassin—and the women who loved him."—Allison Pataki, New York Times bestselling author of Sisi: Empress On Her Own

"In this riveting, deeply authentic novel, Jennifer Chiaverini puts a human face on one of our country's most notorious assassins, John Wilkes Booth. Fates and Traitors is a lavishly woven tapestry, rich in historic detail, and remarkably suspenseful."—Amy Stewart, author of Girl Waits with Gun


Praise for Jennifer Chiaverini

"History—and its colorful characters—come alive."—USA Today on Mrs. Lincoln's Dressmaker

"Jennifer Chiaverini imagines the First Lady's most private affairs through the eyes of an unlikely confidante."—Harper's Bazaar on Mrs. Lincoln's Dressmaker
 
"[A] must read book . . . Chiaverini has a knack for finding fascinating, if unheralded, women in history—she favors the Civil War era—and shining a light on them with readable historical novels."—New York Post on The Spymistress
 
"The book will appeal to anyone who loves a novel filled with the appearance of numerous fictional accounts of and appearances by the figures who shaped America's history during the period of the Civil War."—Bookreporter.com on Mrs. Lincoln's Rival
 
"[Chiaverini's] depiction of the essential decency of some of our nation's early leaders is a high point."—Booklist on Mrs. Grant and Madame Jule

"In addition to simply being fascinating stories, [Jennifer Chiaverini's] novels go a long way in capturing the texture of life for women, rich and poor, black and white, in those perilous years." —Milwaukee Journal Sentinel on Mrs. Lincoln's Rival 

"Jennifer Chiaverini's latest bestseller will thrill Civil War buffs and anyone who loves reading about American history and the contributions of women to the momentous events that formed this country."—Bookreporter.com on The Spymistress
Dutton, 9781101983843, 416pp.
Publication Date: November 14, 2017
About the Author
JENNIFER CHIAVERINI is the New York Times bestselling author of Mrs. Lincoln's Dressmaker, Fates and Traitors, and other acclaimed works of historical fiction, as well as the beloved Elm Creek Quilts series. She lives with her husband and two sons in Madison, Wisconsin.