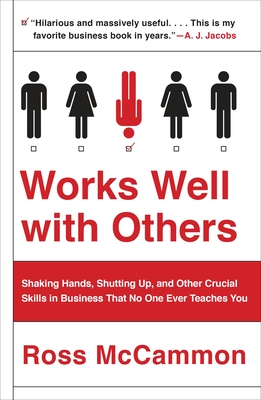 Works Well with Others (Paperback)
Shaking Hands, Shutting Up, and Other Crucial Skills in Business That No One Ever Teaches You
Dutton, 9781101984130, 288pp.
Publication Date: October 4, 2016
Other Editions of This Title:
Hardcover (10/6/2015)
Compact Disc (10/6/2015)
Pre-Recorded Audio Player (5/1/2016)
Compact Disc (10/6/2015)
MP3 CD (10/6/2015)
* Individual store prices may vary.
Description
A hilarious and indispensable guide to the weirdness of the workplace from Esquire editor and Entrepreneur etiquette columnist Ross McCammon

Ten years ago, Ross McCammon made an incredible and unexpected transition from working at an in-flight magazine in suburban Dallas to landing his dream job at Esquire in New York. What followed was a period of almost debilitating anxiety and awkwardness—interspersed with minor instances of professional glory—as McCammon learned how to navigate the workplace while feeling entirely ill-equipped for achieving success in his new career.

Works Well with Others is McCammon's "relentlessly funny and soberingly insightful"* journey from impostor to authority, a story that reveals the workplace for what it is: an often absurd landscape of ego and fear guided by social rules that no one ever talks about. By mining his own experiences at the magazine, McCammon provides advice on everything from firm handshakes to small talk in elevators to dealing with jerks and underminers. Here is an inspirational new way of looking at your job, your career, and success itself; an accessible guide for those of us who are smart, talented, and ambitious but who aren't well-"leveraged" and don't quite feel prepared for success . . . or know what to do once we've made it.

*Entertainment Weekly


About the Author
Ross McCammon is an editor at GQ magazine and the business etiquette columnist at Entrepreneur magazine. He was a senior editor at Esquire magazine from 2005 to 2016, where he was responsible for the magazine's coverage of pop culture, drinking, cars, and etiquette. He has written for Elle, Cosmopolitan, Wired, Bloomberg BusinessWeek, Texas Monthly, and Parents. His humor has been collected in Created in Darkness by Troubled Americans: The Best of McSweeney's Humor Category, edited by Dave Eggers. He lives in New York, with his wife and children.
Praise For Works Well with Others: Shaking Hands, Shutting Up, and Other Crucial Skills in Business That No One Ever Teaches You…
Praise for WORKS WELL WITH OTHERS

"McCammon has amassed an arsenal of tips on how to get ahead…the book's sly wisecrack ratio is strong." –The New York Times Book Review

"Relentlessly funny and soberingly insightful."
 –Entertainment Weekly

"Hilariously and helpfully…guides you along the path of acting like a professional."
 –Bustle

"A handy how-to guide on cultivating and applying today's most useful business skills…. An effective amalgam of satire and practicality, McCammon's functional playbook takes the guesswork and much of the mystery out of job searches and appropriate office etiquette." –Kirkus

"How to achieve success in the workplace is the gist of this humorously effective handbook…McCammon's lessons have the ring of universal applicability and honest truth. Read this delightful book, and relish its never-highfalutin approach." –Booklist (starred review)

"My advice: Do not read this book at work. That's because it will make you snort with laughter, perhaps even giggle, and generally look unprofessional. On the other hand, DO read this book before or after work or any other time. Not only is it hilarious, but it's massively useful. Ross McCammon gives great advice about interviews, speeches, collaborations, clothes and the art of not being the office jerk. This is my favorite business book in years." –AJ Jacobs, New York Times Bestselling Author of The Year of Living Biblically   

"Regardless of your vocation, Ross McCammon provides you with all the skinny required to find your fanny with both hands. Hilarious and true, this navigational chapbook knows the score."
–Nick Offerman, New York Times bestselling author of Gumption and Paddle Your Own Canoe

"A funny guide to help the introverted become extroverts without becoming jerks. Indispensable." -Patton Oswalt, New York Times bestselling author of Silver Screen Fiend
 
"Works Well with Others features some of the best, most pertinent in-the-trenches advice I've ever read, the type of crucial guidance that's mysteriously never taught in schools. Like this gem: When you don't know what to say in a business meeting, shut up. Invaluable book. And funny as hell. I wish I had this knowledge when starting out. I wish I had a lot of things." -Mike Sacks, author of the New York Times bestseller Poking a Dead Frog: Conversations with Today's Top Comedy Writers

"Do exactly what this very funny book says (especially about clothes and underminers). You will not only be entertained and enlightened, you will actually get the job. You will get the promotion. You will become the boss. The hard part is doing what it says. After that, it will be easy."
-Daniel Menaker, author of A Good Talk: The Story and Skill of Conversation

"For everyone who secretly fears they're not worthy—in other words, everyone intelligent—Ross McCammon's Works Well with Others offers the perfect balance of practical and motivational. His wry, plucky style will help you decode the mysteries of the office place, from interviewing to politics to just the right food to order at a business lunch (Hint: soup good, sandwiches bad)." -Jean Chatzky, Financial Editor, NBC Today Show

"Most career advice books are full of platitudes and false promises. Ross McCammon has broken that mold. I dare you to read this without laughing frequently and applying his tips immediately."
-Adam Grant, Wharton professor and New York Times bestselling author of Give and Take


From the Hardcover edition.