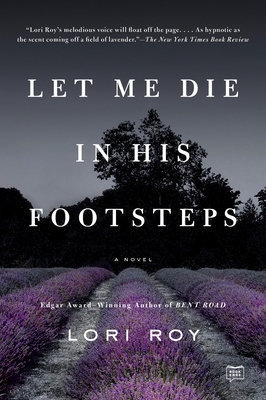 Let Me Die in His Footsteps
A Novel
Paperback

* Individual store prices may vary.
Other Editions of This Title:
Digital Audiobook (6/1/2015)
Description
In the spellbinding and suspenseful Let Me Die in His Footsteps, Edgar Award winner for Best Novel, author Lori Roy wrests from a Southern town the secrets of two families touched by an evil that has passed between generations.

On a dark Kentucky night in 1952, exactly halfway between her fifteenth and sixteenth birthdays, Annie Holleran crosses into forbidden territory. Everyone knows Hollerans don't go near Baines, not since Joseph Carl was buried two decades before, but Annie runs through her family's lavender fields toward the well on the Baines' place, hoping to see her future in the water. Instead, she finds a body, and Annie's future becomes inextricably tied with her family's dark past. 

In 1936, the year Annie's aunt, Juna Crowley, came of age, there were seven Baine boys. Before Juna, Joseph Carl had been the best of all the Baine brothers. But then he looked into Juna's black eyes and they made him do things that cost innocent people their lives. With the pall of a young child's death and the dark appetites of men working the sleepy town into a frenzy, Sheriff Irlene Fulkerson saw justice served—or did she? 

As the investigation continues and she comes of age as Aunt Juna did in her own time, Annie's dread mounts. Juna will come home now, to finish what she started. If Annie is to save herself, her family, and this small Kentucky town, she must prepare for Juna's return, and the revelation of what really happened all those years ago.
Praise For Let Me Die in His Footsteps: A Novel…
Praise for Let Me Die in His Footsteps

"Rich and evocative, Lori Roy's voice is a welcome addition to American fiction." –Dennis Lehane

"Open Let Me Die in His Footsteps anywhere and Lori Roy's melodious voice will float off the page. . . . This Depression-era story is a sad one, written in every shade of Gothic black. But its true colors emerge in the rich textures of the narrative, and in the music of that voice, as hypnotic as the scent coming off a field of lavender."—The New York Times Book Review
 
"Let Me Die in His Footsteps is a hybrid of mystery, coming-of-age, and Southern Gothic literature. . . . It's taut and evocative—things simmer and tickle and sizzle underfoot, and the book practically smells like a lavender field."—Los Angeles Times Book Review
 
"The richness of [the] characters makes their decisions crackle. . . . Which, as any Harper Lee fan will tell you, is what makes these stories endure in our very protective hearts. . . . While intense and at times a little ruthless, Roy's novel has elements of both what we love about the Southern Gothic mixed with the other perennial American classic: the coming-of-age tale. This is a dark story of adolescence in all of its awkward, terrible, exhilarating glory. And that's what makes it sing."—Bustle
 
"It teems with family feuds, forbidden love, second sight and wronged innocents, all held together by Roy's taut style and gift for suspense." –Tampa Bay Times

"A richly detailed, highly suspenseful Gothic novel filled with indelible imagery." –Huffington Post

"An atmospheric, vividly drawn tale that twists her trademark theme of family secrets with the crackling spark of the "know-how" for a suspenseful, ghost-story feel." –Booklist (starred review)

"This powerful story…should transfix readers right up to its stunning final twist." –Publishers Weekly (starred review)

"A Faulkner-ian tale of sex and violence from the Kentucky hills." –Kirkus

"Edgar Award winner Lori Roy…serves up a mystery with a thick, rich blend of Southern Gothic mainstays…This coming-of-age story dropped into a world of hardscrabble existence has an almost painful poignancy." –Fort Worth Star Telegram

"There are echoes of Flannery O'Connor here: poverty, violence, malevolence, and grace. Roy's writing is spell-like, using a simplicity of language, deft characterization, an understanding of the dark side of human nature, and relentless plotting in order to pull together every aspect of the conjuring necessary to create a masterpiece of Southern Noir." –Historical Novel Society

"Reading Lori Roy is a sinuous, near-physical experience, her stories so rich and well-told they twine into the reader in a manner both gentle and profoundly deep. I consider her writing a love-sonnet to American letters. Simply lovely."  –John Hart, Edgar-Award winning and New York Times bestselling author of The King of Lies and Iron House

"This is a beautifully observed story whose details of time, place, and character are stunning little jewels sure to dazzle the eye on every page. . . . Quite simply put, I loved this book." –William Kent Krueger, Edgar-Award winning author of Windingo Island and Ordinary Grace

"Young love, Southern folklore, family feuds, and crimes of passion . . . Roy describes life on a lavender farm in rural Kentucky in vivid detail, and the mystery of what happened years ago will keep readers engaged until the end." –Library Journal 
 

 
Dutton, 9781101984307, 352pp.
Publication Date: June 7, 2016
About the Author
LORI ROY is the author of Bent Road, winner of the Edgar Award for Best First Novel, and Until She Comes Home, finalist for the Edgar Award for Best Novel. She lives in St. Petersburg, Florida, with her family.
or
Not Currently Available for Direct Purchase