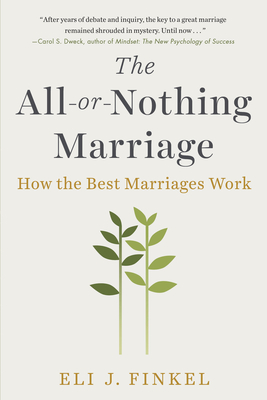 The All-or-Nothing Marriage
How the Best Marriages Work
Paperback

* Individual store prices may vary.
Other Editions of This Title:
Digital Audiobook (9/18/2017)
Hardcover (9/19/2017)
Description
"After years of debate and inquiry, the key to a great marriage remained shrouded in mystery. Until now..."—Carol Dweck, author of Mindset: The New Psychology of Success

Eli J. Finkel's insightful and ground-breaking investigation of marriage clearly shows that the best marriages today are better than the best marriages of earlier eras. Indeed, they are the best marriages the world has ever known. He presents his findings here for the first time in this lucid, inspiring guide to modern marital bliss.

The All-or-Nothing Marriage reverse engineers fulfilling marriages—from the "traditional" to the utterly nontraditional—and shows how any marriage can be better.

The primary function of marriage from 1620 to 1850 was food, shelter, and protection from violence; from 1850 to 1965, the purpose revolved around love and companionship. But today, a new kind of marriage has emerged, one oriented toward self-discover, self-esteem, and personal growth. Finkel combines cutting-edge scientific research with practical advice; he considers paths to better communication and responsiveness; he offers guidance on when to recalibrate our expectations; and he even introduces a set of must-try "lovehacks."

This is a book for the newlywed to the empty nester, for those thinking about getting married or remarried, and for anyone looking for illuminating advice that will make a real difference to getting the most out of marriage today.
Praise For The All-or-Nothing Marriage: How the Best Marriages Work…
"After years of debate and inquiry, the key to a great marriage remained shrouded in mystery. Until now. In his All-or-Nothing Marriage, Eli Finkel reveals the fascinating ways in which marriage has evolved and the things we can all do to help this all-important relationship flourish. You will definitely want to read this book."
—Carol Dweck, Stanford professor and author of Mindset: The New Psychology of Success

"If you've ever wondered what science has to say about how marriage has changed over time and what makes for a great one, this is the book to read. Eli Finkel is one of the world's leading experts on relationships, and his insights are both comprehensive and revealing."
—Adam Grant, author of Give and Take, Originals, and Option B (coauthored with Sheryl Sandberg)
 
"Eli Finkel has written an incredible analysis of the state of marriage and a useful guide for everyone trying to make their relationship work better. He also promised us cheeseburgers if we wrote this blurb. Please get those to us ASAP, Eli."
—Aziz Ansari and Eric Klinenberg, co-authors of Modern Romance

"This book makes a lot of sense, and it is written by an eminent scholar. It should be an essential part of every therapist's bookshelf."
—John M. Gottman, author of The Seven Principles for Making Marriage Work
 
"Fascinating! Eli Finkel offers us an educated, enlightening perspective on our most important adult relationship; better still, his perspective on marriage is one of hope and inspiration."
—Dr. Sue Johnson, author of Hold Me Tight and Love Sense
 
"An engaging, perceptive exploration of a modern paradox. We need marriage less than ever for practical survival and social success, but we demand more satisfaction and meaning from it than ever. The higher we climb in our emotional expectations, Finkel argues, the more oxygen we need to pump into our relationships."
—Stephanie Coontz, author of Marriage a History: How Love Conquered Marriage
 
"Marriages are like rapids-filled rivers, sweeping us along toward desired destinations, both emotional and practical, while imperiling the journey with unseen rocks of ruin. With an account that is impressive in scholarship and erudition, Eli Finkel has provided a much-needed chart for understanding and navigating the waters."
—Robert B. Cialdini, author of Influence and Pre-Suasion
 
"Eli Finkel's All-or-Nothing Marriage is an excellent, accessible guide to today's high-investment, high-reward marriages."
—Andrew Cherlin, Professor of Sociology, Director of Program on Social Policy at Johns Hopkins University

"No one knows more about the science of relationships than Eli Finkel. This book is bound to spark a conversation. A must-read for anyone interested in building or maintaining a strong marriage."
—Jonah Berger, Wharton professor and author of Contagious and Invisible Influence

"What a wonderful book by Eli Finkel. He's a natural writer—with an original and scientific view of marriage today and tomorrow. In short, marriage is evolving from a pragmatic survival strategy, to a romantic companionship, to a personal-growth adventure. And our best marriages today are better than anything of the past. It's optimistic, sensible, and engaging. And Finkel adds fascinating historical and cross-cultural facts and some highly useful tips on how to travel the bumpy road to happy coupledom. You'll like it . . . and use it."
—Dr. Helen Fisher, author of Anatomy of Love and Why We Love

"In his deeply insightful and beautifully written book on the paradox of modern marriage, Eli Finkel shines the bright light of science on the most important, rewarding, and vexing of all human relationships."
—Daniel Gilbert, Harvard University Edgar Pierce professor of psychology and author of Stumbling on Happiness

"What do we actually know about good (and bad) marriages? That simple question is surprisingly difficult to answer, but Eli J. Finkel's All-or-Nothing Marriage is the best place I know to start."
—Tyler Cowen, economics professor at George Mason University and author of Average Is Over

"While pundits debate the ever-evolving institution of marriage, Eli Finkel offers a fresh, nonpartisan analyses of changing trends, and even practical advice for the long-coupled. Anyone in a committed romantic relationship—whether or not they're legally wed—will benefit from the generosity and care he brings to the topic."
—Kate Bolick, author of Spinster: Making a Life of One's Own

"A thorough analysis of American marriage throughout the ages. In this comprehensive examination, Finkel . . . traces the evolution of this sacred institution from the earliest days of hunter-gatherer societies to modern times. . . . . In addition to extensive research, the author bolsters the narrative with charts, diagrams, and numerous quotes from a variety of sources. As the author writes, it is possible to create a loving, lasting union, but it requires work, communication, and commitment on the part of both parties, and the process will change as time progresses."
—Kirkus Reviews

"The beauty of [Finkel's] new model is that the potential psychological benefits increase as you climb the hierarchy of needs."
—Chicago Tribune

"In his new book, The All-or-Nothing Marriage, Finkel argues that twenty-first-century spouses seek partners who bring out their best, most authentic selves."
—TIME

"An important book . . . full of interesting insights on contemporary marriage."
—David Brooks, The New York Times

"Truly . . . an excellent book."
--Scientific American

"The good news is that, unlike the fate of competitors in a winner-take-all financial transaction, one person's spectacular marriage doesn't doom anyone else's to failure. Mr. Finkel's book shares research on what happens in the best marriages, with the aim to help everyone else likewise score an "all" rather than a "nothing" partnership. . . . Finkel offers tough love advice."
--The Wall Street Journal

"Mr. Finkel [is] one of the leading lights in the realm of relationship psychology." 
--The Economist

"An impressive work that not only charts the history of marriage from hunter-gatherers onward and explores all the ways marriage has evolved over the years but also boils the wealth of data to simple, attainable advice." 
--The Huffington Post

"A fantastic new book that looks at our complex history with the institution, exploring how marriage has changed and evolved, and how we can change and evolve along with it."
--The Toronto Star

"The All-or-Nothing Marriage is a fascinating read about our culture's relationship to relationships."
--Books for Better Living

"For Finkel, it's fine to look at marriage as a means to personal happiness, but it's a 'two-way street.' It's about giving as much as it is getting and forgetting that is the surest way to let your marriage fall apart."
--Vox.com

Dutton, 9781101984345, 352pp.
Publication Date: January 8, 2019
About the Author
ELI J. FINKEL is a professor of psychology and of management and organizations at the Kellogg School of Management at Northwestern University and the director of the Relationships and Motivation Lab. He has published more than one hundred scholarly papers and has won the most prestigious early career awards in both social psychology and relationship science. He is among the youngest scholars ever to serve as an associate editor of the Journal of Personality and Social Psychology, the top journal in his field, where he is also a widely published author.