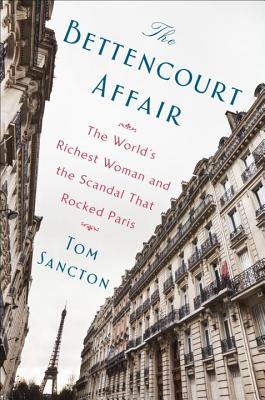 The Bettencourt Affair
The World's Richest Woman and the Scandal That Rocked Paris
Hardcover

* Individual store prices may vary.
Other Editions of This Title:
Digital Audiobook (8/7/2017)
Paperback (8/7/2018)
Description
An NPR Best Book of 2017

Heiress to the nearly forty-billion-dollar L'Oréal fortune, Liliane Bettencourt was the world's richest woman and the fourteenth wealthiest person. But her gilded life took a dark yet fascinating turn in the past decade. At ninety-four, she was embroiled in what has been called the Bettencourt Affair, a scandal that dominated the headlines in France. Why? It's a tangled web of hidden secrets, divided loyalties, frayed relationships, and fractured families, set in the most romantic city—and involving the most glamorous industry—in the world.

The Bettencourt Affair started as a family drama but quickly became a massive scandal, uncovering L'Oréal's shadowy corporate history and buried World War II secrets. From the Right Bank mansions to the Left Bank artist havens; and from the Bettencourts' servant quarters to the office of President Nicolas Sarkozy; all of Paris was shaken by the blockbuster case, the shocking reversals, and the surprising final victim.

It all began when Liliane met François-Marie Banier, an artist and photographer who was, in his youth, the toast of Paris and a protégé of Salvador Dalí. Over the next two decades, Banier was given hundreds of millions of dollars in gifts, cash, and insurance policies by Liliane. What, exactly, was their relationship? It wasn't clear, least of all to Liliane's daughter and only child, Françoise, who became suspicious of Banier's motives and filed a lawsuit against him. But Banier has a far different story to tell...

The Bettencourt Affair is part courtroom drama; part upstairs-downstairs tale; and part characterdriven story of a complex, fascinating family and the intruder who nearly tore it apart.
Praise For The Bettencourt Affair: The World's Richest Woman and the Scandal That Rocked Paris…
"A Buffet for Scandal Aficionados...[Sancton] is an excellent straight-up reporter, and he has dug deeply into the many, many elements that complicate this story."—Janet Maslin, The New York Times

"Juicy...the very picture of un grand scandale about the world's richest woman."—Vanity Fair

"Liliane Bettencourt, the L'Oréal heiress worth billions, became infatuated with a man 25 years her junior (a former Dalí protégé and an apparent social climber), giving him lavish gifts and even moving to adopt him. The story has all the trappings of a juicy affair, including graft and hidden Nazi sympathies."
—Joumana Khatib, The New York Times Book Review Paperback Row

"[A] riveting page-turner chronicling this sweeping Tolstoyan saga...In gripping but unsensational prose, [Sancton] brings the debacle alive in its many dimensions, recreating not merely the lurid courtroom drama, but capturing 'the ineffable sadness at its heart.'"—NPR

"An intensely reported account of power, politics, persuasion and the dark family secrets of the ultra-wealthy."—New York Daily News

"the book that has emerged from [Sancton's] reporting on the case is surely the definitive account...riveting."—Wall Street Journal

"Money, glamour, and scandal are often the key ingredients of a great story—especially when they're true."—Real Simple

"A juicy chronicle of France's richest scandal...A well-researched, crisply written, and entertaining story of family, greed, wealth, and the complex relations among them."—Kirkus Reviews

"Although this tale seems destined for HBO or Hollywood, to bill this a mere 'family drama' belies the staggering depth with which Sancton portrays his subjects, whose motivations, desires, and downfalls are 'so difficult to judge according to a moral code based on right and wrong, black and white, good and evil.' A natural for book clubs, which will drain a French cellar's worth of wine while appreciating Sancton's meticulous research and discussing this unbelievable cast of characters."—Booklist (starred review)

"This true story of the elderly billionaire, the artist to whom she gave a fortune, and the family that claims it's all been a big con, is proof that truth is stranger—or at least makes better poolside reading."—Town & Country

"There is no comparable work on the Bettencourt scandal, only interviews and articles, making this highly recommended and pleasurable read a mix of luring tabloid fare and professionally researched courtroom and political drama."—Library Journal (starred review)

"The story of this convoluted war of wills (pun intended), told with skill by former Time Paris bureau chief Tom Sancton in The Bettencourt Affair, features a cast of characters pulled straight from a Tolstoy novel."—BookPage

"A longtime reporter on a foreign desk, Tom Sancton knows Paris and has done his homework...The Bettencourt Affair is a devilishly engaging immersion into a world few of us can imagine."—Shelf Awareness

"This book has it all! Money, class, art, greed, intrigue, seduction, betrayal, and politics. It reads like a novel—a racy and intense thriller—but it's all true. With amazing reporting and wonderful writing, Tom Sancton brings alive the drama of the richest woman in the world, the powerful minister she married, their intellectual daughter, and the audacious artist who may have siphoned off a fortune. Their battles shook France and will fascinate readers."—Walter Isaacson, author of Steve Jobs

"The Bettencourt Affair reveals the far-reaching tentacles of a sensational family squabble over the $40-billion L'Oréal fortune. The aging cosmetics heiress gave hundreds of millions of dollars to her protégé, who was then charged with criminal manipulation by the woman's embittered daughter and convicted at a trial that also entangled French President Nicholas Sarkozy, a labor minister and others. It's an eye-popping, page-turning read."—John Berendt, author of Midnight in the Garden of Good and Evil and The City of Falling Angels
 
"A riveting, dishy account of one of France's wealthiest families, whose Olympian grasp reaches scandalously deep into the French political world and the government itself. No one who reads this intimate tale of materialism and dangerous liaisons—peppered with political stars and so steeped in paranoia that even a butler makes surreptitious recordings to defend himself—will ever again associate the French upper classes with discretion and understatement."—Anne-Marie O'Connor, author of The Lady in Gold
Dutton, 9781101984475, 416pp.
Publication Date: August 8, 2017
About the Author
Tom Sancton was a longtime Paris bureau chief for Time magazine, where he wrote more than fifty cover stories. He first broke the Bettencourt affair for many American readers with his feature piece in Vanity Fair in 2010. Sancton coauthored the New York Times (and international) bestseller Death of a Princess, a probing investigation of the murky circumstances behind Princess Diana's death. He has also written for Fortune, Reader's Digest, Newsweek, and other leading magazines. A Rhodes scholar who studied at Harvard and Oxford, he is currently a research professor at Tulane University in New Orleans, where he spends part of the year. In 2014, the French government named Tom Sancton a Chevalier (knight) in the Order of Arts and Letters.
Coverage from NPR
or
Not Currently Available for Direct Purchase