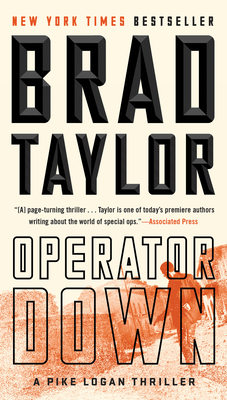 Operator Down (A Pike Logan Thriller #12)
Paperback

* Individual store prices may vary.
Other Editions of This Title:
Digital Audiobook (1/8/2018)
Paperback, Large Print (1/9/2018)
CD-Audio (1/9/2018)
Hardcover (1/9/2018)
Description
• A New York Times Bestseller • Former Special Forces officer and New York Times bestselling author Brad Taylor delivers a heart-pounding thriller where Pike Logan's search for a Mossad agent and ally puts him on a collision course with a ruthless military coup in Africa—and tests his loyalties to the Taskforce.

It was supposed to be a simple mission. Nothing more than assessing whether a merchant in the fabled Israeli Diamond Exchange was involved in a scheme that could potentially embarrass the state of Israel. But nothing is ever simple in the world of intelligence, as Aaron Bergman—a former leader of an elite direct action team under the Mossad—should have known. Executing the operation as a contractor, a cutout that gave the State of Israel plausible deniability, he disappears without a trace.

Pike Logan and his team know none of this, but he's tracking an American arms dealer in Tel Aviv who may—or may not—be attempting to sell sensitive nuclear weapons components to the highest bidder. When Pike's team breaks up an attempt at killing Shoshana, Aaron's partner, they stumble upon much more than they expected—a concerted conspiracy to topple a democratic African country.

Beginning to untangle a web that extends through both the American and Israeli intelligence community, Pike is forced to choose between his Israeli friends and his Taskforce mission, even as the coup begins. But Aaron's disappearance is the one mistake the plotters made. Because Shoshana is the greatest killing machine the Mossad has ever produced, and she will stop at nothing to help Aaron, even if it means killing Pike Logan.
Praise For Operator Down (A Pike Logan Thriller #12)…
Praise for Operator Down

"[A] page-turning thriller...Taylor is one of today's premiere authors writing about the world of special ops."—Associated Press

"Brad Taylor's Pike Logan thrillers just keep getting better, and Operator Down is his most ambitious and fully realized yet....Taylor continues to stand with Brad Thor and James Rollins at the top of the action-thriller genre. But Operator Down features the polished echoes of Daniel Silva and even John le Carré, a thriller that's at once both cerebral and muscular, a rare combination that Taylor pulls off with skill and aplomb."—Providence Journal

"Former Delta Force officer Taylor relies on his familiarity with modern combat logistics to create credible characters and complex plots that pulse with intense intrigue, authenticity, and realism. Fans of military thrillers will enjoy how this narrative mirrors current events in the worldwide war on terror."—Library Journal

"As usual in the Pike Logan series, the spycraft and related technology are fascinating, the dialogue crackles, and all the players are operating in an international sea of moral ambiguity. Recommend Pike Logan to readers who like their spies tough, smart, and bordering on superhuman."—Booklist

"Bestseller Taylor excels at quality action scenes....Series fans...are sure to relish this entry."—Publishers Weekly

"With his experience as an officer in the U.S. Army's Special Forces, Taylor brings firsthand military knowledge to the Nephilim 'Pike' Logan series....A believable account of elite operators working outside traditional government parameters to track international villains."—Kirkus Reviews

More Praise for Brad Taylor and the Pike Logan series

"Brad Taylor continues to tackle one of the pressing fears of today—terrorism. The plots and the characters are fictional but Taylor's meticulous research brings that sense of chilling believability to his Pike Logan thrillers....Taylor delivers a high-energy thriller in Ring of Fire."—Oline Cogdill, South Florida Sun-Sentinel

"Pike ranks right up there with Jason Bourne, Jack Reacher, and Jack Bauer."—John Lescroart, New York Times bestselling author

"Fresh plot, great action, and Taylor clearly knows what he is writing about....When it comes to tactics and hardware, he is spot-on."—Vince Flynn, #1 New York Times bestselling author

"Logan is a tough, appealing hero you're sure to root for."—Joseph Finder, New York Times bestselling author

"[Pike Logan is a] feisty, devil-may-care hero."—Steve Berry, New York Times bestselling author

"Taylor has become one of the very best writers of thrillers with a military and special-ops background....Comparisons to Vince Flynn and Brad Thor are expected and not inaccurate, but Taylor is now in a class by himself."—Booklist

"Slick, exciting action and credible complexity are the hallmarks of Taylor's high-caliber thrillers."—Library Journal

"Few authors write about espionage, terrorism, and clandestine hit squads as well as Taylor does."—Houston Press

"Action packed...Those who prize authentic military action will be rewarded."—Publishers Weekly
Dutton, 9781101984833, 544pp.
Publication Date: December 31, 2018
About the Author
BRAD TAYLOR is the author of the New York Times bestselling Pike Logan series. He served for more than twenty years in the U.S. Army, including eight years in 1st Special Forces Operational Detachment-Delta, commonly known as Delta Force. He retired as a Special Forces lieutenant colonel and now lives in Charleston, South Carolina.