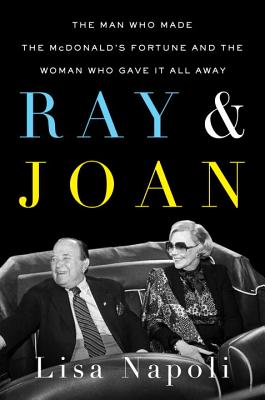 Ray & Joan
The Man Who Made the McDonald's Fortune and the Woman Who Gave It All Away
Hardcover

* Individual store prices may vary.
Other Editions of This Title:
Digital Audiobook (11/14/2016)
Description
The movie The Founder, starring Michael Keaton, focused the spotlight on Ray Kroc, the man who amassed a fortune as the chairman of McDonald's. But what about his wife Joan, the woman who became famous for giving away his fortune? Lisa Napoli tells the fascinating story behind the historic couple.

Ray & Joan is a quintessentially American tale of corporate intrigue and private passion: a struggling Mad Men–era salesman with a vision for a fast-food franchise that would become one of the world's most enduring brands, and a beautiful woman willing to risk her marriage and her reputation to promote controversial causes that touched her deeply.

Ray Kroc was peddling franchises around the country for a fledgling hamburger stand in the 1950s—McDonald's, it was called—when he entered a St. Paul supper club and encountered a beautiful young piano player who would change his life forever. The attraction between Ray and Joan was instantaneous and instantly problematic. Yet even the fact that both were married to other people couldn't derail their roller coaster of a romance.

To the outside world, Ray and Joan were happy, enormously rich, and giving. But privately, Joan was growing troubled over Ray's temper and dark secret, something she was reluctant to publicly reveal. Those close to them compared their relationship to that of Elizabeth Taylor and Richard Burton. And yet, this volatility paved the way for Joan's transformation into one of the greatest philanthropists of our time. A force in the peace movement, she produced activist films, books, and music and ultimately gave away billions of dollars, including landmark gifts to the Salvation Army and NPR.

Together, the two stories form a compelling portrait of the twentieth century: a story of big business, big love, and big giving.


Praise For Ray & Joan: The Man Who Made the McDonald's Fortune and the Woman Who Gave It All Away…
"…this wonderfully moving and entertaining biography will have you thinking differently about what it means to give generously and spend lavishly." 
—Marie Claire

"Napoli's narrative skills are outstanding. She depicts Ray and Joan in vivid detail and with deep sympathy, something that's especially difficult given how neither Kroc was an especially appealing person."
—Chicago Tribune

"Journalist Lisa Napoli's Ray & Joan is remarkable… a playful, even waggish work of biography."
—Christian Science Monitor

"Napoli weaves together the Krocs's personal and business dramas with considerable intelligence… [her] portrait of Joan in her final two decades, impulsively writing multimillion-dollar checks and dispatching her private jet "like a pickup truck" to run personal errands for friends, is charming and engaging."
—Boston Globe

"Lisa Napoli shows herself to be both a storyteller and a journalist as she pulls back the curtain."
—San Diego Union-Tribune

"Fabulous… entertaining… Ray & Joan is a moving, extremely well-written story of big business, big love, and big giving."
—Huffington Post

"[Ray & Joan is] a fascinating story, and it arrives at an auspicious moment."
—The Associated Press

"Napoli has done an impressive job of researching and writing the story of two extraordinary people and their considerable accomplishments."
—Dallas Morning News

"[An] in-depth examination… Napoli provides a fascinating look at the founding couple behind a world-altering corporation and far-reaching generosity." 
—Booklist (starred review)

"Napoli skillfully assembles the saga of their lives as a couple and just as skillfully portrays Joan's blossoming as a philanthropic force after Ray's death… A book characterized by deep research and a seamless weaving together of the details of different lives." 
—Kirkus Reviews (starred review)

"The author does an outstanding job… Napoli clearly addresses the flaws of these larger-than-life characters while also endearing them to audiences. A great book that will cause readers to never look at McDonald's the same way again."
—Library Journal

"Part corporate success story, part soap opera, this tale has a lot of territory to cover, and Napoli recounts it all in a breezy, amusing style. She's at her best on the subject of Ray and Joan's complicated relationship, but the backstories—Ray's rise from milkshake machine salesman to titan of commerce and Joan's journey from a difficult childhood to beloved philanthropist—are just as riveting."
—BookPage, Non-Fiction Pick of the Month

"Napoli's energetic, slightly tabloidesque narrative style make this a must-read for anyone who loves a good love story behind a business success."
—Publishers Weekly

"Napoli's well-researched, compelling portrayals of Ray and Joan Kroc shed light on a dynamic and influential power couple whose generosity continues to improve a world where McDonald's is a household name."
—Shelf Awareness
Dutton, 9781101984956, 368pp.
Publication Date: November 15, 2016
About the Author
Born and raised in Brooklyn, New York, Lisa Napoli has lived for the last dozen years in southern California, where she was inspired to write this book by a public artwork with a mysterious provenance. In her three decades as a journalist, she's worked for The New York Times, MSNBC, the public radio show Marketplace, and a variety of other outlets.  She's covered everything from presidential campaigns, to hacker conventions and a hostage standoff, to the dawn of the World Wide Web.  Her first book, Radio Shangri-La, is about the impact of media culture on the mysterious Kingdom of Bhutan, where she was invited to help start a radio station at the dawn of democratic rule.

A graduate of Hampshire College, Lisa leads an award-winning volunteer cooking group at the Downtown Women's Center on Skid Row in Los Angeles.  She's also the founding board chair of the Bhutan Media Society, an all-volunteer news outlet created by Bhutanese refugees in diaspora.
Coverage from NPR