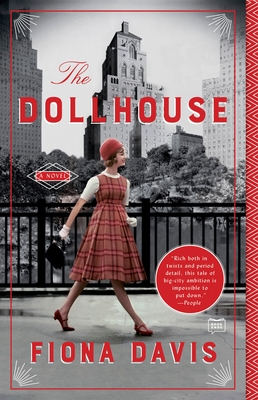 The Dollhouse
A Novel
Paperback

* Individual store prices may vary.
Other Editions of This Title:
Digital Audiobook (8/22/2016)
Hardcover, Large Print (12/7/2016)
Hardcover (8/23/2016)
Paperback (8/9/2016)
CD-Audio (8/23/2016)
Description
Enter the lush world of 1950s New York City, where a generation of aspiring models, secretaries, and editors live side by side in the glamorous Barbizon Hotel for Women while attempting to claw their way to fairy-tale success in this debut novel from the New York Times bestselling author of The Lions of Fifth Avenue.

"Rich both in twists and period detail, this tale of big-city ambition is impossible to put down."—People
 
When she arrives at the famed Barbizon Hotel in 1952, secretarial school enrollment in hand, Darby McLaughlin is everything her modeling agency hall mates aren't: plain, self-conscious, homesick, and utterly convinced she doesn't belong—a notion the models do nothing to disabuse. Yet when Darby befriends Esme, a Barbizon maid, she's introduced to an entirely new side of New York City: seedy downtown jazz clubs where the music is as addictive as the heroin that's used there, the startling sounds of bebop, and even the possibility of romance.
 
Over half a century later, the Barbizon's gone condo and most of its long-ago guests are forgotten. But rumors of Darby's involvement in a deadly skirmish with a hotel maid back in 1952 haunt the halls of the building as surely as the melancholy music that floats from the elderly woman's rent-controlled apartment. It's a combination too intoxicating for journalist Rose Lewin, Darby's upstairs neighbor, to resist—not to mention the perfect distraction from her own imploding personal life. Yet as Rose's obsession deepens, the ethics of her investigation become increasingly murky, and neither woman will remain unchanged when the shocking truth is finally revealed.
Praise For The Dollhouse: A Novel…
Praise for The Dollhouse

"Rich both in twists and period detail, this tale of big-city ambition is impossible to put down."—People

"The Dollhouse is a thrilling peek through a window into another world—one that readers will savor for a long time."—Associated Press

"An ode to old New York that will have you yelling for more seasons of Mad Men."—New York Post

"Davis paints a scene of Darby's 1950s glamour for her audience that's a smart juxtaposition to Rose's modern-age New York, jumping between time periods clearly with often elegant prose....Davis's descriptive words are transporting....[A] poignant beach read."—New York Daily News

"In her page-turning debut, Fiona Davis deftly weaves the storylines of two women living at the famed Barbizon hotel for women....Davis alternates the chapters between each woman until the twists and turns of their respective storylines ultimately weave together, upping the anticipation along the way."—RealSimple

"This suspenseful novel about a woman who took a decidedly different path—and the journalist who wants to uncover her secrets—will quicken your pulse."—InStyle

"Davis layers on relationships and intrigue, while building tension through her story structure....The pace quickens as the story hurtles to its surprising—but satisfying—end. Who said history had to be dull, anyway?"—BookPage

"Davis's impeccably structured debut is equal parts mystery, tribute to midcentury New York City, and classic love story....Darby and Rose, in alternating chapters, weave intricate threads into twists and turns that ultimately bring them together; the result is good old-fashioned suspense."—Publishers Weekly (starred review)

"Fiona Davis's debut novel deftly blends the contemporary and midcentury storylines to form a wholly absorbing and entertaining read....Period fiction mingled with twists and turns that keep the reader engrossed until the very last page."—Bookreporter.com

"Davis's debut novel....[is] a lively one, tripping along at a sprightly clip."—Kirkus Reviews

"Get ready for glitz, glamour, and a whole lot of sleuthing."—Brit + Co

"Clever and full of twists....A story well told."—New York Journal of Books

"Sensory and vivid....A zippy plot and [a] refreshing focus on the lives of women many would overlook."—The Dallas Morning News

"Highly readable, The Dollhouse conjures up 1950s New York convincingly. In particular the now-vanished world of the Barbizon Hotel for Women, with its antiquated rules and intriguing array of female personalities and tragic fates, lives on in the pages of the novel in delectable detail....This is no mere 'chick-lit,' but feminist-inspired entertainment."—Historical Novel Society

"Fans of Suzanne Rindell's Three-Martini Lunch will enjoy this debut's strong sense of time and place as the author brings a legendary New York building to life and populates it with realistic characters who find themselves in unusual situations."—Library Journal

"Davis delivers a fast-paced, richly-imagined debut that's almost impossible to put down."—Kathleen Tessaro, author of The Perfume Collector

"The ghosts of the famed NYC women's hotel come to life in The Dollhouse. Davis expertly weaves together the stories of several women who lived in the Barbizon during its heyday in the 1950s, and the broken-hearted journalist who decides to get the 'scoop' on a decades-old tragedy that happened in the building. A fun, page-turning mystery."—Suzanne Rindell, author of The Other Typist and Three-Martini Lunch 

"Multigenerational and steeped in history, The Dollhouse is a story about women—from the clicking anxiety of Katie Gibbs's secretaries to the willowy cool of Eileen Ford's models, to honey-voiced hatcheck girls and glamorous eccentrics with lapdogs named Bird. Davis celebrates the women of New York's present and past—the ones who live boldly, independently, carving out lives on their own terms."—Elizabeth Winder, author of Pain, Parties, Work: Sylvia Plath in New York, Summer 1953

"Two coming-of-age stories rolled into an ode to New York City and the young women—of past and present—who have tried to forge lives and careers there. Poetic, romantic, crushing, and soulful."—Jules Moulin, author of Ally Hughes Has Sex Sometimes
Dutton, 9781101985014, 368pp.
Publication Date: July 11, 2017
About the Author
Fiona Davis is the New York Times bestselling author of several novels, including The Dollhouse, The Address, The Masterpiece, The Chelsea Girls, The Lions of Fifth Avenue, and The Magnolia Palace. She lives in New York City and is a graduate of the College of William & Mary in Virginia and the Columbia Journalism School.