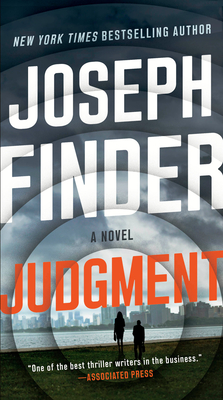 Judgment
A Novel
Paperback

* Individual store prices may vary.
Other Editions of This Title:
Digital Audiobook (8/28/2019)
Digital Audiobook (1/28/2019)
Paperback, Large Print (1/29/2019)
Description
**The Instant NEW YORK TIMES Bestseller**

New York Times bestselling author Joseph Finder returns with an explosive new thriller about a female judge and the one personal misstep that could lead to her—and her family's—downfall.

It was nothing more than a one-night stand. Juliana Brody, a judge in the Superior Court of Massachusetts, is rumored to be in consideration for the federal circuit, maybe someday the highest court in the land. At a conference in a Chicago hotel, she meets a gentle, vulnerable man and has an unforgettable night with him—something she'd never done before. They part with an explicit understanding that this must never happen again.

But back home in Boston, Juliana realizes that this was no random encounter. The man from Chicago proves to have an integral role in a case she's presiding over--a sex-discrimination case that's received national attention. Juliana discovers that she's been entrapped, her night of infidelity captured on video. Strings are being pulled in high places, a terrifying unfolding conspiracy that will turn her life upside down.  But soon it becomes clear that personal humiliation, even the possible destruction of her career, are the least of her concerns, as her own life and the lives of her family are put in mortal jeopardy.

In the end, turning the tables on her adversaries will require her to be as ruthless as they are.
Praise For Judgment: A Novel…
"Joseph Finder proves that what appears to be a simple idea can be elevated with great writing and powerful characters."
—Associated Press

"[A] tense, well-balanced novel."
—The Wall Street Journal

"Joseph Finder has a knack for writing fast-paced, well-plotted thrillers that explore contemporary real-world issues—and that sometimes even seem prescient. His 15th novel, Judgment, is no exception."
—New York Review of Books

"Takes 'ripped from the headlines' to a new level."
—The Washington Post

"The legal thriller of the season."
—Times of London

"Joseph Finder has masterfully blended the psychological and legal thrillers in "Judgment," a book that combines his penchant for nuanced plotting with the rapid-fire pacing his more recent titles have displayed."
—The Providence Journal

"Joseph Finder's Judgment is a fast-paced thriller with emphathetic characters and twists and turns that make it impossible to stop reading."
—Shelf Awareness

"Wow! This is Finder's best book so far, and that is saying a lot."
—The BookBitch

"Judgment is the first Joseph Finder thriller I have read and I can't wait to read his others…You have to trust me that the plot is creative and timely. To reveal too much would spoil the thrill of learning the truth behind the blackmail plot. Let's just say, it could be ripped from the headlines."
—Woman Around Town

"I finished Joseph Finder's Judgment after six hours of high-adrenaline reading. What a great premise: A judge's one-night fling a thousand miles from home becomes the basis for an attempt to blackmail her in an important case. And that is merely the first surprise. Judgment is smart, swift and well-informed. I loved it!"
—Scott Turow

"This is an exquisite game of cat and mouse. Finder is fully in his groove here. The guy never disappoints. Judgment rocks."
—David Baldacci

"Joseph Finder's thrillers always deliver, and Judgment is no exception--incredibly timely, twisty, and impossible to put down."
—Karin Slaughter

"Joseph Finder's Judgment is a pitch perfect, ripped from the headlines thriller. An intense ride that grabs hold and refuses to let go. Judge Juliana Brody is a magnificent character, a perfect blend of believable vulnerability and ruthlessness to protect her family."
—Mark Greaney, #1 New York Times bestselling author of Mission Critical

"Judgment starts with a moral dilemma and quickly becomes a masterclass in ratcheting up the tension. Just when you think it couldn't get any pacier, Finder finds another gear. With complex, believable characters, a twisty plot, and well-researched legal background, this is a classy, sophisticated thriller for readers jaded by low-stakes domestic noir."
—JP Delaney
 
"Joseph Finder has long been one of my very favorite thriller writers. Judgment is a stunning and utterly compelling page-turner by an author at the top of his game. I cannot remember when I last read a book so gripping and so satisfying."
—Peter James

"A brilliantly paced juggernaut of thrills as well as a deeply serious investigation of morality and justice, Judgment shows Finder's absolute mastery of the genre. Incredibly gripping, trenchant and human, this is one of the best novels I've read this year."
—Stav Sherez

"Not only the main character but also the supporting cast and even the walk-on characters are wonderfully believable. Finder also peppers the narrative with astute observations on a range of professions and criminal activities. Another stunner from a master."
—Booklist (starred review)

More Praise for Joseph Finder and his novels

"A master of the modern thriller."
—The Boston Globe

"If Alfred Hitchcock were alive and working today, this is the kind of story he would direct."
—Fort Worth Star-Telegram on The Switch

"The Switch is a dazzling political thriller, a kind of 'Advise and Consent' postmodernized for the 24/7 news cycle world. Perfectly timed and wondrously prescient, this is summer reading of the highest order."
—Providence Journal

"Finder really knows his way around a thriller, and his sensibilities about Washington, scandal, and the immediacy—and threat—of digital publishing and electronic surveillance seem chillingly plausible. This is an exciting, insightful thriller with finely sketched characters."
—Booklist on Guilty Minds (starred review)

"If you're in the mood for tense, witty angst about closed-down career opportunities and dirty money cleansed by family redemption, The Fixer is the way to go."
—The New York Times Book Review

"Finder can make reading about someone walking across a room excruciatingly suspenseful. . . . This is a thriller that is as much about redemption as it is about escape. A remarkable, exciting read."
—Booklist on The Fixer (starred review)

"A can't-miss thriller . . . He's a master at making the reader feel every emotion, jump at every shock, and squirm with every twist that Danny must overcome."
—Associated Press on Suspicion

"Joseph Finder has always been out there on the front edge of things. With Suspicion he does it again, giving us a novel that is as timely and cognizant of contemporary society as it is a startling seat of the pants thrill ride. In Finder's hands one man's fight for survival becomes an everyman's journey to the light."
—Michael Connelly
Dutton, 9781101985830, 528pp.
Publication Date: July 30, 2019
About the Author
Joseph Finder is the New York Times bestselling author of fourteen previous novels, including The Switch, Guilty Minds, The Fixer, Suspicion, Vanished, and Buried Secrets. Finder's bestseller Suspicion won the Barry Award for Best Thriller of the Year; Buried Secrets won the Strand Critics Award for Best Novel, and Killer Instinct won the International Thriller Writers' Award for Best Novel. Other bestselling titles include Paranoia and High Crimes, which both became major motion pictures. He lives in Boston.