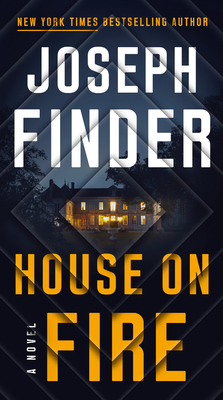 House on Fire
A Novel (A Nick Heller Novel #4)
Paperback

* Individual store prices may vary.
Other Editions of This Title:
Digital Audiobook (2/12/2020)
Digital Audiobook (1/20/2020)
Hardcover (1/21/2020)
CD-Audio (1/21/2020)
Paperback, Large Print (1/21/2020)
Description
"Joseph Finder is incapable of writing a bad thriller. I'd follow Nick Heller anywhere."—C. J. Box, #1 New York Times bestselling author of Long Range

In New York Times bestselling author Joseph Finder's electrifying new thriller, private investigator Nick Heller infiltrates a powerful wealthy family hiding something sinister.

Nick Heller is at the top of his game when he receives some devastating news: his old army buddy Sean has died of an overdose. Sean, who once saved Nick's life, got addicted to opioids after returning home wounded from war. 

Then at Sean's funeral, a stranger approaches Nick with a job, and maybe also a way for Nick to hold someone accountable.

The woman is the daughter of a pharmaceutical kingpin worth billions. All Nick has to do is find the document that proves the family knew the drug's dangers. But Nick soon realizes that the sins of the patriarch are just the beginning.
 
Beneath the surface are barely conceal cabals and conspiracies—a twisting story of family intrigue and lethal corporate machinations. In a deadly game of chess that pits Nick against a family dynasty, against brothers and sisters with schemes of their own, he learns how far his enemy is willing to go to protect its name and its wealth.
Praise For House on Fire: A Novel (A Nick Heller Novel #4)…
Praise for House on Fire
"Joseph Finder is incapable of writing a bad thriller. I'd follow Nick Heller anywhere."—C. J. Box, #1 New York Times bestselling author of Long Range

"A mixture of Jason Bourne and Sam Spade, Nick Heller is the man you want in your corner.  House on Fire is classic whodunit wrapped in a modern world of technology and current events, with enough twists to keep you reading long into the night."—Brad Taylor, New York Times bestselling author of Daughter of War

"Joseph Finder brings back his Nick Heller character after a brief hiatus with smashing (literally!) results in House on Fire… Packed with both brains and brawn, House on Fire is thriller writing at its very best, conjuring tomorrow's headlines instead of ripping off today's."—Jon Land, Providence Journal

"Heller can pick locks, handle weapons, and attract beautiful women with the best of them, but the first-person narrative is natural and engaging. A crisp, fast-paced adventure."—The Times of London

"One of the Best Books of the Week . . . Private investigator Nick Heller has just gotten some bad news: His old Army buddy Sean died of an overdose. At the funeral, Heller is approached by the daughter of a pharmaceutical kingpin who has made millions off of dangerously addictive opioids. Now she wants to become a whistleblower."—New York Post

"Finder has crafted a timely and well-written thriller that engages the reader with an uncomfortable topic in unexpected ways. The author tackles the subject head-on, and by taking one of his best characters and giving him personal stakes, the intensity of the story shines. House on Fire will be remembered as one of Finder's best."—Jeff Ayers, Associated Press

"Finder delivers tight writing with sharp characters. . . . Fans of HBO's Succession and dynamic murder mysteries will eagerly inhale House on Fire"—Shelf Awareness

"Finder is a master of the narrow escape. . . . Finder's characterization of Heller gets more layered with every installment. The way Heller moves through the mystery, using social skills, street smarts, and technology to get in and out of trouble, is breathtaking. Excruciating suspense."—Booklist

"By exploring a complicated family dynamic and questions of culpability in a real-life ongoing national crisis, Finder once again has spun a gripping thriller about an up-to-the-minute issue."—Book Trib

"Canny."—The Wall Street Journal

"Fans of timely, thoughtful page-turners will be richly rewarded."—Publishers Weekly

"Centered on timely issues, but grounded in the craft of detective fiction, House on Fire promises to be one of the year's best."—CrimeReads

"Nick Heller is back, and all feels right in the thriller world because of it. Finder's last Heller book, Guilty Minds, remains one of my favorite thrillers ever written . . . and even I have to admit, this one might be better. Even if you haven't read the first three books in the series, you can jump in here without missing a beat."—Real Book Spy 

"House on Fire should satisfy devotees of this consistently strong series and win over new ones with its incisive portrait of a family that runs on greed."—Airmail

"This taut, smoothly plotted novel, filled with vivid characters, takes some twists and turns even seasoned readers might miss."—Cleveland Plain Dealer

"Finder utilizes his extensive research abilities with current events to make House on Fire yet another winner in this series. . . . Fans of financial thrillers and private-eye fiction will find much to love here."--BookReporter.com

"House on Fire is a fast-paced thriller with a plot that could be torn from today's--or tomorrow's-- newspaper headlines. . . . Unexpected plot twists abound; the author uniquely explores complex family intrigue from highly contrasting perspectives."—Ray Walsh, Lansing State Journal



Dutton, 9781101985861, 496pp.
Publication Date: July 28, 2020
About the Author
JOSEPH FINDER is the New York Times bestselling author of fifteen previous novels, including Judgment, The Switch, Guilty Minds, The Fixer, and Suspicion. Finder's international bestseller Killer Instinct won the International Thriller Writers' Thriller Award for Best Novel of 2006. Other bestselling titles include Paranoia and High Crimes, which both became major motion pictures. He lives in Boston.