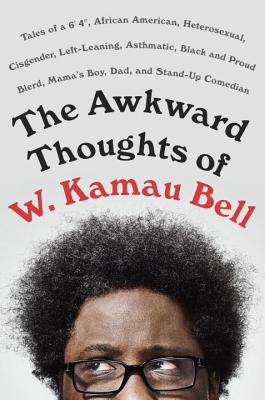 The Awkward Thoughts of W. Kamau Bell
Tales of a 6' 4", African American, Heterosexual, Cisgender, Left-Leaning, Asthmatic, Black and Proud Blerd, Mama's Boy, Dad, and Stand-Up Comedian
Hardcover

* Individual store prices may vary.
Other Editions of This Title:
Digital Audiobook (5/1/2017)
Paperback (8/7/2018)
CD-Audio (5/2/2017)
Description
You may know W. Kamau Bell from his new, Emmy-nominated hit show on CNN, United Shades of America. Or maybe you've read about him in the New York Times, which called him "the most promising new talent in political comedy in many years." Or maybe from The New Yorker, fawning over his brand of humor writing: "Bell's gimmick is intersectional progressivism: he treats racial, gay, and women's issues as inseparable."

After all this love and praise, it's time for the next step: a book. The Awkward Thoughts of W. Kamau Bell is a humorous, well-informed take on the world today, tackling a wide range of issues, such as race relations; fatherhood; the state of law enforcement today; comedians and superheroes; right-wing politics; left-wing politics; failure; his interracial marriage; white men; his up-bringing by very strong-willed, race-conscious, yet ideologically opposite parents; his early days struggling to find his comedic voice, then his later days struggling to find his comedic voice; why he never seemed to fit in with the Black comedy scene . . . or the white comedy scene; how he was a Black nerd way before that became a thing; how it took his wife and an East Bay lesbian to teach him that racism and sexism often walk hand in hand; and much, much more.
Praise For The Awkward Thoughts of W. Kamau Bell: Tales of a 6' 4", African American, Heterosexual, Cisgender, Left-Leaning, Asthmatic, Black and Proud Blerd, Mama's Boy, Dad, and Stand-Up Comedian…
"Bell... tackles everything from racism to his life growing up as a Blerd (Black nerd) to his struggles to find his comedic voice in this illuminating memoir." —Entertainment Weekly

"With insight and aplomb, stand-up comedian Bell recounts his career arc...Those unfamiliar with Bell's work or expecting a lighthearted read from a popular comedian will be surprised by the book's breadth and depth...This informative read will be illuminating and worthwhile for aspiring comedians and general readers."—Publishers Weekly

"At times funny, at times somber, this debut will be enjoyed by fans of United Shades, Issa Rae's TV series Insecure, and anyone who enjoys comedy with a personal touch."—Library Journal

"A funny, heartfelt tête-à-tête with a down-to-earth star."—Boston Magazine

"At turns sarcastic, poetic and enraged, Bell's language is potent. His own realization of how racism intersects with other forms of discrimination, like sexism, broadens his platform and embraces a wide audience. Awkward Thoughts is definitely entertaining, but it also invites readers to look through different eyes. And those who aren't inspired to take action will at least have considered a new view. As Bell says, 'that's progress.'"—Shelf Awareness (starred review)

"A comprehensive look at what gave rise to Bell's insightful, critical eye and his hilarious comedy."—Booklist 

"A unique perspective of the development of identity comedy in the 21st century."—Kirkus Reviews
Dutton, 9781101985878, 352pp.
Publication Date: May 2, 2017
About the Author
W. Kamau Bell is a sociopolitical comedian who is the host of the Emmy-nominated hit CNN docuseries United Shades of America. Before United Shades, Kamau was best known for his critically acclaimed but criminally short-lived FX comedy series, Totally Biased with W. Kamau Bell. The series was nominated for both an NAACP Award and a GLAAD Award. Kamau is also the host of Kamau Right Now!, a public radio talk show that airs on NPR radio station KALW in San Francisco, and a cohost of the podcasts Politically Re-Active and the memorably named Denzel Washington Is the Greatest Actor of All Time Period.

Before pursuing a career in stand-up comedy, Kamau and his mom lived all over the country. He was born in Palo Alto, California, then moved to Indianapolis, Indiana, then Boston, Massachusetts, then Chicago, Illinois, with several extended visits to his dad's in Mobile, Alabama, mixed in for good measure. Today he lives in Berkeley, California, with his wife and family.
Coverage from NPR