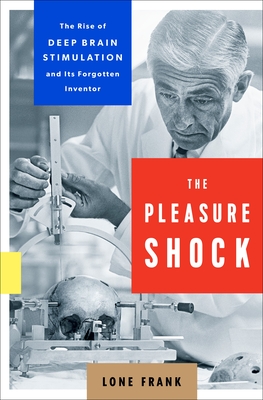 The Pleasure Shock
The Rise of Deep Brain Stimulation and Its Forgotten Inventor
Hardcover

* Individual store prices may vary.
Description
The electrifying, forgotten history of Robert Heath's brain pacemaker, investigating the origins and ethics of one of today's most promising medical breakthroughs: deep brain stimulation

The technology invented by psychiatrist Robert G. Heath in the 1950s and '60s has been described as among the most controversial experiments in US history. His work was alleged at the time to be part of MKUltra, the CIA's notorious "mind control" project. His research subjects included incarcerated convicts and gay men who wished to be "cured" of their sexual preference. Yet his cutting-edge research and legacy were quickly buried deep in Tulane University's archives. Investigative science journalist Lone Frank now tells the complete sage of this passionate, determined doctor and his groundbreaking neuroscience.

More than fifty years after Heath's experiments, this very same treatment is becoming mainstream practice in modern psychiatry for everything from schizophrenia, anorexia, and compulsive behavior to depression, Parkinson's, and even substance addiction.

Lone Frank uncovered lost documents and accounts of Heath's trailblazing work. She tracked down surviving colleagues and patients, and she delved into the current support for deep brain stimulation by scientists and patients alike. What has changed? Why do we today unquestioningly embrace this technology as a cure? How do we decide what is a disease of the brain to be cured and what should be allowed to remain unrobed and unprodded? And how do we weigh the decades of criticism against the promise of treatment that could be offered to millions of patients?

Elegantly written and deeply fascinating, The Pleasure Shock weaves together biography, scientific history, and medical ethics. It is an adventure into our ever-shifting views of the mind and the fateful power we wield when we tinker with the self.
Praise For The Pleasure Shock: The Rise of Deep Brain Stimulation and Its Forgotten Inventor…
Praise for The Pleasure Shock

"[A] wide-ranging, thoughtful exploration…Frank has written an excellent, balanced portrait of an inventive psychiatrist with a complicated legacy."
–Publishers Weekly (starred review)

"A thoughtful, always interesting look into the workings of the mind—and the sometimes-surprising implications of how those workings have been revealed."
–Kirkus Reviews

"Frank has traced and interviewed surviving patients, former collaborators, family members and current DBS scientists. The result is a rarity: a thrilling, well-researched read." 
–Nature

"Compelling... engaging... an accessible and entertaining description of this relatively unknown chapter in the history of DBS."
–The Lancet

"Nuanced and thoughtful."
–The Washington Free Beacon

"A beautifully written, nuanced compendium that unfurls like an engrossing mystery, filled with colorful characters, gripping drama and mind-blowing scientific history in the making, definitely one of the most mesmerizing nonfiction books with New Orleans roots ever." 
–New Orleans Living

"The Pleasure Shock is a page-turner full of fascinating characters, high-stakes drama, and profound ethical dilemmas. Lone Frank—a trained neuroscientist and gifted storyteller—illuminates the dark roots of a modern-day medical marvel, and her book should be required reading for anyone interested in our ongoing efforts to tame the human mind by tinkering with the human brain."
–Luke Dittrich, award-winning author of Patient H.M.

"Scientists who are ahead of their time are often odd characters.   Robert Heath is a dramatic example. Lone Frank brings his history and dramatic personality to life. She tells the untold story of his  work on deep brain stimulation as a treatment for mental disorders. Was it pioneering or premature? Her nuanced portrait reveals Heath as a scientist-clinician who is neither monster nor hero, but passionate and persistent. I am astounded that I never knew this story despite decades in psychiatry. Others will be as fascinated as I am."
–Dr. Randolph Nesse, author of Why We Get Sick

"The Pleasure Shock is an illuminating expose on yet another dark, misunderstood time in our medical past. I could not put this book down."
–Paul Ruggieri MD, author of Confessions of a Surgeon

"The Pleasure Shock is not only a fascinating biography of brain-implant pioneer Robert Heath. It also explores a profound and disturbing question: Can we, and should we, use technology to eradicate suffering and evil?" 
–John Horgan, Director, Center for Science Writings, Stevens Institute of Technology, and author of The End of Science

Dutton, 9781101986530, 320pp.
Publication Date: March 20, 2018
About the Author
LONE FRANK is an acclaimed science writer and the author of two previous books in English, My Beautiful Genome (Oneworld, 2011)--which was shortlisted for the Royal Society's Winton Prize for Science Books--and Mindfield (Oneworld, 2009). She has also been a presenter and coproducer of several TV documentaries with global distribution and is currently working on a feature-length, internationally financed, English-language documentary about Heath and deep brain stimulation. Before her career as a science writer, she earned a PhD in neurobiology and worked in the US biotech industry. She lives in Copenhagen.
or
Not Currently Available for Direct Purchase