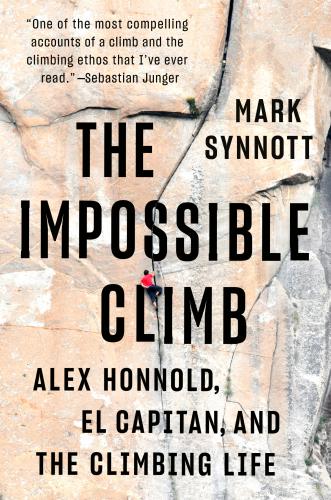 The Impossible Climb
Alex Honnold, El Capitan, and the Climbing Life
Hardcover

* Individual store prices may vary.
Other Editions of This Title:
Paperback (3/10/2020)
Description
INSTANT NATIONAL BESTSELLER
NEW YORK TIMES MONTHLY BESTSELLER
One of the 10 Best Books of March, Paste Magazine

A deeply reported insider perspective of Alex Honnold's historic achievement and the culture and history of climbing.

"One of the most compelling accounts of a climb and the climbing ethos that I've ever read."—Sebastian Junger

In Mark Synnott's unique window on the ethos of climbing, his friend Alex Honnold's astonishing free solo ascent of El Capitan's 3,000 feet of sheer granite is the central act. When Honnold topped out at 9:28 A.M. on June 3, 2017, having spent fewer than four hours on his historic ascent, the world gave a collective gasp. The New York Times described it as "one of the great athletic feats of any kind, ever." Synnott's personal history of his own obsession with climbing since he was a teenager—through professional climbing triumphs and defeats, and the dilemmas they render—makes this a deeply reported, enchanting revelation about living life to the fullest. What are we doing if not an impossible climb?

Synnott delves into a raggedy culture that emerged decades earlier during Yosemite's Golden Age, when pioneering climbers like Royal Robbins and Warren Harding invented the sport that Honnold would turn on its ear. Painting an authentic, wry portrait of climbing history and profiling Yosemite heroes and the harlequin tribes of climbers known as the Stonemasters and the Stone Monkeys, Synnott weaves in his own experiences with poignant insight and wit: tensions burst on the mile-high northwest face of Pakistan's Great Trango Tower; fellow climber Jimmy Chin miraculously persuades an official in the Borneo jungle to allow Honnold's first foreign expedition, led by Synnott, to continue; armed bandits accost the same trio at the foot of a tower in the Chad desert . . . 

The Impossible Climb is an emotional drama driven by people exploring the limits of human potential and seeking a perfect, choreographed dance with nature. Honnold dared far beyond the ordinary, beyond any climber in history. But this story of sublime heights is really about all of us. Who doesn't need to face down fear and make the most of the time we have?
Praise For The Impossible Climb: Alex Honnold, El Capitan, and the Climbing Life…
Praise for The Impossible Climb
"Enthralling . . . gripping . . . Much more than just an account of Honnold's mind-bending climb: it is a story of the complex friendship between the two men. . . .  This compelling book reads like a thriller as it ranges over the rarefied world of extreme climbing. It is a portrait of fascinating people and of an extraordinary place, the Yosemite Valley."
—The Daily Mail

"Fast-paced and enjoyable."
—The Wall Street Journal

"With the possible exception of the lunar landings, free-soloing El Capitan may rank as one of the most audacious—and terrifying—things a human being has ever done. Synnott's narrative plasters you on a 3,000-foot granite cliff and doesn't let you go until the climb is done. It is one of the most compelling accounts of a climb and the climbing ethos that I've ever read."
—Sebastian Junger, author of Tribe, War, and The Perfect Storm

"The fascinating story behind an unprecedented feat. Mark Synnott has built something thoughtful and tense by leaning on his keenly observant presence in the moment and his decades of high-level experience. It's a compelling narrative confidently told, one that will resonate no matter whether you're a hardcore climber or someone who climbs nothing but stairs."
—The Maine Edge

"An engaging read cover to cover—delightful, shocking, thrilling, saddening, and motivating. Each chapter deepens the larger story of struggle and awe within the adventurer's life." 
—New Hampshire Magazine

"Synnott adds depth, intimacy, and a hint of fear to Honnold's climb; more importantly, he adds context to the historical feat. . . . Through firsthand accounts and thorough reporting, Synnott provides a vertiginous window into the world of climbers at the top of the sport."
—Paste Magazine

"Bracing . . . brings Honnold's epic, rope-free ascent to vivid life."
—Harper's Bazaar

"A thrills-and-chills—and occasional spills—view of the mad heroes of free climbing . . . Fans of mountaineering will find this a winner." 
—Kirkus Reviews

"Readers will pick up this for Honnold but will be equally engrossed by Synnott's own adventures and writing." 
—Library Journal

"Yes, The Impossible Climb is the gripping story of the most perilous rock ascent of all time—but it's much more than that. In seamlessly fusing memoir, reporting, social history, climbing lore, technical expertise, and intimate glimpses of his tribe, Mark Synnott has given us a kind of epic of life on the edge. Even readers who have never set toe to rock are going to find themselves glued to this insanely brilliant account of extreme athletic ambition and endurance." 
—David Laskin, author of The Children's Blizzard

"Mark Synnott's The Impossible Climb is to climbing what William Finnegan's Barbarian Days is to surfing."
—John Long, founder of the Stonemasters

"Immensely enjoyable. Tapping his own impressive mountaineering resume, Mark Synnott dives deep into the rebellious counterculture of extreme climbing to get inside the head of Alex Honnold, the planet's foremost rock climber. What motivated Honnold to free climb El Capitan without a rope? 'Because it's there' doesn't come close to explaining it. Synnott's The Impossible Climb does." 
—Andy Hall, author of Denali's Howl

Dutton, 9781101986646, 416pp.
Publication Date: March 5, 2019
About the Author
Mark Synnott is a twenty-year member of the North Face Global Athlete team. He is a frequent contributor to National Geographic magazine and has written for Outside, Men's Journal, Rock and Ice, and Climbing. He is also an internationally certified mountain guide and a trainer for the Pararescuemen of the United States Air Force. He lives in the Mt. Washington Valley of New Hampshire.