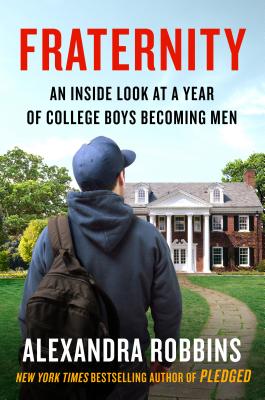 Fraternity
An Inside Look at a Year of College Boys Becoming Men
Hardcover

* Individual store prices may vary.
Other Editions of This Title:
Digital Audiobook (2/4/2019)
Paperback (2/11/2020)
Description
* A Real Simple Best Book of 2019: "An essential read for parents and students." *

The New York Times bestselling author of Pledged is back with an unprecedented fly-on-the-wall look inside fraternity houses from current brothers' perspectives—and a fresh, riveting must-read about what it's like to be a college guy today.
 
Two real-life stories. One stunning twist. Meet Jake, a studious freshman weighing how far to go to find a brotherhood that will introduce him to lifelong friends and help conquer his social awkwardness; and Oliver, a hardworking chapter president trying to keep his misunderstood fraternity out of trouble despite multiple run-ins with the police.
 
Their year-in-the-life stories help explain why students are joining fraternities in record numbers despite scandalous headlines. To find out what it's like to be a fraternity brother in the twenty-first century, Robbins contacted hundreds of brothers whose chapters don't make headlines—and who suggested that many fraternities can be healthy safe spaces for men.
 
Fraternity is more than just a page-turning, character-driven read. It's a vital book about the transition from boyhood to manhood; it brilliantly weaves psychology, current events, neuroscience, and interviews to explore the state of masculinity today, and what that means for students and their parents. It's a different kind of story about college boys, a story in which they candidly discuss sex, friendship, social media, drinking, peer pressure, gender roles, and even porn. And it's a book about boys at a vulnerable age, living on their own for perhaps the first time. Boys who, in a climate that can stigmatize them merely for being male, don't necessarily want to navigate the complicated, coming-of-age journey to manhood alone.
Praise For Fraternity: An Inside Look at a Year of College Boys Becoming Men…
"Alexandra Robbins...spent a year documenting Greek life for her excellent new book, Fraternity.... Robbins makes the case that fraternities are not monolothic and that, done right, they can be healthy spaces."
—Mother Jones

"Fraternity, an unfiltered, candid examination of toxic masculinity in Greek life, is absolutely a product of the #MeToo movement—yet there are no villains or clear bad guys. Writing an anti-fraternity manifesto would likely have been an infinitely easier choice for Robbins, but it wasn't the path she took. Instead, she sought successfully to weave hope from chaos."
—Ms. Magazine

"[A] well-researched, even-handed book...[with] admirable reportorial balance." 
—The Daily Beast

"I truly believe that Alexandra Robbins is the greatest non-fiction author of our time. By focusing her writing on the subjective narratives of 'characters' who appear as case studies, her books read as novels with critical analysis essays interspersed throughout. Her craftsmanship is unparalleled."
—Melissa Fabello, PhD, former Managing Editor of Everyday Feminism and author of Appetite

One of the 13 "can't-miss, shouldn't-skip books" of 2019
—Syndicated columnist The Bookworm Sez 

"Robbins offers the most compelling, pro-student approach to the future of fraternities being presented through mainstream media at this point in time. More than any representative of any fraternity, any umbrella association, or any association president, Robbins is our most articulate, informed and capable advocate in 2019."
—FraternityMan.com

"A thoughtful, important take."
—People

"Skillfully paced...This engaging behind-the-scenes account of fraternities, their traditions, and how they influence (a certain strain of) American men will interest college-bound students, their parents, and readers contemplating American culture."
—Publishers Weekly

"Investigative journalist Robbins takes readers on an eye-opening tour of contemporary college fraternities. Highlighting the changing roles and unique pressures millennial males are currently facing, Robbins recounts a year in the life of two committed fraternity brothers...Her energetic prose and dramatic insider's perspective will keep readers both captivated and well informed." 
—Booklist

"Compelling profiles of men navigating the processes and pressures of rushing, pledging, and troubleshooting the hypermasculine fraternity culture and the rigid guidelines of collegiate social engagement...Much of the material will be useful and informative for college-prep students and their parents (a final section provides advice for both groups). Real-life perspectives on the immersive, unifying, and chancy culture of fraternities."
—Kirkus Reviews

"A riveting read."
—Shelf Awareness
Dutton, 9781101986721, 384pp.
Publication Date: February 5, 2019
About the Author
Alexandra Robbins is the author of five New York Times bestsellers. An award-winning investigative reporter and speaker, she has written for outlets including The New York Times, The New Yorker, Vanity Fair, The Washington Post, and The Atlantic. Among other honors, Robbins has received Goodreads' 2011 Best Nonfiction Book of the Year Award, the John Bartlow Martin Award for Public Interest Magazine Journalism, and the Heartsongs Award for "contributions to the mental health of children and young adults."
or
Not Currently Available for Direct Purchase