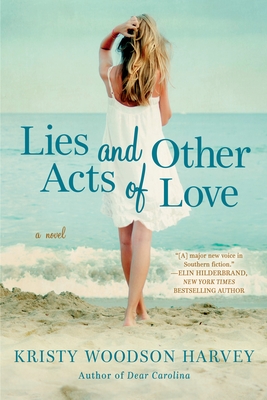 Lies and Other Acts of Love
Paperback

* Individual store prices may vary.
Other Editions of This Title:
Digital Audiobook (12/17/2018)
Compact Disc (12/18/2018)
MP3 CD (12/18/2018)
Compact Disc (12/18/2018)
Description
Southern Book Prize Finalist
Romantic Times Top Pick 
Southern Independent Booksellers Association Okra Pick
Maria Shriver's Top Summer Reads 
Deep South Magazine's Best Beach Reads 
Glitter Guide's Must Read List
SITS Girls Books You Need to Read in 2016 
Greenville News Perfect Books for Vacation 
Pulpwood Queens Official Book Club Pick 
MomTrends Book Club Pick

From the New York Times bestselling author of Under the Southern Sky and The Wedding Veil comes a novel about what it really means to tell the truth...

After sixty years of marriage and five daughters, Lynn "Lovey" White knows that all of us, from time to time, need to use our little white lies.
 
Her granddaughter, Annabelle, on the other hand, is as truthful as they come. She always does the right thing—that is, until she dumps her hedge fund manager fiancé and marries a musician she has known for three days. After all, her grandparents, who fell in love at first sight, have shared a lifetime of happiness, even through her grandfather's declining health.
 
But when Annabelle's world starts to collapse around her, she discovers that nothing about her picture-perfect family is as it seems. And Lovey has to decide whether one more lie will make or break the ones she loves....
Praise For Lies and Other Acts of Love…
Praise for Lies and Other Acts of Love

"This book stirred mighty emotions in me, yet left me with a sense of peace. A truly delightful read."—New York Times bestselling author Elin Hilderbrand

"A richly detailed, inter-generational tale of love, loss and loyalty. Harvey pulls the reader into the hearts and souls of her characters."—New York Times bestselling author Heather Gudenkauf

"The title fits this novel perfectly as readers learn the lengths people will go to protect their families. The author draws parallels between the two characters, which aids in reminding readers that women of all ages go through the same kinds of problems. Readers will be able to visualize what's written, making this an engaging and entertaining page-turner."—RT Book Reviews

"Harvey's second novel is full of abandon, caution, love and hurt, buoyed by two spirited women who learn how to take control and when to give it up."—The Salisbury Post 

"Harvey brings small-town North Carolina alive with spot-on details and interesting characters...the gradual revelations of 'lies and other acts of love' in one North Carolina family offer insights into the complexities of life and love."—The Greensboro News & Record

"A touching look into the lifetimes of love, heartbreak, and resilience of a grandmother and her granddaughter, Lies and Other Acts of Love offers insight into the complexities of bonds—of family, friends, and everything in between—and the importance of what one does when those bonds are broken. Kristy Woodson Harvey's second book is a feel-good must read that is sure to remind you of the cherished memories and relationships in your own life."—Deep South Magazine
Berkley, 9781101987063, 352pp.
Publication Date: April 5, 2016
About the Author
Kristy Woodson Harvey is the author of The Southern Side of Paradise, The Secret to Southern Charm, Slightly South of Simple, Lies and Other Acts of Love, Dear Carolina and The Wedding Veil. She is a born-and-bred North Carolina girl who loves all four seasons—especially fall in Chapel Hill, where she attended college, and summer in Beaufort, where she and her family spend every free moment.
Throughout the novel, Lovey and Annabelle reflect on the wisdom and life views observed and obtained from the women in their lives. How does this knowledge inform the way both women approach their various personal relationships? How do Lovey and Annabelle relate and differ in this regard?
As soon as Ben set his eyes on Annabelle, he immediately believed he had met his wife. Have you ever been this instantly sure of something? Do you believe in love at first sight?
Do you think that Ben and Annabelle's whirlwind marriage was an easy escape for her from her previous engagement? If you were Annabelle's friend, would you have tried to talk her out of making this quick decision, or would you advise her to live in the moment?
Between college, the war and the disapproval of their parents, Lovey and Dan had to wait a long time until they could be together. Did the wait end up strengthening or weakening their bond? Do you know any other couples that had to delay their relationships because life was in the way?
Annabelle notes: "Whether you've been married one year and have just moved to your husband's hometown or you've been married well over half a century and think something is going to unlock the vault of your husband's brain again, it's really the same thing that keeps you going: hope." Do you think that hope sometimes leads people away from reality? What are some examples of how a character's hope was validated in the novel?
Annabelle describes her emotions just after meeting Ben: "I'd never felt so totally out of control. I'd never done something so unplanned. And it felt so good I didn't want it to ever stop." At what point, if at all, did you expect the buzz of their relationship to die down? Did you think things would continue indefinitely as Annabelle and Ben believed?
Was Annabelle a sympathetic character, or were you frustrated by her choices? Why do you think she jumps into relationships? Could she have benefited from having some time alone?
What were your views on Holden's insistence that he and Annabelle belonged together? Did you believe it to be true? At what point, if at all, did you expect Annabelle to respond and agree to see him?
Each chapter in the novel begins with a lesson or observation that serves as a theme. Which themes or passage(s) strike you as the most insightful? What lessons or attitudes have been passed down in your family?
What does Annabelle's friendship with Rob symbolize, and what does his role as a priest play in their relationship? Do you think that they would have befriended each other if they had met elsewhere?
For those who are fortunate, life often presents a choice. Were you surprised that Annabelle and Holden did not end up together? If you were Annabelle, would you have taken the road less familiar, or settled for contentment with Holden?
The title of this novel is Lies and Other Acts of Love. What are some of the big lies that were told in this book? Do you think that lies must be a part of a relationship in order to keep things afloat, or do you believe that the truth always finds its way?
In what ways did both Annabelle and Lovey change by the end of the novel? What are some of the biggest lessons each of these characters learned?
or
Not Currently Available for Direct Purchase