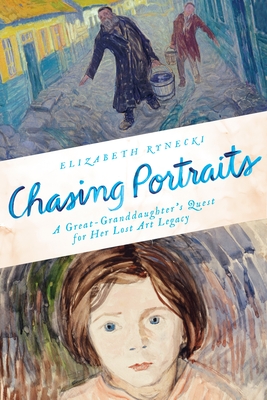 Chasing Portraits
A Great-Granddaughter's Quest for Her Lost Art Legacy
Hardcover

* Individual store prices may vary.
Other Editions of This Title:
Digital Audiobook (9/5/2016)
Compact Disc (9/6/2016)
MP3 CD (9/6/2016)
Description
The memoir of one woman's emotional quest to find the art of her Polish-Jewish great-grandfather, lost during World War II.
 
Moshe Rynecki's body of work reached close to eight hundred paintings and sculptures before his life came to a tragic end. It was his great-granddaughter Elizabeth who sought to rediscover his legacy, setting upon a journey to seek out what had been lost but never forgotten…
 
The everyday lives of the Polish-Jewish community depicted in Moshe Rynecki's paintings simply blended into the background of Elizabeth Rynecki's life when she was growing up. But the art transformed from familiar to extraordinary in her eyes after her grandfather, Moshe's son George, left behind journals detailing the loss her ancestors had endured during World War II, including Moshe's art. Knowing that her family had only found a small portion of Moshe's art, and that many more pieces remained to be found, Elizabeth set out to find them.
 
Before Moshe was deported to the ghetto, he entrusted his work to friends who would keep it safe. After he was killed in the Majdanek concentration camp, the art was dispersed all over the world. With the help of historians, curators, and admirers of Moshe's work, Elizabeth began the incredible and difficult task of rebuilding his collection.
 
Spanning three decades of Elizabeth's life and three generations of her family, this touching memoir is a compelling narrative of the richness of one man's art, the devastation of war, and one woman's unexpected path to healing.
Praise For Chasing Portraits: A Great-Granddaughter's Quest for Her Lost Art Legacy…
Praise for Chasing Portraits
 
"A page-turning personal history of [Elizabeth] Rynecki's search for her great-grandfather's legacy… A wonderful story beautifully told. Rynecki's years-long search, successes, frustrations, and failures are a study in perseverance."—Kirkus (starred review)

"Chasing Portraits is a miraculous story of heartbreaking loss and spine-tingling discovery. In her search for her great-grandfather's paintings, Elizabeth Rynecki becomes a genealogist, an art historian, a detective, a crusader for justice, and a time traveler, peering through windows and into paintings to unearth her family's past. Her memoir will break your heart, but it will have you cheering wildly too because every new discovery is a triumph of art and love over hatred and loss."—Amy Stewart, New York Times Bestselling Author of The Drunken Botanist
 
"A heartfelt, vivid account of a hunt for lost masterpieces painted by a great-grandfather that prove to be unforgettable relics of a rich world swept away by war, taking readers on a lusciously detailed international journey that reminds us that the search for missing paintings is, at heart, a search for missing history."—Anne-Marie O'Connor, National Bestselling Author of The Lady in Gold
 
"Elizabeth Rynecki's Chasing Portraits is part of a gathering wave of stories by the children, grandchildren, and great-grandchildren of Holocaust survivors and Holocaust victims—stories that accept the burden of carrying this legacy forward, with all the anguish, the unanswered questions, and the unexpected joy of recognition this entails. With devotion and determination, Rynecki movingly demonstrates that, even after such unimaginable loss, even seventy years later, fragments of individual lives—and so the untold stories of individuals—can still be recovered . . . if only you keep searching."—Glenn Kurtz, Author of Three Minutes in Poland
 
"In recent years, there has been an increase in the awareness of the problem of looted and stolen art, and Chasing Portraits makes an important contribution to the field. But it's much more than just a tale of detective work. Elizabeth Rynecki's story is transcendent, presenting the reader with an elevated level of passion and duty. For this reason, it sets itself apart from the rest of the field."—Anthony M. Amore, Author of Stealing Rembrandts and The Art of the Con
Berkley, 9781101987667, 400pp.
Publication Date: September 6, 2016
About the Author
Elizabeth Rynecki is the great-granddaughter of the Polish-Jewish artist, Moshe Rynecki (1881-1943). She grew up with his paintings prominently displayed on the walls of her family home and understood from an early age that the art connected her to a legacy from "the old country": Poland. In 1999, Elizabeth designed the original Moshe Rynecki: Portrait of a Life in Art website. Today, she continually updates it to keep it current regarding academic research, educational resources, and tracking lost Rynecki paintings. Elizabeth has a BA in Rhetoric from Bates College and a master's degree in Rhetoric and Speech Communications from UC Davis.
or
Not Currently Available for Direct Purchase