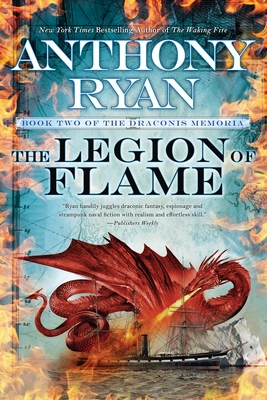 The Legion of Flame (The Draconis Memoria #2) (Paperback)
Ace, 9781101987919, 592pp.
Publication Date: June 5, 2018
Other Editions of This Title:
Digital Audiobook (6/26/2017)
Hardcover (6/27/2017)
* Individual store prices may vary.
Description
Survival is the only currency...
 
For centuries, the vast Ironship Trading Syndicate relied on drake blood—and the extraordinary powers it confers to those known as the Blood-blessed—to fuel and protect its empire. But when the drake blood lines began to fail, a perilous expedition was mounted to secure them.
 
Claydon Torcreek survived the fraught mission through uncharted lands in pursuit of a myth that might have secured his people's future. Instead he found a nightmare. The legendary White Drake was awoken from a millennia-long slumber, with a thirst to reduce the world of men to ashes, and the power to compel an army of Spoiled slaves to do it.
 
Spurred on by a vision he desperately hopes he can trust, Clay and rebel naval officer Corrick Hilemore hijack a warship and head towards the icy southern seas, searching for an ancient secret that may give them and their allies a fighting chance.

They are aided on another front by Blood-blessed agent Lizanne Lethridge. The spy and assassin will use her diplomatic status to infiltrate deep into enemy territory on a quest for a device to save them all.
 
As the world burns around them, and the fires of revolution are ignited, these few Blood-blessed are the last hope for all of civilisation.
About the Author
Anthony Ryan is the New York Times bestselling author of the Raven's Shadow novels, including Blood Song, Tower Lord and Queen of Fire, and the Draconis Memoria series, including The Waking Fire. He lives in London, where he is at work on his next book.
Praise For The Legion of Flame (The Draconis Memoria #2)…
Praise for The Waking Fire

"The Waking Fire is a marvellous piece of imagination with plenty of twists, a refreshingly different setting and excellent world-building. A great read."—Mark Lawrence, author of Red Sister
 
"A bright and magical world for you to explore along with the wonderfully woven prose as a guide through what is sure to be another fantasy classic."—The Huffington Post (UK)
 
"Part Indiana Jones, part Pirates of the Caribbean and part Mistborn. It's got wonderful, memorable characters and great action…I loved it."—Django Wexler, author of The Guns of Empire
 
"A fascinating world run mostly by corporations, where much of the power comes from dragon blood, provides a compelling backdrop for this sprawling epic fantasy...Breakneck pacing and sheer wonder keep the story compelling."—Locus
 
"Ryan handily juggles draconic fantasy, espionage and steampunk naval fiction with realism and effortless skill."—Publishers Weekly
 
"Ryan, author of the bestselling Raven's Shadow trilogy, is back with the first novel in a new trilogy that delivers on action, adventure, espionage—and dragons…This book will leave readers eagerly awaiting the sequel."—Booklist (starred review)