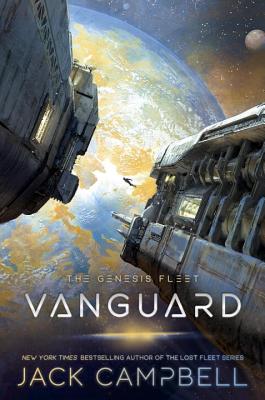 Vanguard (Genesis Fleet, The #1) (Hardcover)
Ace, 9781101988343, 336pp.
Publication Date: May 16, 2017
Other Editions of This Title:
Mass Market (3/27/2018)
MP3 CD (7/25/2017)
* Individual store prices may vary.
Description
Jack Campbell returns to the world of the New York Times bestselling Lost Fleet novels with a new action-packed military science fiction series that explores the founding of the Alliance . . . and the men and women who fought to create it.
 
Earth is no longer the center of the universe.
 
After the invention of the faster-than-light jump drive, humanity is rapidly establishing new colonies. But the vast distances of space mean that the old order of protection and interstellar law offered by Earth has ceased to exist.
 
When a nearby world attacks, the new colony of Glenlyon turns to Robert Geary, a young former junior fleet officer, and Mele Darcy, a onetime enlisted Marine. With nothing but improvised weapons and a few volunteers, Geary and Darcy must face down warships and armored soldiers—or die trying.
 
As battles rage and pirates take an increasing toll throughout the colonies, the only hope for lasting peace lies with Carmen Ochoa, a "Red" from the anarchic world of Mars, and Lochan Nakamura, a failed politician. They have a plan: to lay the groundwork for mutual defense that could someday grow into an alliance. But if their efforts don't succeed, the growing power of aggressor worlds could turn regions of space founded on freedom into battlefields between the first interstellar empires...
About the Author
"Jack Campbell" is the pen name of John G. Hemry, a retired naval officer who graduated from the U.S. Naval Academy in Annapolis before serving with the surface fleet and in a variety of other assignments. He is the New York Times bestselling author of The Lost Fleet series and The Lost Stars series, as well as the Stark's War, Paul Sinclair, and Pillars of Reality series. He lives with his indomitable wife and three children in Maryland.
Praise For Vanguard (Genesis Fleet, The #1)…
Praise for Vanguard

"Vanguard is the book Campbell's Lost Fleet readers have been waiting for, whether they knew it or not.  From the moment the young Robert Geary takes his first breath of air on a new planet, the story grabbed me by the throat and didn't let go. Strong characters,  complex politics on multiple worlds,  battles against impossible odds,  this book has the whole package.  And for those who haven't read the Lost Fleet books yet...start with Vanguard. Like...the moment you can order it."--Elizabeth Moon, Nebula Award winning author of Cold Welcome

"Jack Campbell's Vanguard starts a new series with a bang.  Honestly, it reads like first rate, action-packed, historical fiction--only this history is set hundreds of years in an all too believable future.  There's plenty going on from multiple, diverse perspectives, and the characters come alive in the very best ways. I can't wait to get my hands on the next installment!" –Taylor Anderson, New York Times bestselling author of the Destroyermen series

"Campbell's skillfully constructed tale keeps a riveting pace, making each character's personal stakes into fundamental threads woven into a high-energy whole. The conclusion is well-earned and satisfying, leaving readers eager for the next volume in this saga." --Publishers Weekly (starred review)

Praise for Jack Campbell and The Lost Fleet series
 
"An excellent blend of real science and space action. I enjoyed myself thoroughly from first to last page."—Brandon Sanderson, #1 New York Times bestselling author of The Bands of Mourning
 
"Campbell combines the best parts of military SF and grand space opera."—Publishers Weekly
 
"Campbell's genius is action in space."—Tor.com
or
Not Currently Available for Direct Purchase