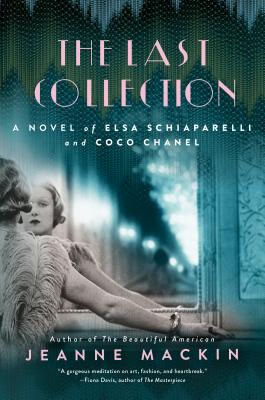 The Last Collection
A Novel of Elsa Schiaparelli and Coco Chanel
Hardcover

* Individual store prices may vary.
Other Editions of This Title:
Digital Audiobook (6/24/2019)
Paperback (8/11/2020)
Description
An American woman becomes entangled in the intense rivalry between iconic fashion designers Coco Chanel and Elsa Schiaparelli in this captivating novel from the acclaimed author of The Beautiful American.

Paris, 1938. Coco Chanel and Elsa Schiaparelli are fighting for recognition as the most successful and influential fashion designer in France, and their rivalry is already legendary. They oppose each other at every turn, in both their politics and their designs: Chanel's are classic, elegant, and practical; Schiaparelli's bold, experimental, and surreal.

When Lily Sutter, a recently widowed young American teacher, visits her brother, Charlie, in Paris, he insists on buying her a couture dress—a Chanel. Lily, however, prefers a Schiaparelli. Charlie's beautiful and socially prominent girlfriend soon begins wearing Schiaparelli's designs as well, and much of Paris follows in her footsteps. 

Schiaparelli offers budding artist Lily a job at her store, and Lily finds herself increasingly involved with Schiaparelli and Chanel's personal war. Their fierce competition reaches new and dangerous heights as the Nazis and the looming threat of World War II bear down on Paris.
Praise For The Last Collection: A Novel of Elsa Schiaparelli and Coco Chanel…
Praise for The Last Collection

"A fascinating insight into a war of passion and ambition set amid the looming threat of the Nazi invasion of Paris. With elegant, vibrant writing, Mackin cleverly captures the infamous rivalry between Coco Chanel and Elsa Schiaparelli in a novel that historical fiction fans will savor."—Hazel Gaynor, New York Times bestselling author of The Lighthouse Keeper's Daughter   

"Sophisticated couture wars and looming world wars take center stage in Mackin's latest, with a plot that buzzes with love triangles and political intrigue. A gorgeous meditation on art, fashion, and heartbreak. Stunning."—Fiona Davis, national bestselling author of The Masterpiece

"An in-depth tale of an enchanting, dangerous and fascinating time period in Paris. Mackin's attention to detail and lyrical prose bring Chanel and Schiaparelli to life in a gorgeous and riveting manner."—She Reads

"The designers' obsession with besting each other makes for fun, gossipy reading, while the tensions of prewar Paris and Lily's attempts to ease her grief through her art lend the narrative satisfying emotional depth."—Library Journal

"A smart, witty, heartfelt, and riveting look at the infamous rivalry between Coco Chanel and Elsa Schiaparelli set against a gripping period in history. Mackin's powerful novel brings these characters to life and transports the reader, juxtaposing both the gaiety and tension of Paris on the brink of war. As elegant and captivating as the designs depicted in the novel, The Last Collection is the perfect read for both historical fiction lovers and fashion aficionados. Simply stunning."—Chanel Cleeton, USA Today bestselling author of Next Year in Havana

"A skillful weave of compelling characters grappling for both fortune and affirmation, and set against a vivid backdrop--first the glittering cosmos of Paris fashion, then the hardships of World War 2, and then the remains of beauty after war. Beautiful prose and imagery enrich every page. Mackin is an insightful, engaging storyteller."—Susan Meissner, author of As Bright As Heaven
 
"A wonderful story of two intensely creative women, their vibrant joie de vivre, and backbiting competition played out against the increasingly ominous threat of the Nazi invasion of Paris."—Shelley Noble, New York Times bestselling author of Lighthouse Beach 
 
"A vibrant portrait of two designers cut from very different cloth, The Last Collection pits bold Coco Chanel and colorful Elsa Schiaparelli against each other in a fiery feud even as the ominous clouds of World War II darken the horizon. A captivating read!"—Stephanie Marie Thornton, author of American Princess
 
"As Hitler and the Nazis gather strength and the world braces for war, Elsa Schiaparelli and Coco Chanel, whose politics differ as much as their couture, wage a war of their own….Jeanne Mackin takes the reader on an enthralling journey, complete with such vivid descriptions of the clothing, you can practically see them on the page. Beautifully rendered and meticulously researched, The Last Collection is a must read."—Renee Rosen, author of Park Avenue Summer

"The Last Collection brings to center stage the fascinating life of Elsa Schiaparelli in a story that is as elegantly constructed as the clothes she designed. The combination of Schiap's fierce rivalry with Coco Chanel and the inevitable war makes for a palpable tension, and Jeanne Mackin ultimately delivers an ending that is beautiful, heartbreaking, and perfect in every way."—Michelle Gable, New York Times bestselling author of A Paris Apartment




Berkley, 9781101990544, 352pp.
Publication Date: June 25, 2019
About the Author
Jeanne Mackin is the author of several historical novels, including The Beautiful American. She taught creative writing at Goddard College and has given numerous workshops. She lives with her husband in upstate New York.