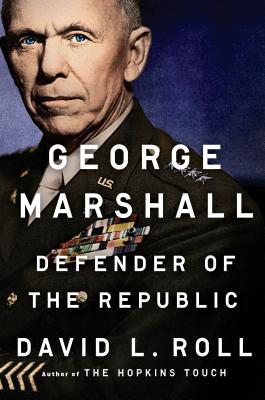 George Marshall
Defender of the Republic
Hardcover

* Individual store prices may vary.
Other Editions of This Title:
Digital Audiobook (7/8/2019)
Paperback (7/7/2020)
Description
The extraordinary career of George Catlett Marshall—America's most distinguished soldier–statesman since George Washington—whose selfless leadership and moral character influenced the course of two world wars and helped define the American century.  

"I've read several biographies of Marshall, but I think [David] Roll's may be the best of the bunch."—Thomas E. Ricks, New York Times Book Review • "Powerful."—The Wall Street Journal • "Enthralling."—Andrew Roberts • "Important."—William I. Hitchcock • "Majestic."—Susan Page • "Engrossing."—Andrew J. Bacevich • "Judicious."—Walter Isaacson • "Definitive."—Kirkus

Winston Churchill called him World War II's "organizer of victory." Harry Truman said he was "the greatest military man that this country ever produced." Today, in our era of failed leadership, few lives are more worthy of renewed examination than Marshall and his fifty years of loyal service to the defense of his nation and its values. 

Even as a young officer he was heralded as a genius, a reputation that grew when in WWI he planned and executed a nighttime movement of more than a half million troops from one battlefield to another that led to the armistice. Between the wars he helped modernize combat training, and re-staffed the U.S. Army's officer corps with the men who would lead in the next decades. But as WWII loomed, it was the role of army chief of staff in which Marshall's intellect and backbone were put to the test, when his blind commitment to duty would run up against the realities of Washington politics. Long seen as a stoic, almost statuesque figure, he emerges in these pages as a man both remarkable and deeply human, thanks to newly discovered sources.

Set against the backdrop of five major conflicts—two world wars, Palestine, Korea, and the Cold War—Marshall's education in military, diplomatic, and political power, replete with their nuances and ambiguities, runs parallel with America's emergence as a global superpower. The result is a defining account of one of our most consequential leaders.
Praise For George Marshall: Defender of the Republic…
"For a life that has been subjected to so much spilled ink, Mr. Roll has managed to encapsulate George C. Marshall's inner voice better than any previous work. Mr. Roll's literary monument to one of America's most devoted soldiers is a powerful antidote to a Twitter-glutted era when political cynicism has reached its nadir and civic virtue has become a punch line."—The Wall Street Journal

"David Roll has brilliantly brought George Marshall to life in a biography chock full of revealing and inspiring moments, reminding us what real leadership can be."—Evan Thomas, New York Times bestselling author of First: Sandra Day O'Connor 

"A deeply researched and masterfully written work that relies in part on never-used documents, one that should establish Marshall at the top of any list of American titans."—The Washington Times

"An overdue, authoritative biography of one of America's greatest soldier-statesmen… a definitive, nuanced portrait."—Kirkus, starred review
 
"As a biographer of a key DC insider of the FDR era in The Hopkins Touch (2013), Roll is superbly well-suited for this approach to Marshall, and displays insight and balance in portraying his subject's personal life and sterling character. A solid addition to twentieth-century American history."—Booklist

"David Roll's George Marshall couldn't come at a more crucial time. There's a growing conviction among Americans that their country no longer produces strategists and statesmen of Marshall's stature. Thanks to new sources on the general's life and the military establishment through which he rose, this thorough, balanced, and wise book goes far in assessing that claim."—John Lewis Gaddis, Pulitzer Prize-winning author of George F. Kennan: An American Life
 
"[An] authoritative and engaging biography…This well-written and captivating book will stand as the definitive biography of Marshall."—Publishers Weekly, starred review
 
"A book as necessary as it is great. At a time when Americans are struggling to define what real leadership looks like, David Roll's brilliant new portrait of George Marshall offers valuable clarity. An eminently human Marshall emerges, but one whose bedrock values and unwavering commitment to the responsibility of service can inspire us to live to a higher standard."—General Stanley McChrystal, U.S. Army, Ret.
 
"David Roll's George Marshall is a tonic for our troubled times. Roll brings to life the decency and strength of character that made Marshall one of America's greatest soldiers and statesmen, showing how, for all his brilliance, Marshall always put his country first, rather than himself. He was reticent, disciplined, measured in his opinions, and magnanimous in his treatment of others—qualities that are so obviously missing from many of today's leaders."—David Ignatius, Washington Post columnist
 
"A hugely significant book on an American leader to whom freedom around the world owes an enormous debt... David Roll provides a portrait of Marshall that is far more penetrating and nuanced than past biographies and establishes very clearly that George C. Marshall was an extraordinary defender of the republic at one of the most perilous times in our history."—General David Petraeus (US Army, Ret.)
 
"George Marshall was the model of what a general and statesman should be: wise and nonpartisan and honorable. That is why it is so timely that this judicious biography brings him back to life for us. Using papers and material that have become available in the past three decades, David L. Roll helps reveal Marshall's human side and how it relates to his public image and momentous achievements."—Walter Isaacson, New York Times bestselling author of Steve Jobs and Leonardo da Vinci

"In this engrossing biography, David Roll pinpoints the sources of George C. Marshall's greatness: character, integrity, and a deep devotion to the wellbeing of his country. Put simply, Marshall possessed in abundance qualities that today have seemingly all but vanished from American public life."—Andrew J. Bacevich, New York Times bestselling author of America's War for the Greater Middle East

"David Roll's majestic new biography of General George Marshall will reintroduce twenty-first century readers to one of the most important figures of the twentieth century: the soldier and statesman who devised the strategy that won World War II. The first major study of Marshall in a generation, Roll skillfully explores papers, diaries and documents never before available to portray a modest, moral man who served ten presidents, his nation, and the world."—Susan Page, New York Times bestselling author of The Matriarch
 
"In this time of national demoralization, when a small-minded president casts a shadow over our highest office, David Roll's biography of General George C. Marshall reminds us that the country has also been served by the best and the brightest. Roll's highly readable book captures the many challenges that Marshall faced and overcame by brilliance and resilience. This book should be read by anyone who wishes to renew faith in America's greatness."—Robert Dallek, New York Times bestselling author of An Unfinished Life
 
"This splendid, freshly researched and lively biography gives us a full portrait of one of the most talented and admirable leaders the United States ever produced. David Roll, with a telling eye for personal detail, humanizes the stoic Marshall and reveals his true genius as a soldier, strategist and diplomat across fifty years of war and global turmoil. This is an important, even urgent, book."—William I. Hitchcock, New York Times bestselling author of The Age of Eisenhower

"[This] magnificent portrait [of Marshall] comes at a time when we seem most in need of leaders with his abilities, attitudes, and selfless dedication to the nation…a highly focused depiction of Marshall that vividly recounts moments in the man's life and then puts those moments into historical context…highly readable biography should go a long way to bringing the man back into the public consciousness."—Washington Review of Books

"A terrific new biography that draws on material unavailable to previous biographers… This impressive biography looks back on [the Marshall Plan] and the whole honor roll of Marshall's other extraordinary achievements comprehensively and skillfully."—ARMY magazine

"Roll admires Marshall a great deal but isn't blind to his faults…Roll also wasn't afraid to write things showing Marshall in a less-than-favorable light. He found additional evidence that Marshall didn't sufficiently follow through when a subordinate officer, General Walter Short, failed to take instructions from Marshall and others to be on full alert for a Japanese attack on Pearl Harbor."—FTCWatch

"Roll is the latest in a long line of Marshall biographers... For anyone who wants a readable, single-volume work [on Marshall], Roll's book is now the go-to study."—Dissent

"A remarkably written biography. It covers the vast life of this amazing man, while allowing Marshall's moral and ethical voice to explain important events and decisions and unveils his depth of character."—The Virginia Gazette

Dutton Caliber, 9781101990971, 704pp.
Publication Date: July 9, 2019
About the Author
David L. Roll is the author of The Hopkins Touch: Harry Hopkins and the Forging of the Alliance to Defeat Hitler and the coauthor of Louis Johnson and the Arming of America, a biography of Harry Truman's defense secretary. He is Senior Counsel at Steptoe & Johnson LLP, a Washington DC-based international law firm, Nonresident Fellow at the German Marshall Fund, and founder of the Lex Mundi Pro Bono Foundation, a public interest organization that provides pro bono legal services to social entrepreneurs around the world.
or
Not Currently Available for Direct Purchase