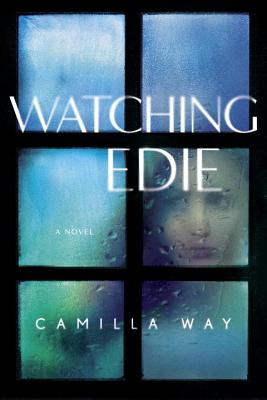 Watching Edie (Hardcover)
Berkley, 9781101991633, 304pp.
Publication Date: August 2, 2016
Other Editions of This Title:
Digital Audiobook (8/1/2016)
Paperback (8/1/2017)
* Individual store prices may vary.
Description
For fans of Gone Girl and The Girl on the Train: A dazzling work of psychological suspense that weaves together the past and present of two women's twisted friendship.
 
Beautiful, creative, a little wild… Edie was the kind of girl who immediately caused a stir when she walked into your life. And she had dreams back then—but it didn't take long for her to learn that things don't always turn out the way you want them to.
 
Now, at thirty-three, Edie is working as a waitress, pregnant and alone. And when she becomes overwhelmed by the needs of her new baby and sinks into a bleak despair, she thinks that there's no one to turn to…
 
But someone's been watching Edie, waiting for the chance to prove once again what a perfect friend she can be. It's no coincidence that Heather shows up on Edie's doorstep, just when Edie needs her the most. So much has passed between them—so much envy, longing, and betrayal. And Edie's about to learn a new lesson: those who have hurt us deeply—or who we have hurt—never let us go, not entirely…
About the Author
Camilla Way has been an editor and writer for magazines in the UK. She is the author of The Dead of Summer, and was born and lives in southeast London.
Praise For Watching Edie…
"Gripping psychological suspense, Watching Edie is wonderfully claustrophobic, trapping us as observers of the complex and suffocating relationship between Edie and Heather, compelled to watch until their secret is finally revealed."—Fiona Barton, New York Times bestselling author of The Widow

"[A] book that will garner comparisons to Gone Girl and The Girl on the Train, except this time, women are facing off against each other instead of an evil man…one thriller to keep you hooked."—GoodHousekeeping.com
 
"Way expertly explores the dark side of friendship in her psychological suspense debut…The shocking revelation about what happened to change these two women's lives casts a surprising light on each character's motives."—Publishers Weekly (starred review)

"Eerie and atmospheric, Watching Edie had me hypnotized from the outset. Camilla Way's authentic and original characters deftly drew me in and together yanked me through breathtaking twists and turns to a heart-stopping conclusion. Once you read the first page be prepared for an up all night, edge of your seat, read-a-thon."—Heather Gudenkauf, New York Times bestselling author of The Weight of Silence and Missing Pieces 

"Camilla Way's name is going to be on everyone's lips. Watching Edie is creepy and intense. I couldn't put it down."—J.T. Ellison, New York Times bestselling author of No One Knows

"Watching Edie is the truly terrific exploration of female friendship and the choices we make as teenagers that roar back to haunt us as adults. As Camilla Way masterfully weaves past and present storylines, she builds to an astonishing and deeply satisfying conclusion that resonates long after the last page is turned."—Carla Buckley, author of The Good Goodbye
 
"With a voice that is both accomplished and fresh, Camilla Way explores the most complicated spaces of teenage friendship between two troubled young women desperate for love. Watching Edie is a haunting tale of the worst kind of betrayal, skillfully brought to the perfect ending. A thrilling suspense of intense heartache."—Diane Les Becquets, national bestselling author of Breaking Wild

"Exemplary writing and accomplished character development make this novel a standout. An intriguing setup is carried through a suspenseful buildup to an extraordinary ending."—Sophie Littlefield, national bestselling author of Garden of Stones

"Sucks you in and doesn't let go for a moment. Way brings a powerful new voice to the psychological thriller genre."—Alex Marwood, Edgar Award-winning author of The Wicked Girls
 
"Watching Edie has a clever plot, a fateful friendship, a callous betrayal, and an ending that is as twisty as it is inevitable—it's all there!"—Alexandra Burt, international bestselling author of Remember Mia
 
"Watching Edie is beautifully written. Camilla Way dials the suspense up so masterfully you'll race through the final chapters, heart thumping. This tale of a poisoned friendship, of old wounds unpicked and the worst of wrongs righted, will grab you by the throat."—Holly Seddon, author of Try Not to Breathe
 
"Watching Edie is an excruciatingly suspenseful and intensely creepy novel about two women bound together by a horrific crime from their past. Camilla Way draws the tension out across the pages and the years, and the surprises come fast and furious as the novel reaches its stunning conclusion. Readers will devour this story with goose pimples on their arms and cold chills on their necks...and they may never look at their friends the same way again. Don't miss it."—David Bell, bestselling author of Since She Went Away
 
"Who's good? Who's evil? Those questions are at the heart of Watching Edie, a taut, tricky suspense novel that drops secrets in all the right places. As she explores the heart of a dark female friendship, Camilla Way twists her way to an original ending that rings with truth."—Julia Heaberlin, author of Black-Eyed Susans

"Watching Edie is terrific psychological suspense. A taut, compelling, thoroughly addictive read with a final twist that's a real stunner."—Alison Gaylin, USA Today Bestselling author of What Remains of Me
or
Not Currently Available for Direct Purchase