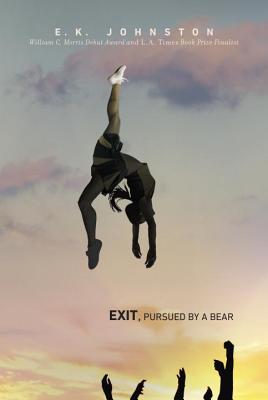 Exit, Pursued by a Bear (Hardcover)
Dutton Books for Young Readers, 9781101994580, 256pp.
Publication Date: March 15, 2016
Other Editions of This Title:
Digital Audiobook (3/14/2016)
Paperback (5/2/2017)
Prebound (5/2/2017)
CD-Audio (3/15/2016)
* Individual store prices may vary.
Description
From #1 New York Times bestselling author E.K. Johnston comes a brave and unforgettable story that will inspire readers to rethink how we treat survivors. 

Hermione Winters is captain of her cheerleading team, and in tiny Palermo Heights, this doesn't mean what you think it means. At PHHS, the cheerleaders don't cheer for the sports teams; they are the sports team—the pride and joy of a small town. The team's summer training camp is Hermione's last and marks the beginning of the end of…she's not sure what. She does know this season could make her a legend. But during a camp party, someone slips something in her drink. And it all goes black.

In every class, there's a star cheerleader and a pariah pregnant girl. They're never supposed to be the same person. Hermione struggles to regain the control she's always had and faces a wrenching decision about how to move on. The rape wasn't the beginning of Hermione Winter's story and she's not going to let it be the end. She won't be anyone's cautionary tale.

"E.K. Johnston has a seemingly limitless range.... This is realistic fiction at it's best."—The Globe & Mail 

★ "Johnston's clever—but never precious—update of Shakespeare's The Winter's Tale is unflinching but not at all graphic in its treatment of sexual violence.... Middle and high school readers will pass this powerful, engaging story around and around."—Kirkus Reviews, starred review

★ "Fierce and gorgeously drawn, this is a rape story that doesn't focus on victimhood."—Booklist, starred review

★ "A beautifully written portrait of a young woman facing the unthinkable, this is a must-buy for high school collections."—SLJ, starred review

"Exit, Pursued by a Bear is an important new novel comparable with Speak by Laurie Halse Anderson."—VOYA.

"This story of a cheerleader rising up after a traumatic event will give you Veronica Mars-level feels that will stay with you long after you finish."—Seventeen Magazine

A NPR Best Book of 2016
A Publishers Weekly Best Book of 2016 
A Booklist Best Book of 2016
A New York Public Library 2016 Top Ten Book for Teens
A Chicago Public Library Best Teen Fiction of 2016
A Globe & Mail Best Book of 2016 
A CBC Best Book of 2016
A Quill & Quire Best Book of 2016
A Bustle Top 30 YA Book of 2016
A Bookish Best Book of 2016
A Bank Street College Best Children's Book of the Year
A finalist for Audible's Best Young Adult Audiobook of 2016
A 2017 Ontario Library Association White Pine Honor Book
About the Author
E.K. Johnston is the #1 New York Times bestselling author of several YA novels, including the L.A. Times Book Prize finalist The Story of Owen and Star Wars: Ahsoka. Her novel A Thousand Nights was shortlisted for The Governor General's Award. The New York Times called The Story of Owen "a clever first step in the career of a novelist who, like her troubadour heroine, has many more songs to sing" and in its review of Exit, Pursued by a Bear, The Globe & Mail called Johnston "the Meryl Streep of YA," with "limitless range." E.K. Johnston lives in Stratford, Ontario. Follow her on Twitter at @ek_johnston.
Praise For Exit, Pursued by a Bear…
"This story of a cheerleader rising up after a traumatic event will give you Veronica Mars-level feels that will stay with you long after you finish."—Seventeen Magazine

"E.K. Johnston's latest gripping novel for young adults  . . . is both a well-plotted whodunit and a tightly woven examination of how we as a society respond to — and often judge — rape victims."—The Chicago Tribune

"E.K. Johnston has a seemingly limitless range. This is realistic fiction at its best."—The Globe & Mail

"A powerful rape survival story to make you believe in a better world."—The Rumpus

"Soberly triumphant."—Toronto Star

"Every girl who has ever been sexually assaulted or known someone who has, should read this book. So should every boy who has ever raped or known one who has. Every reader might try to be a friend like Polly. E.K. Johnston writes so well, showing a dark reality highlighted by compassion."—The News-Gazette

A NPR Best Book of 2016

A Publishers Weekly Best Book of 2016 

A Booklist Best Book of 2016

A New York Public Library 2016 Top Ten Book for Teens

A Chicago Public Library Best Teen Fiction of 2016

A Globe & Mail Best Book of 2016 

A CBC Best Book of 2016

A Quill & Quire Best Book of 2016

A Bustle Top 30 YA Book of 2016

A Bookish Best Book of 2016

A finalist for Audible's Best Young Adult Audiobook of 2016

A Nerdy Book Club Best YA of 2016

A Bank Street College Best Children's Book of the Year

A 2017 Ontario Library Association White Pine Honor Book

Winner of the 2017 Canadian Children's Book Centre's Amy Mathers Teen Book Award

"Exit, Pursued by a Bear is both a tenderly written, heartfelt coming of age and an incisive, sensitive examination of trauma after an assault. Fresh, memorable, and thought-provoking."
—Courtney Summers, author of All the Rage

"A unflinching exploration of what it means to be a girl, what it means to be a friend, and what it means to be a survivor. A determined, transformative book that every teen girl should read." 
—Tess Sharpe, author of Far From You

"Gripping and devastating." —Anne Ursu, author of The Real Boy.

"Exit, Pursued by a Bear is a must-read. Bracing, intimate, tense, and delightful."—Martha Brockenbrough, author of The Game of Love and Death.

"Exit, Pursued by a Bear is a story about a girl. A cautionary tale about someone who didn't want to be a cautionary tale. An important book for girls. For boys. For adults. For mothers and fathers and daughters and sons and girlfriends and boyfriends. An important book without being an 'Issue Book.' And I loved it." —New York Times bestselling author Jessica Day George

"I WAS NOT WARNED THAT I WOULD CRY THIS MUCH."—New York Times bestselling author Rachel Hartman

★ "Johnston's clever—but never precious—update of Shakespeare's The Winter's Tale is unflinching but not at all graphic in its treatment of sexual violence.... Middle and high school readers will pass this powerful, engaging story around and around."—Kirkus Reviews, starred.

★ "Fierce and gorgeously drawn, this is a rape story that doesn't focus on victimhood."—Booklist, starred.

★ "A beautifully written portrait of a young woman facing the unthinkable, this is a must-buy for high school collections."—SLJ, starred.

★ "While Hermione is a victim, Johnson never portrays her as victimized, instead focusing on how Hermione reasserts control over her life with help from family, friends, and therapy, using her own decisions to push back against something in which she had no such choice." —PW, starred.

★ "The reader is kept engaged, and – like Hermione – hopeful, even in the darkest moments. [...] Exit, Pursued by a Bear is a story of triumph, not just survival."—Quill & Quire, starred.

★ "Johnston creates a strong female main character that will not be afraid, and refuses to be a cautionary tale or a pariah." —SLC, starred 

"Exit, Pursued by a Bear is an important new novel comparable with Speak by Laurie Halse Anderson."—VOYA.

"Should a young reader ever need guidance following an assault, she could do much worse than to emulate Hermione Winters."—Bookpage, Top Pick 

"A raw, powerful story that'll stay with you long after it's over."—Buzzfeed

"Crisp, engaging writing, strong characterization and a steady hand distinguish this thought-provoking novel about coping and community."—Shelf Awareness

"While assault survivors, both in fact and in fiction, often find their lives narrowed to this one designation, Johnston refuses to flatten her heroine. Instead, she insists that Hermione's joy in being thrown into the air during cheer routines, and the strength of her best friendship with co-captain Polly are just as vital to our understanding of her as the facts of her assault."—Margaret H. Willison, NPR book critic

"I have not been so deliciously surprised by a book in a long time."—Grace Wright, Parnassus Books

"This is a vital book about the importance of creating a strong system of support for victims of assault." —Bookish

A 2017 Ontario Library Association White Pine Finalist

or
Not Currently Available for Direct Purchase