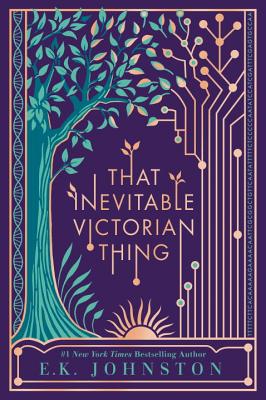 That Inevitable Victorian Thing (Hardcover)
Dutton Books for Young Readers, 9781101994979, 336pp.
Publication Date: October 3, 2017
Other Editions of This Title:
Digital Audiobook (10/2/2017)
Paperback (10/23/2018)
* Individual store prices may vary.
Description
Speculative fiction from the acclaimed bestselling author of Exit, Pursued by a Bear and Star Wars: Ahsoka.
 
Victoria-Margaret is the crown princess of the empire, a direct descendent of Victoria I, the queen who changed the course of history. The imperial tradition of genetically arranged matchmaking will soon guide Margaret into a politically advantageous marriage. But before she does her duty, she'll have one summer of freedom and privacy in a far corner of empire. Posing as a commoner in Toronto, she meets Helena Marcus, daughter of one of the empire's greatest placement geneticists, and August Callaghan, the heir to a powerful shipping firm currently besieged by American pirates. In a summer of high-society debutante balls, politically charged tea parties, and romantic country dances, Margaret, Helena, and August discover they share an extraordinary bond and maybe a one-in-a-million chance to have what they want and to change the world in the process.

Set in a near-future world where the British Empire was preserved not by the cost of blood and theft but by the effort of repatriation and promises kept, That Inevitable Victorian Thing is a surprising, romantic, and thought-provoking story of love, duty, and the small moments that can change people and the world.

★ "This witty and romantic story is a must-read."—SLJ, starred review

★ "Compelling and unique—there's nothing else like it."—Booklist, starred review.

★ "[A] powerful and resonant story of compassion, love, and finding a way to fulfill obligations while maintaining one's identity."—PW, starred review
About the Author
E. K. Johnston is the #1 New York Times bestselling author of several YA novels, including the L.A. Time Book Prize finalist The Story of Owen and Star Wars: Ahsoka. Her novel A Thousand Nights was shortlisted for The Governor General's Award. The New York Times called The Story of Owen "a clever first step in the career of a novelist who, like her troubadour heroine, has many more songs to sing" and in its review of Exit, Pursued by a Bear, The Globe & Mail called Johnston "the Meryl Streep of YA," with "limitless range." E. K. Johnston lives in Stratford, Ontario. Follow her on Twitter at @ek_johnston.
Praise For That Inevitable Victorian Thing…
"This book, by alternate-history wizard and all-around word genius E. K. Johnston, is both an enchanting modern fairy tale and an un-put-downable, utterly captivating, thoroughly surprising work of speculative fiction. I would be delighted to brush up on my curtsy and join these characters for a tea party or coming-out ball."—Robin Talley, New York Times bestselling author

"That Inevitable Victorian Thing is alternate history at its most intricate—woven with Victorian airs and a deeply optimistic vision of the future. I fell in love with E. K. Johnston's world, along with the bright, beautiful characters who call it home." - Ryan Graudin, award-winning author of Wolf By Wolf

"E. K. Johnston's British Empire offers adventure and intrigue balanced with delight and whimsy. Her tale uplifts and entertains, all the while meditating on the legacies of history and a better society that might have been. Joyfully immerse yourself in this gorgeously-wrought world with characters you yearn to have as companions and confidantes, and themes of hope that linger long after you've read the final pages."—New York Times bestselling author Andrea Cremer

"Johnston is a literary chameleon and staggeringly versatile. ... [A]n alternate history that plunges present-day Muskoka into the Victorian era, while still incorporating some breathtaking modern twists."—The Globe & Mail

"[T]he world-building is so compelling you'll be drawn right in."—Bustle

★ "Compelling and unique—there's nothing else like it."—Booklist, starred review.

★ "A clever and self-aware novel set in a fascinating world, this witty and romantic story is a must-read."—SLJ, starred review

★"[A] powerful and resonant story of compassion, love, and finding a way to fulfill obligations while maintaining one's identity. As with the dragon-infested modern world of Johnston's The Story of Owen, the thoughtfulness, attention to detail, and humor in this alternative Earth are rewarding on multiple levels."—PW, starred review

"A thoughtful exploration of class consciousness, genetics, and politics that doesn't lose track of the human story."—Kirkus 

"The world building is strong and imaginative and the plot cannily reeled out, but Johnston's masterstroke lies in the conclusion, which avoids the usual YA tendency to squash love triangles... It's a bold move well played." —BCCB

"This is one of those books you throw at people with no explanation, because you know that they've never read anything like it, and you want to share the beauty."—Rachel Strolle, Anderson's Bookshop, Naperville, IL.

"This delightful light sci-fi novel is just the thing for anyone and everyone who might enjoy Anne of Green Gables if only it were more inclusive and updated for the 21st century."—Angela Whited, The Red Balloon Bookshop, St. Paul, MN.

"Everyone knows (or should know) Johnston is a master of every genre she puts her hand to, and That Inevitable Victorian Thing is no different. Original, warm, humorous, and with real depth. Love it."—Allison Senecal, Old Firehouse Books, Fort Collins, CO.

"This is the best kind of love story: complicated and thoughtful, with an entirely satisfying ending."—Cecelia Cackley, East City Bookshop, Washington DC


Praise for Exit, Pursued by a Bear by E. K. Johnston

"E.K. Johnston has a seemingly limitless range."—The Globe & Mail

"Soberly triumphant."—Toronto Star