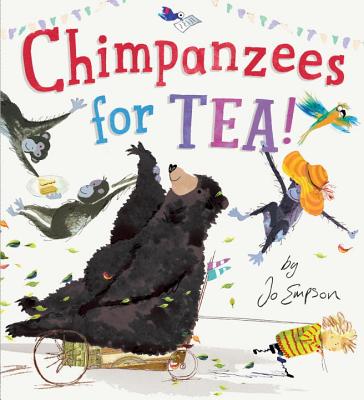 Chimpanzees for Tea! (Hardcover)
Philomel Books, 9781101996218, 32pp.
Publication Date: April 26, 2016
* Individual store prices may vary.
Description
A silly, fun version of the game "telephone"—in which a grocery list committed to memory goes playfully awry.

One day, Vincent's mother asks him to go to the store to pick up a few items: "a bunch of carrots, a box of rice, some China tea, a big, firm pear, and a tin of peas" to be precise. "And hurry home in time for tea!" she says. Sounds easy enough.

Yet distractions are at every turn, causing havoc with Vincent's memory. All of a sudden, a tin of peas is replaced by a trapeze; a big, firm pear becomes a big furry bear; and a box of rice transforms into a box of mice!

Needless to say, Vincent's mother is in for quite a surprise.

Told with a playful rhythm for reading aloud and illustrated with exuberance and great child appeal, this humorous picture book will have kids laughing and asking for repeated readings.

Praise for Chimpanzees for Tea!

"British author-illustrator Jo Empson brings her wonderfully freewheeling, kinetic style to this lively read-aloud that will have youngsters giggling and shouting out the correct items from the list."—Shelf Awareness

"Award-winning British author/illustrator Empson energetically illustrates her tale of ever more outrageous memory lapses with scribbly watercolors full of swooping action and bouncing wildlife that follow the swirling text across the pages. As much fun to read as it is to hear, and a real treat for the eyes."—Kirkus Reviews

"With a wildly cavorting cast of characters [and] a playful text . . . this is hard to resist." —Booklist

"The humorous text makes this a perfect read-aloud for all ages and a great memory game to play with school-age kids."—School Library Journal

About the Author
Jo Empson (www.joempson.co.uk) graduated from Cambridge School of Art with a Masters in Children's Book Illustration. Her background as a graphic designer has had a great influence on her picture books. She is the author-illustrator of Rabbityness, which was nominated for the Kate Greenaway Medal in 2013 and shortlisted for the Waterstones Children's Book Prize. Her second picture book Never Ever, was also honored with a nomination for the Kate Greenaway Medal. Follow Jo Empson on Twitter @joempson.
Praise For Chimpanzees for Tea!…
"British author-illustrator Jo Empson brings her wonderfully freewheeling, kinetic style to this lively read-aloud that will have youngsters giggling and shouting out the correct items from the list."—Shelf Awareness

"Award-winning British author/illustrator Empson energetically illustrates her tale of ever more outrageous memory lapses with scribbly watercolors full of swooping action and bouncing wildlife that follow the swirling text across the pages. As much fun to read as it is to hear, and a real treat for the eyes."—Kirkus Reviews

"With a wildly cavorting cast of characters [and] a playful text . . . this is hard to resist." —Booklist

"The humorous text makes this a perfect read-aloud for all ages and a great memory game to play with school-age kids."—School Library Journal
or
Not Currently Available for Direct Purchase