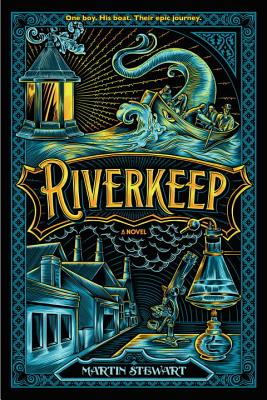 Riverkeep (Paperback)
Speak, 9781101998311, 416pp.
Publication Date: July 4, 2017
Other Editions of This Title:
Digital Audiobook (7/25/2016)
Prebound (7/4/2017)
Hardcover (7/26/2016)
CD-Audio (7/26/2016)
* Individual store prices may vary.
Description
A breathtaking literary adventure, perfect for fans of Patrick Ness, Neil Gaiman, and The Wizard of Oz!

The Danék is a wild, treacherous river, and Wull Fobisher's family has tended it for generations—clearing it of ice and weed, making sure boats can get through, and fishing corpses from its bleak depths. While recovering a drowned man, Wull's father—the current Riverkeep—is pulled under. When he emerges, he is no longer himself: A dark spirit possesses him. In an instant, Wull is Riverkeep, and he must care for his half-father.

When Wull hears that a cure for his father lurks in the belly of a great sea-dwelling beast known as the mormorach, he embarks on an epic journey down the river. Along the way, he faces death in any number of ways, meets people and creatures touched by magic and madness and alchemy, and finds courage he never knew he possessed.


"[Stewart's] descriptions of Wull's world gripped in winter are brutal and beautiful, his monsters are terrifyingly plausible, and there are striking moments . . ."—The New York Times

* "An intense bildungsroman as darkly comical as it is terrifying and violent . . . Stewart shows a dab hand at crafting memorable characters and thoroughly frightening opponents for them to face . . . A rich debut: Huck Finn meets Moby-Dick."—Kirkus Reviews, starred review
About the Author
Martin Stewart has previously worked as a recycling technician, university lecturer, barman, golf caddy, and English teacher. A native of Glasgow, where he still lives, he enjoys buying books to feed his to-be-read pile, and combining the city's urban splendor with walks on the beaches of Scotland's west coast. Riverkeep is his first novel. Follow him on Twitter @martinjstewart.
Praise For Riverkeep…
Praise for Riverkeep

"[Stewart's] descriptions of Wull's world gripped in winter are brutal and beautiful, his monsters are terrifyingly plausible, and there are striking moments . . ."—The New York Times

★ "An intense bildungsroman as darkly comical as it is terrifying and violent . . . Stewart shows a dab hand at crafting memorable characters and thoroughly frightening opponents for them to face . . . He navigates the quixotic main mission to a solid resolution that leaves Wulliam truly prepared at last to take up his riverine duties. A rich debut: Huck Finn meets Moby-Dick."—Kirkus Reviews, starred review

★ "Filled with wild adventure and hilarious dialogue . . . this vivid, engrossing fantasy will delight readers."—Publishers Weekly, starred review

★ "This is a rare work that feels like a sophisticated, gritty folktale, full of impossibilities and dramatic tension, and it is both hilarious and tragic in equal measure."—BCCB, starred review

"The chemistry between the characters makes for plenty of snappy banter, and the plot swiftly flows with constant fights, flights and some slapstick hilarity. Glaswegian author Martin Stewart's atmospheric riverboat ride is a dark delight, a rollicking adventure of fathers and sons, monsters and magic, and the choices that make us human."—Shelf Awareness

"A unique and distinctive fantasy world, ably conveyed through very readable dialect and buoyed by near-constant action . . . [a] riveting read."—Booklist

"With a humorous, light touch and an excellent feel for dialogue, Stewart has created a first-rate fantasy. . . Excellently written."—School Library Journal

"Woven of threads and snippets of fantasy and myth, Riverkeep presents something entirely unique and innovative . . . It is compelling in the same quirky way that Monty Python is. The narrative is both harsh and beautiful."—VOYA

"The fast-paced action is compelling. Students who appreciate well written horror fiction will thoroughly enjoy this novel. This gripping supernatural tale includes adventure, monsters, love and loss, and thought-provoking issues."—School Library Connection

"This sophisticated young-adult novel draws the reader into the melancholy fantasy world occupied by Wull, who is apprenticing as "riverkeep" under his father."—San Francisco Chronicle

"Perfect for fans of the Wildwood or Narnia series—or anyone looking to sharpen his own writing by admiring Stewart's nimble affinity with words."—Austin American-Statesman

"Riverkeep is utterly engrossing. There are elements of Game of Thrones in the grittily realised violence; there is Gormenghast in the grotesque comedy; and it has the strange magic of Earthsea. The prose is by turns dense, sensuous, and funny, but never less than gripping. A superb debut nove."—Anthony McGowan, award-winning author of The Knife that Killed Me and Henry Tumour

"This sophisticated young-adult novel draws the reader into the melancholy fantasy world occupied by Wull, who is apprenticing as 'riverkeep' under his father."—San Francisco Chronicle

"Perfect for fans of the Wildwood or Narnia series—or anyone looking to sharpen his own writing by admiring Stewart's nimble affinity with words."—Austin American-Statesman

"The writing is both visceral and highly visual. It's a remarkably assured debut . . . written by someone utterly confident in the reality of the world he has created and in the appeal of his characters."—Herald Scotland

"Perfect for fans of Patrick Ness and Neil Gaiman, Riverkeep is the definition of the term 'page-turner.'"—IceyBooks.com