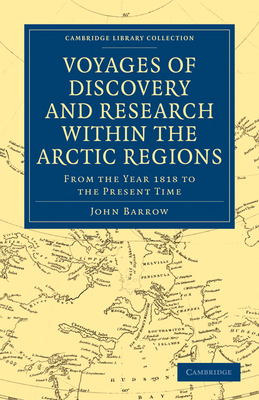 Voyages of Discovery and Research Within the Arctic Regions, from the Year 1818 to the Present Time (Cambridge Library Collection - Travel and Exploration) (Paperback)
Cambridge University Press, 9781108031134, 564pp.
Publication Date: November 5, 2011
Other Editions of This Title:
Paperback, Large Print (11/3/2009)
Paperback (11/3/2009)
Hardcover (10/10/2018)
Hardcover (11/12/2009)
Hardcover (11/12/2009)
Paperback (10/23/2018)
Hardcover (10/23/2018)
Paperback (10/10/2018)
Paperback (4/21/2018)
* Individual store prices may vary.
Description
Sir John Barrow (1764 1848) was Second Secretary to the Admiralty for forty years. He was responsible for promoting polar exploration, and published two books on the subject for general readers. A Chronological History of Voyages into the Arctic Regions appeared in 1818, and this 1846 publication continues the story. Drawing on the explorers' own accounts, Barrow describes twelve voyages connected with the search for the North-West Passage. These include two voyages by Sir John Ross, four by Sir William Parry, and two by Sir John Franklin (whose last, fatal expedition was under way when the book was published). Barrow documents the Arctic landscape, fauna and climate, the explorers' clothes and provisions, scurvy (cured by preserved gooseberries and freshly grown mustard and cress), frostbite (necessitating amputations), on-board entertainments, and encounters with 'Esquimaux', providing fascinating insights into the realities of polar expeditions in the mid-nineteenth century.