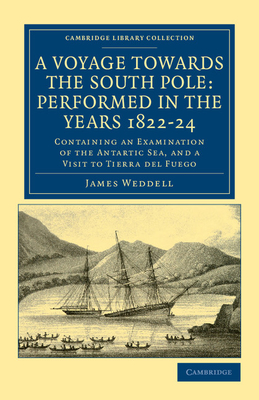 A Voyage Towards the South Pole (Paperback)
Performed in the Years 1822 24: Containing an Examination of the Antarctic Sea, and a Visit to Tierra del Fuego (Cambridge Library Collection - Travel and Exploration)
Cambridge University Press, 9781108041584, 316pp.
Publication Date: December 29, 2011
Other Editions of This Title:
Paperback (1/2/2013)
Hardcover (10/18/2018)
Paperback (3/27/2011)
Paperback (10/9/2018)
Paperback (10/20/2018)
Paperback (10/7/2018)
Hardcover (10/7/2018)
Hardcover (8/8/2015)
Hardcover (8/11/2015)
Paperback (4/19/2018)
Paperback (2/8/2015)
* Individual store prices may vary.
Description
James Weddell (1787 1834) a self-taught navigator, started his sailing career aged 9 and later led several voyages towards the Antarctic. This book, first published in 1825, is his account of the voyage of the Jane, which went on a sealing trip to the Falklands and beyond, but turned back before reaching Antarctica itself. It features detailed scientific measurements, careful observations of wildlife, and descriptions of the islands and coasts visited by the expedition, including an important early account of the South Shetlands. It also provides first hand insight into the hardships of a long and perilous voyage. Weddell speaks warmly of the Jane's crew, who withstood frostbite, reduced rations and frequent danger from icebergs. He also reports encounters with other ships, mutiny, scurvy and even the alleged sighting of a mermaid. His thoughtful approach to his mission makes this fascinating exploration narrative an especially valuable historical source.