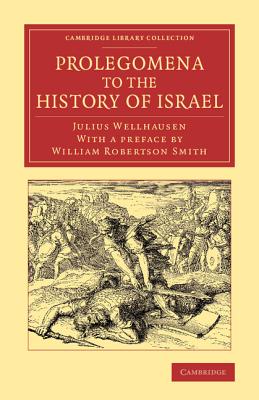 Prolegomena to the History of Israel (Paperback)
With a Reprint of the Article Israel' from the Encyclopaedia Britannica (Cambridge Library Collection - Religion)
Cambridge University Press, 9781108053822, 574pp.
Publication Date: August 22, 2013
Other Editions of This Title:
Hardcover (10/11/2018)
Paperback (10/11/2018)
Paperback (5/16/2011)
Paperback (2/8/2015)
* Individual store prices may vary.
Description
Julius Wellhausen (1844-1918) first published this work in German in 1878. Reissued here is the 1885 English translation of a revised 1883 version. Intended as a multi-volume work, this first book now stands as a self-contained work. A biblical scholar and orientalist, Wellhausen was professor of theology at Greifswald (until resigning for reasons of conscience) and then professor at Halle, Marburg and G ttingen. An early exponent of scientific philology, he placed the Pentateuch in a historical-social context, setting aside theological traditions. In this work, he sets out his method and argues that the Pentateuch is a synthesis of four independent narratives. He then examines the history of worship, sacrifice, sacred feasts, priests, and the law in ancient Israel. Wellhausen is a central figure in modern biblical studies, his theory dominated scholarship for a century, and his pioneering work remains of great interest in the field.