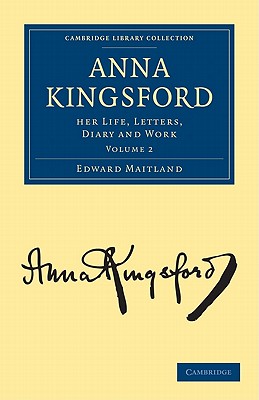 Anna Kingsford (Paperback)
Her Life, Letters, Diary and Work (Cambridge Library Collection: Spiritualism and Esoteric Knowledge)
Cambridge University Press, 9781108072748, 444pp.
Publication Date: May 19, 2011
Other Editions of This Title:
Paperback (5/19/2011)
* Individual store prices may vary.
Description
First published in 1896, this two-volume biography details the life of physician and spiritualist Anna Kingsford (1846 1888). Kingsford, one of the first women to obtain a degree in medicine, began her literary career at the age of thirteen and in her lifetime was known for campaigning against vivisection, involvement in the suffragette movement, and promotion of vegetarianism, as well as her spiritualist exploits. This biography was written by her friend and colleague, the spiritualist Edward Maitland (1824 97), who served as Kingsford's protector while she studied in Paris. At the time of its publication, the work was not well received; the main criticism directed towards the book was that it focused on Maitland's psychic experiences rather than on Kingsford herself. Volume 2 details the later part of Kingsford's life, including extensive travel, the foundation of the Theosophical and Hermetic societies, her eventual decline in health and her death.