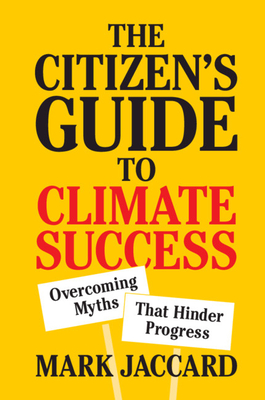 The Citizen's Guide to Climate Success (Paperback)
Overcoming Myths That Hinder Progress
Cambridge University Press, 9781108742665, 296pp.
Publication Date: February 6, 2020
Other Editions of This Title:
Hardcover (2/13/2020)
* Individual store prices may vary.
Description
Sometimes solving climate change seems impossibly complex, and it is hard to know what changes we all can and should make to help. This book offers hope. Drawing on the latest research, Mark Jaccard shows us how to recognize the absolutely essential actions (decarbonizing electricity and transport) and policies (regulations that phase out coal plants and gasoline vehicles, carbon tariffs). Rather than feeling paralyzed and pursuing ineffective efforts, we can all make a few key changes in our lifestyles to reduce emissions, to contribute to the urgently needed affordable energy transition in developed and developing countries. More importantly, Jaccard shows how to distinguish climate-sincere from insincere politicians and increase the chance of electing and sustaining these leaders in power. In combining the personal and the political, The Citizen's Guide to Climate Success offers a clear and simple strategic path to solving the greatest problem of our times. A PDF version of this title is also available as Open Access on Cambridge Core at doi.org/10.1017/9781108783453.